Thought I'd share some (late) lunch joy by cleaning out a couple of browser tabs I've been meaning to share with the Jackaltariat.
First up in the catalogue of awful…
Nothing says more about a society than how it treats its most vulnerable.  Which is why this, from Pennsylvania coal country last month, says all you need to know about a certain kind of Republican* values:
Wyoming Valley West School District, one of the poorest districts in the state as measured by per-pupil spending, is located in a former coal mining community in Northeastern Pennsylvania, known affectionately by locals as "The Valley."

When officials there noticed that families owed the district around $22,000 in breakfast and lunch debt…
…school council president Joseph Mazur thought that this would be a good next move:
…the now-infamous letter to about 40 families deemed to be the worst offenders in having overdue cafeteria bills — those were children with meal debt of $10 or more.

"Your child has been sent to school every day without money and without a breakfast and/or lunch," said the letter signed by Joseph Muth, director of federal programs for the Wyoming Valley West School District. "This is a failure to provide your child with proper nutrition and you can be sent to Dependency Court for neglecting your child's right to food. If you are taken to Dependency court, the result may be your child being removed from your home and placed in foster care."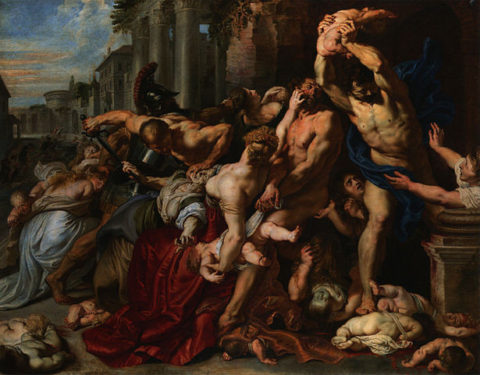 Just to drive the point home, the guy behind the move, school council president Mazur went on to refuse an offer from a guy in Philadelphia who wanted to pay off the whole debt.  Mazur was eventually forced to reverse course.
Next up, an even more grotesque example of cruelty for cruelty's sake from July.  I believe some commenters pointed out this incident, and I've been meaning to vent rage about it ever since, but here it is:
At a Border Patrol holding facility in El Paso, Texas, an agent told a Honduran family that one parent would be sent to Mexico while the other parent and their three children could stay in the United States, according to the family. The agent turned to the couple's youngest daughter — 3-year-old Sofia, whom they call Sofi — and asked her to make a choice.

"The agent asked her who she wanted to go with, mom or dad," her mother, Tania, told NPR through an interpreter. "And the girl, because she is more attached to me, she said mom. But when they started to take [my husband] away, the girl started to cry. The officer said, 'You said [you want to go] with mom.' "
I rate that child abuse, and those who did the crime should be in prison, as far as I am concerned. Een if the family separation followed the letter of the law, putting the kid in that position was gratuitous immiseration, and will deliver lasting trauma, doled out, it seems, for the agent's amusement.
There is a word to describe such behavior and such people:  evil.  This was evil.  I say this as one with more memory of than current participation in organized religion, but it seems to me that those who welcome evil into our republic commit a grievous sin.
Happy lunch!  Open thread.
*Luzerne County, in which the relevant school district operates, went 58-39% for Trump in 2016.
Image: Pieter Breughel the Elder, The Massacre of the Innocents, c. 1565-7