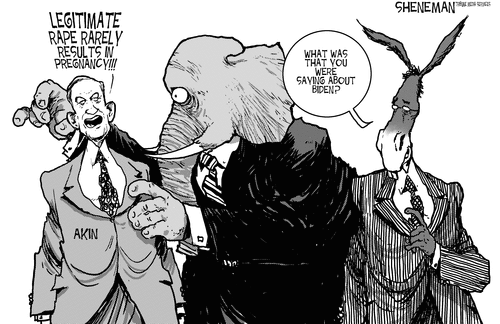 (Drew Sheneman via GoComics.com)
__
My personal hero Charles P. Pierce points out yet another facet of Rep. Akins' retrograde worldview:
And then there's United States Congressman Todd Akin, of whom a majority of the Republicans voting in their party's recent primary clearly stated that they wanted him to represent them in the United States Senate, who thinks everything went wrong with that whole Civil Rights Movement back in the 1960's that so inconvenienced folks at the Woolworth's, and who takes a dim view of those agitators who mussed up billy clubs with their heads on the Edmund Pettus Bridge.

Rep. Todd Akin, the GOP's candidate for U.S. Senate in Missouri, suggested in an interview that it was time to "look at or overturn" the Civil Rights Act of 1964 and the Voting Rights Act of 1965. Asked directly if seminal federal civil rights legislation that prohibits discriminatory voting proceedures needed to be modified or scrapped, Akin said that states — not the federal government — should set voting rules. According to Akin, elections "have historically always been a state thing" and that's a "good principle."

This is what is happening now. This is the way the Republican party plans to win this election and, having done so, this is the way it plans to roll back American politics. But Joe Biden said "chains" to the Blah's, so incivility is all square and even-steven…

(… How did anyone put this clown in Congress in the first place? Claire McCaskill remains the luckiest woman alive, and she still may lose.)
I'd say this was an excellent question, but then I've been told by a native that "Misery exists so that Kansas will have something to feel superior about."
**********
Apart from the usual gang of retrogressive GOP idiots, what's on the agenda for the evening?
Monday Evening Open Thread: What A Diff'rence A Week MakesPost + Comments (103)