WSAZ, the NBC affiliate for Huntington-Charleston, WV, had some guests on promoting the Queens Slay Cancer Drag Show at Marshall University, an event to raise money for cancer. Predictably, the Family Policy Council of West Virginia, affiliates of Focus on the Family, lost their shit.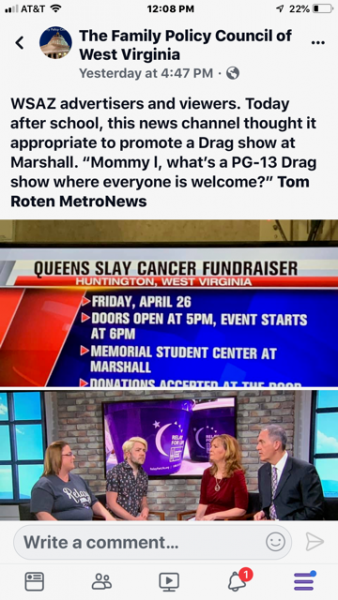 Hats off to WSAZ's Tim Irr for this public response:
The Family Policy Council of West Virginia took exception with one of our guests yesterday on First Look at Four. The young man was one of two guests being interviewed about upcoming events to raise money for the American Cancer Society.

The event in which he's participating is the Queens Slay Cancer Drag Show at Marshall University, at 6 p.m. Friday, April 27. All the money raised at the event, and the other events discussed on our show yesterday, will go the American Cancer Society.

Our guests were not there to forward some type of political or social agenda. They were not promoting adherence to a certain lifestyle. They did not speak negatively about or demean anyone in any way. They simply promoted events meant to raise money to fight cancer.

Drag shows may not be your cup of tea. Undoubtedly, they have a somewhat limited, but very supportive target audience. You may not consider members of the LGBTQ community worthy of your friendship, or even your respect, which is rather sad from a humanity standpoint. Perhaps your religious beliefs put you at odds with something you see as immoral.

We all feel the need to pick our battles in life. There are plenty of people who believe they have a moral responsibility to stand up for their religious convictions, and how they would like to see those convictions applied to the rules of our society.

Conversely, there are plenty of people who see no redeeming value whatsoever in a society guided by what they perceive as religious intolerance. That battle will no doubt play out for many years to come at the ballot box, in the street, in our homes and on social media.

But dragging people down who are simply trying to raise money for something like cancer research — on their own time, in their own way… no matter how you may feel about it — just seems mean-spirited and very wrong. Perhaps the way we feel about the "other side" is best kept in our own thoughts, especially in a situation like this.
Fucking American Taliban.