For the last couple of months, SWN energy has been developing a new pad about a mile away from town as the bird flies, but about 3-4 miles by road. The pad is at a high point on what is known as Marlborough spur, and basically overlooks the town of Bethany. The sound from the pad rolls down the valley and bombards the town: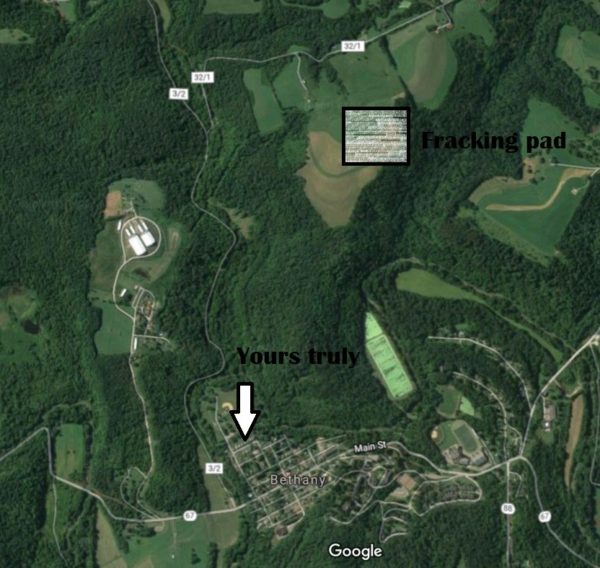 The sound has been absolutely out of control, and goes on all day and all night. Here are two videos showing what it is like, but they really do not do it justice because you also get the vibrations and grinding sound. If I put my hand against the wall of my house, I can feel it. The only way I can really describe it is that when I am not able to block it out, I feel like I am living through the seen in the Lord of the Rings when the Orcs are tearing down Fangorn Forest. Here is a video at 1 am:
And here it is at 9 am in the morning:
And it goes on like this all night. Some days it stops. And then it just starts right back up again. None of us know what the sound is- whether it is drilling, sandblasting, compressors, some combination of the above. But it is soul-crushing and keeping people up all night long. You have to sometimes shout to people outside to be heard. I know one person who took her hearing aids out and was still kept up to 3 am.
Before I go on, let me state that ALL of this could be mitigated. They could spend a little bit of money and erect a sound barrier. But they won't, because they claim they did sound studies and it was not a problem. Were they to erect a barrier, it would stop all that from rolling down the valley and blasting the town.
Yesterday morning, immediately after recording that video, I got in the family truckster and drove up to the pad. Once there, I recorded the sound from the pad. Now to understand where I was when I recorded this, I was on the OTHER side of the pad, with the pad between me and Bethany.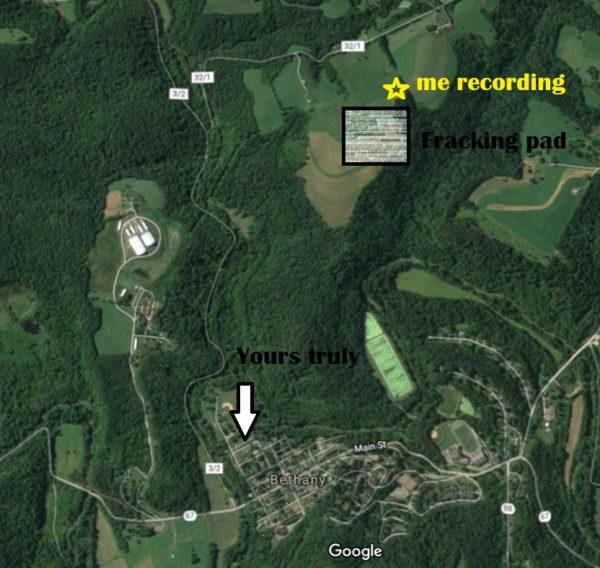 Here is the sound from the pad on that side:
As you can see, less of the grinding and more of a white noise.
Sidebar- Apparently on top of the noise pollution, pumping toxic chemicals into the earth, destroying the roads, and running everyone off the road, SWN also seems to run unsecure drilling operations, because I was able to just drive right on up to the pad. There was a little shack at the fork, but no gate, no one told me to stop (there was a guy there and we just waved at each other as I drove on in), and no signage or anything to tell me to not enter or hardhat area or anything. Awesome.
At any rate, after weeks of complaints, they decided they would grace us with another sound study to see if they needed to do anything. They placed sound meters in a neighbors yard, and would monitor it for 72 hours, then run the data. You all know what happens next, right?
THE MOTHERFUCKERS STOPPED WORK FOR LABOR DAY WEEKEND.
The sound meters were put in Friday afternoon, and there was not a peep all weekend. Monday night at 6, the meters came out, and by 7 pm they were drilling again. The report will come back showing no sound issues, because of course it will.
Finally, the town had enough and it was announced that SWN reps would be coming to town council last night. This was arranged at around noon yesterday. The drilling sounds I recorded yesterday morning? They stopped at noon.
So they know what they are doing, and they just don't give a shit. I did not go to the town council meeting because I did not trust myself around them and the local tv station was there filming, and I did not want to become a viral sensation. I had already had a run-in with one of the SWN reps, this crapweasel who is doing their bidding. I'll share that with you: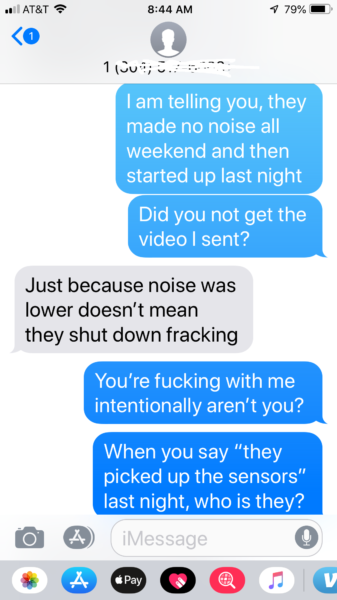 You see what he is doing there, right? It's the equivalent of a gun humper saying "HA IT'S A MAGAZINE NOT A CLIP MY HUNTING RIFLE IS A SEMI-AUTO." We don't know what the actual source of the noise is at the pad. Like I said, it may be fracking, it may be sandblasting, it may be compressors and a whole bunch of other stuff. But he's claiming that the place wasn't shut down, which means it might have been passively collecting natural gas, and hence technically still running.
But since I swore at him, he had his out. Like everyone in the media and political establishment who thinks swearing while protesting something is worse than the actual violence you are swearing about, he tried to take his ball and go home: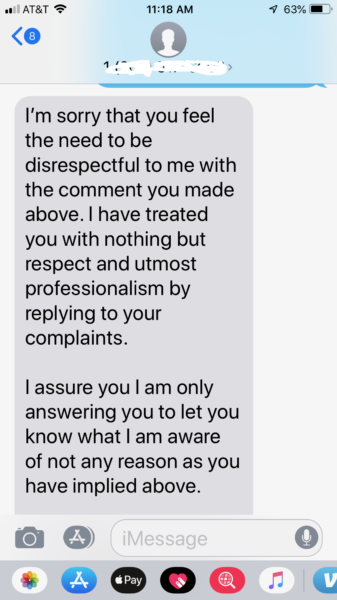 And then I let him know I knew exactly what they were up to: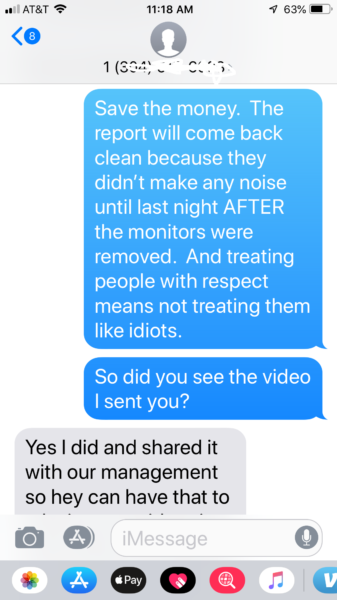 And then I hit him in the masculinity (all these roughneck pricks get off on thinking they are badass- they run around in large trucks with "pipeline trash" decals), calling him out for being a delicate flower: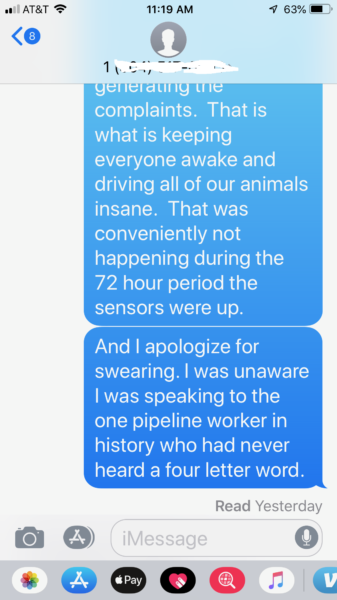 At any rate, I did not go because I have anger issues, but my friends did, and here is the write-up in the local media:
A community is outraged with the effects they say fracking is having in Bethany, WV.

"This is absurd. This is the United States, but no, it's still West Virginia, so we're the lowest of the low and our voice is never heard," said one community member.

"When's it going to end? When is there going to be the next pad? Are you just going to destroy all the hilltops?"

While the room packed with citizens presented many concerns and questions, one reoccurring theme was the noise that the community members call unbearable to live with.

"I kept thinking to myself, 'Is this anything close to freeway noise I had to deal with in LA?' And, I'm here to tell you there is no comparison. This is worse than anything I've experienced," said another community member.

And the impact it is having on their physical and mental health: "The first days we were doing outside activities and I couldn't hear them because of the drill, and I am like; when are they all going to all start going crazy?"
We'll see what happens. My guess is nothing.
Oh, and btw, SWN CEO William Way made $8 million dollars last year ruining our lives.