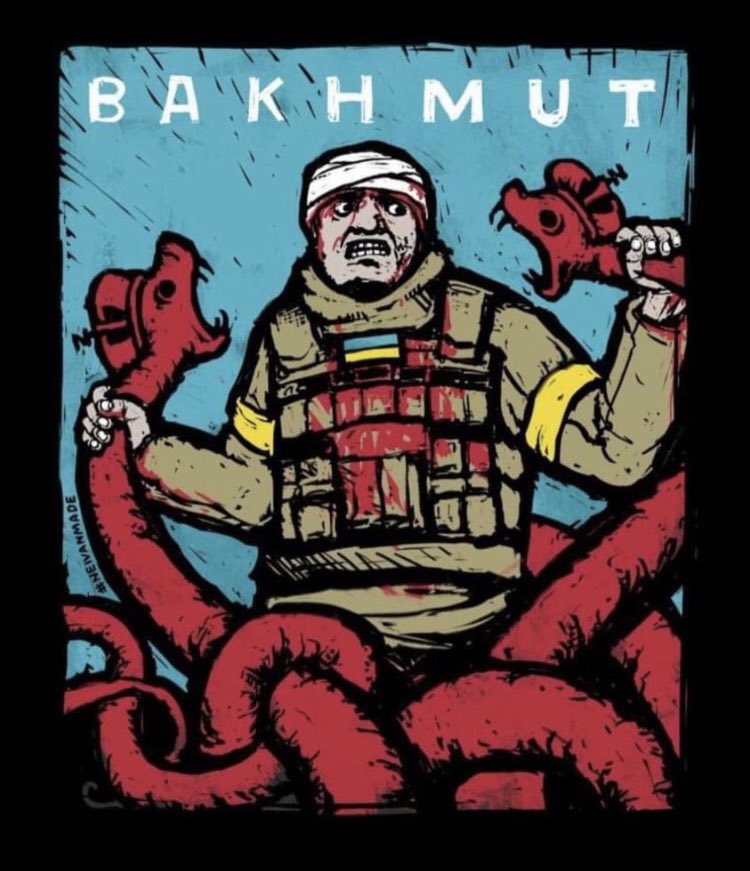 (Image by NEIVANMADE)
Been a very busy day towards the end of two very busy weeks. So let's jump right in.
President Zelenskyy really gave one hell of a speech in Parliament yesterday:
Anarchy in the UK https://t.co/53ImVUIoGi

— Illia Ponomarenko 🇺🇦 (@IAPonomarenko) February 9, 2023
More seriously, here's President Zelenskyy's address to the European Parliament in Brussels. Video below, English transcript after the jump:
Dear Mrs. President, dear Roberta!

I thank you for these powerful words and I thank you for your personal attention, an extremely important attention for Ukraine. I thank you for your integrity and energy, two qualities that we see invariably in the current struggle for Europe and whose combination is always a prerequisite for progress. Europe is fortunate that in this hall, in the largest parliament in Europe, the European Parliament, principled and energetic people are an absolute majority. I thank you.

Dear representatives of Europe!

Dear leaders of Europe!

All of us, Europeans, each and every one of the hundreds of millions of people on our continent, combine these two statuses – representatives of Europe and leaders of Europe. This combination reflects what our Europe, a modern Europe, a peaceful Europe, gives to the world. European way of life. European path of life. European manner of life. European rules of life.

When everyone matters. When the law rules.

When states strive to be social and societies strive to be open. When diversity is a value and the values of the different are united by fair equality.

When the borders are inviolable, but their crossing is not felt.

When people believe in tomorrow and are willing to take to the streets to fight for their tomorrow. When there is only one single barrier between the president and the protesters, and that is fair elections.

This is our Europe. These are our rules. This is our way of life.

And for Ukraine, it's a way home.

Now I am here to protect the way home for our people. All Ukrainian men, all Ukrainian women. Of different ages and different political beliefs, different social status, different views on religion, with different personal stories, but common European history with all of you.

There is an attempt to destroy the Ukrainian European way of life by all-out war. But what for?

For the destruction of the European way of life as such after the Ukrainian European way of life is destroyed.

For each of all twenty-seven elements of the European way of life. The twenty-seven countries of the European Union.

We will not allow that.

This total war that has been unleashed by Russia is not just about territory in one part of Europe or another.

Its threat is not only in the fact that there is a dictator with huge stockpiles of Soviet weapons and weapons inflow from other dictatorships, in particular the Iranian regime.

In order to be able to wage this war, the Kremlin has been consistently destroying, step by step, year after year, what we see as the basis of our Europe.

The sacred value of human life has been completely destroyed in Russia as well. No one matters to the authorities there, except those inside the Kremlin walls, their relatives and their wallets. For them, for the Kremlin, all others, all one hundred and forty million citizens are just bodies capable of carrying weapons – carrying weapons to Ukraine, carrying weapons on the battlefield, keeping others in line or being in line themselves.

The rule of violence and obedience are the rules there instead of law.

The Russian regime not only hates everything, any sociality and any diversity, but also deliberately invests in xenophobia and tries to make all the inhuman things that happened in the 1930s and 1940s part of the norm on our continent.

But will it last forever? This is a question for all of us. The answer is no! No!

Europe! We are defending ourselves against the most anti-European force in the modern world. We are defending ourselves. We, Ukrainians, are on the battlefield with you.

I thank you for the fact that we are defending ourselves together!

And we must defend ourselves!

And this is important not only for European countries. Not only for the communities of Europe.

No matter who we are, we always fight against contempt. Wherever we live, we always rely on good faith. Whatever we dream of for our children, for our grandchildren, the unconditional background for these dreams is peace – peace and security.

Will all of this be possible if we do not defeat the anti-European force that seeks to steal Europe from us, from all of us? No. It is only our victory that will guarantee all of this – each of our common European values. Our imperative victory!

Dear representatives of Europe! Dear leaders of Europe! Dear ladies and gentlemen of the parliament!

Dear employees of the European Parliament and other European institutions!

Dear journalists! Dear security officials, military! Police officers, rescuers!

Dear municipal employees! Diplomats! Teachers! Professors! Scientists! Dear doctors, drivers and port workers! Farmers!

Dear industrialists and workers of industrial enterprises! Owners of small and large businesses, banks!

Dear power engineers and railway workers!

Dear students, pupils! Trade union activists, representatives of non-governmental organizations!

Dear directors and artists! Lawyers, judges, environmentalists, human rights activists!

The fate of Europe has never depended on politicians alone. There should be no such illusion now as well.

Each and every one of you is important. Each and every one of you is strong. Each and every one of you can influence our common result. Our common victory.

This applause is definitely not for me. This applause is for gratitude – I want to thank everyone in Europe, in hundreds of cities and towns, who supported Ukraine in this historic struggle. Thank you!

I want to thank you – everyone who has helped our people, our ordinary people, our displaced persons. Those who called on their leaders to increase support for the protection of these ordinary people. Who took to the streets, who asked questions, who spread the truth about Russian aggression. Who refrained from the temptations of Russian disinformation and who stand with us in the fight for life. In the fight for Europe. I thank you!

I thank everyone who is helping Ukraine with vital supplies. Weapons and ammunition. Energy equipment and fuel. Thousands of things that are essential to survive this all-out war.

I thank you, dear ladies and gentlemen of the parliament, and you personally, Roberta, for consistently defending the European way of life with your decisions. For consistently defending the Ukrainian European way of life.

You have made bold decisions and strengthened the European ambition to be the home of justice and freedom.

I recall the first days of the full-scale invasion, when Russia's ambition to break us and the whole of Europe was still audacious. When Russian aggression was just beginning to break its teeth on our defense.

Already then, on March 1, on the sixth day of the full-scale war, the European Parliament adopted a resolution supporting not just our country, but the status of a candidate for accession to the European Union for our country.

It was a vision that motivated us to be resilient and stay on our path. Thank you.

Today, at a meeting of the European Council, I will have the opportunity to personally thank the heads of state and government of Europe, whose decisions over the past year have allowed our continent to do what the previous wave of leaders thought impossible.

Europe is finally freeing itself from destructive dependence on Russian fossil fuels.

Europe is cleaning itself of the corrupt influence of Russian oligarchic business.

Europe is defending itself against the infiltration of agents of the Russian special services, who have even considered Europe as a place to hunt for opponents of the Russian dictatorship already.

For the first time in its history, the European Union is providing military assistance of such magnitude. And for the first time in history, I believe, it is preparing a positive assessment of internal reforms in a European country that is defending itself in this all-out war and at the same time – while fighting – modernizing its institutions.

We are getting closer to the European Union.

Ukraine will be a member of the European Union!

A victorious Ukraine! A member of the European Union – a victorious European Union!

Dear friends!

Perhaps some of you have not experienced the full power of the European way of life before. But now, together, Ukraine and the EU countries have made our power evident.

Why is this possible? Because we combine integrity and energy. We are all equal in representing Europe, and we are diligent as each of us is a leader of Europe in our own particular life.

We do not rely on words – we act. We do not cower before the enemy – we stand. We do not waste time – we change ourselves and we implement changes.

Europe will always remain free. As long as we are together and as long as we care about our Europe!

Care about the European way of life.

I thank you all! I invite you all to Ukraine!

Glory to all Ukrainian men and Ukrainian women who are in combat! 

Glory to Ukraine!
And here's his press conference after the meeting. Video immediately below followed by the English write up from the Ukrainian presidential website:
The European Union is united in supporting Ukraine until our country wins the fight against the Russian aggressor. This was stated by President Volodymyr Zelenskyy during a joint meeting with media representatives together with President of the European Council Charles Michel and President of the European Commission Ursula von der Leyen following a special meeting of the European Council in Brussels.

Volodymyr Zelenskyy noted the symbolism of the fact that on the 351st day of the war unleashed by Russia, the Ukrainian national anthem and words of support for our country, which is fighting for its independence and common European freedom, were heard in Brussels in honor of the Ukrainian people and warriors.

"It is absolutely fair that Ukraine traditionally participates in meetings of the EU leaders. The Ukrainian language is heard in the discussions of EU presidents and heads of government, the Ukrainian language is heard in the European Parliament. This is already ensured. And we will make this part of the usual European practice when Ukraine becomes a member of the European Union," he emphasized.

The President called the building of unity one of the most important results of Ukraine's cooperation with the EU, in particular, unity around the fact that the European Union will stand with Ukraine until its victory and Ukraine will be in the EU.

According to the Head of State, the European Council held a substantive discussion on what ensures security and protects life, guarantees stability, restores justice and fully meets both Ukrainian and European interests.

Volodymyr Zelenskyy thanked the European partners for the air defense systems provided. At the same time, he noted that it is in the interests of Ukraine and the whole of Europe to make sure that Russia cannot produce new missiles and constantly hit Ukrainian cities and infrastructure with them.

"Therefore, we need to take another step and impose sanctions against the entire missile and drone industry of Russia, against the part of their IT industry that ensures Russian terror," the President emphasized.

The Head of State emphasized that he was inspired by the statements that Europe would stand with Ukraine until victory.

"And today I heard from the leaders of some European countries that they are willing to provide Ukraine with the weapons it needs, including fighter jets," he said.

Volodymyr Zelenskyy also thanked all the leaders and citizens of the European Union for their warm attitude towards Ukrainians, for sheltering those of our people who were saving themselves and their children from hostilities.

"Thanks to this support, millions of our citizens and millions of EU citizens have seen that our shared European values are really effective," the Head of State noted.

For his part, Charles Michel emphasized that the coming weeks in Ukraine will be crucial, so Europe must demonstrate unity.

The President of the European Council expressed his belief that Ukraine should receive the maximum amount of weapons, including air defense systems, tanks, and other military equipment.

He endorsed the Ukrainian Peace Formula aimed to comply with international law and the UN Charter, as well as the initiative to hold a special "summit for peace."

As Charles Michel emphasized, despite the war, Ukraine continues to implement the recommendations of the European Commission, which were given to our country when it was granted the status of a candidate for EU membership.

The President of the European Council noted that the EU will continue to put sanctions pressure on Russia. In particular, the 10th package of sanctions against the aggressor country is being prepared. According to Charles Michel, the EU will use the tool of blocking Russian assets.

"The European Union is Ukraine. Ukraine is the European Union. Europe is our common home. We will do everything for this," he said.

Ursula von der Leyen, for her part, expressed belief that the EU should continue to support Ukraine in its confrontation with the aggressor, as our struggle is a struggle for independence, democracy and a free Europe.

"Now we need to mobilize to protect the European way of life. Ukraine is the European way of life. We are a single family. The members of this family stand in solidarity. You can count on our help, and we will provide you with full support now and in the future to help your people get through this terrible war," said the President of the European Commission.

According to her, the EU fully supports the Ukrainian Peace Formula and is working with its partners to implement it.

Ursula von der Leyen also emphasized that Russia must be held to account for the bloodshed it has caused. Therefore, when preparing the next package of EU sanctions, the materials elaborated by Ukraine in this area were taken into account. It is expected that these restrictions will deprive the Russian military machine of resources.

In addition, according to her, the process of collecting evidence of Russian war crimes committed on the territory of Ukraine and establishing a court to bring all perpetrators to justice is underway.

The President of the European Commission also praised Ukraine's steps toward joining the EU.

"The results of your work have demonstrated that you are capable of working quickly and efficiently even amid war, when you are fighting against the aggressor," she stated.

Ursula von der Leyen assured Volodymyr Zelenskyy that the EU will stand by Ukraine in building the European future.
President Macron has thoughts:
Vers la victoire, vers la paix, vers l'Europe. До перемоги, до миру, до Європи. pic.twitter.com/j8fwVUlsYd

— Emmanuel Macron (@EmmanuelMacron) February 9, 2023
The tweet machine translates to:
To victory, to peace, to Europe.
Here's former NAVDEVGRU Squadron Leader Chuck Pfarrer's most recent assessments of the situations in Kreminna, Bakhmut, and Vuhledar:
KREMINNA /2140 UTC 9 FEB/ RU artillery resumes fire missions against the urban area of Kreminna– confirming UKR presence in the city. RU forces carried out attacks at Shypylivka and Zolotarivka. This may indicate the opening of a new RU axis of advance based in Lysychansk. pic.twitter.com/USzhemrwim

— Chuck Pfarrer | Indications & Warnings | (@ChuckPfarrer) February 9, 2023
BAKHMUT /2100 UTC 9 FEB/ RU forces have registered important gains in the Bakhmut Area of Operations (AO). North of the city, RU forces threaten the M-03 HWY. South of Bakhmut, RU units are in contact across the H-32 west and east of the rail right of way at Chasiv Yar. pic.twitter.com/wlx7MQDZiv

— Chuck Pfarrer | Indications & Warnings | (@ChuckPfarrer) February 9, 2023
VICTORY at VUHLEDAR /1532 UTC 9 FEB/ UKR forces broke up a Russian company-sized armor & mech. infantry attack on Vuhledar. More than 31 RU vehicles were damaged, destroyed or abandoned in a failed attack across the T-05-09 HWY. RU KIAs estimated at 400 plus scores wounded. pic.twitter.com/x5nwwQdUBj

— Chuck Pfarrer | Indications & Warnings | (@ChuckPfarrer) February 9, 2023
VUHLEDAR /2020 UTC 9 FEB/ RU forces were prevented from entering the urban area, but other RU units registered significant gains west of Vuhledar. RU troops are reported to have reached the O-0532 HWY and are now within 3 Km of Prechystivka. pic.twitter.com/QwNZl8Ji20

— Chuck Pfarrer | Indications & Warnings | (@ChuckPfarrer) February 9, 2023
Bakhmut:
Ближні бої на околицях Бахмута 🇺🇦 pic.twitter.com/0N7SIeBsiq

— Мисливець за зорями (@small10space) February 7, 2023
The tweet machine translates as "close combat on the outskirts of Bakhmut."
Report from Bakhmut, 9 February + interview with a local who doesn't want to leave under any circumstances. pic.twitter.com/LvnF7njx85

— Dmitri (@wartranslated) February 9, 2023
Update on Bakhmut and the whole Donetsk region line from Kiyanyn, 9 February: very difficult situation, but it's never been easy. The enemy is taking dramatic casualties, and Ukrainian forces counter-attack in areas, reclaiming positions. pic.twitter.com/TASUmMoLba

— Dmitri (@wartranslated) February 9, 2023
Vuhledar:
🧵09.02 🇺🇦Vuhledar – 18:00 update
1/5 It became known to us that word "Vuhledar" became infamous among occupiers, and when soldiers or officers figure out that their unit is being transferred to the Vuhledar area, they seek ways to find their way out of it. pic.twitter.com/7jfBcVKWVj

— Tatarigami_UA (@Tatarigami_UA) February 9, 2023
3/5 The movement of new units to the Vuhledar area hasn't stopped and continues in a non-stop mode since late January. The quality of reinforcements and their assault capabilities remain dubious, but that doesn't mean that the enemy won't try another large assault.

— Tatarigami_UA (@Tatarigami_UA) February 9, 2023
5/5 PMC "Patriot", BARS units (Active Reserves), separate units from 136th and other brigades. The enemy is unlikely to achieve strategic success in the area, and will likely continue useless assaults to achieve some tactical gains while new infantry assault units are training.

— Tatarigami_UA (@Tatarigami_UA) February 9, 2023
From yesterday:
2/4 Based on OSINT, it's likely that on 06.02 the enemy decided to utilize the so-called volunteer battalion "Alga", which is a part of the 72nd brigade from the 3rd army corps (do not confuse with Ukrainian 72nd brigade), confirming the information which I published previously. pic.twitter.com/cFRRCabC2i

— Tatarigami_UA (@Tatarigami_UA) February 8, 2023
4/4 It is another indicator that both 155th and 40th brigades are no longer capable to perform significant assaults, which is why the enemy uses ethnic battalions and mobilized, to retain some pressure. The results are predictably disastrous.

Source links are in the description

— Tatarigami_UA (@Tatarigami_UA) February 8, 2023
Russian mil. blogger doesn't understand how after a whole year of the war, Russian armed forces are still keen to provide such excellent content for us such as the Vuhledar catastrophe. pic.twitter.com/UOequMOh28

— Dmitri (@wartranslated) February 9, 2023
Things aren't going well for Russians in Vuheldar, are they, when Khodakovsky has "nothing to say" and GREY ZONE says it's because in Vuhledar a complete fuckery is happening with Russians losing 30 vehicles, burning tankmen running, and BMPs running over own troops. pic.twitter.com/nLjbkpgCh2

— Dmitri (@wartranslated) February 9, 2023
New York, Donetsk, Ukraine:
I know Ukrainian town of New York in the Donetsk region is nothing like The Big Apple. Yet its community was so vibrant, strong and moving. They called their highest building—just 9 floors—a skyscraper. Today Ukrainian New York's only skyscraper was hit 💔 pic.twitter.com/VitvLmROuW

— Victoria Amelina 🇺🇦 (@vamelina) February 8, 2023
The Financial Times is reporting that Poland and Slovakia are indicating a willingness to send fighter jets to Ukraine:
Ukraine's President Volodymyr Zelenskyy extracted promises from the leaders of Poland and Slovakia to send fighter jets to Ukraine at an EU summit where he sought to cajole allies to step up their military aid.

Since receiving pledges of battle tanks last month, Zelenskyy has made modern fighter jets his key request from western partners to help Ukrainian troops against Russia's invasion. But many capitals are wary of such a step, given threats from Moscow it would see such a move as escalatory.

Eduard Heger, prime minister of Slovakia, told Zelenskyy: "You can count on our help", in response to his request for fighter jets, according to a recording of the conversation seen by the Financial Times.

"It is in the interest of Slovak but also European security to help you. We will take this request that you asked for and work on it. You can count on our help because you are important to us and we want you to succeed," Heger said.

Slovakia has previously said it could hand over 11 Soviet-built MiG-29s to Ukraine but would need other Nato countries to provide air cover until the arrival of an order of US-made F-16, expected early next year.

Poland's prime minister Mateusz Morawiecki also signalled Warsaw's willingness to send Ukraine jets in his meetings with Zelenskyy, according to three people briefed on the discussions. Poland, too has MiG-29 aircraft, and is awaiting delivery of advanced US fighters.

Morawiecki had said earlier on Thursday that Poland would only be prepared to send jets to Ukraine as part of a "Nato formation".

Asked about the possibility of countries' supporting Ukraine with jets, Petr Fiala, the Czech prime minister, said different countries' positions had changed in recent months, including support now with heavy weapons: "I think we will find a way . . . to support Ukraine with everything [that] our Ukrainian friends need."

Zelenskyy said he had "heard it from a number of European leaders . . . about the readiness to give us the necessary weapons and support, including aircraft".

"Of course there are positive signals concerning the respective weapons, positive signals that we hear," Zelenskyy told reporters. "I really want these signals to turn to concrete sounds, concrete voices, unafraid that Russia will hear this voice."

But other leaders continue to express reservations. Speaking on his way into the summit with Zelenskyy, Dutch prime minister Mark Rutte said Ukraine's allies needed to ensure they were not getting themselves into a direct confrontation with Russia.

"You have to make absolutely sure you are not getting into an Article 5 direct confrontation between Nato and Russia," he said, in a reference to the collective defence provision of the Nato treaty. Rutte said the pros and cons of such decisions should only be discussed behind closed doors, given the sensitivity of the topic.

The Kremlin said discussions over supplying Ukraine with fighter jets showed western countries were drawing closer to fighting a direct war against Russia.

"We see this as the UK, France and Germany's growing involvement in the conflict between Russia and Ukraine. The line between indirect and direct involvement is gradually disappearing," Dmitry Peskov, President Vladimir Putin's spokesperson, told reporters.
Wagner:
Wagner's Yevgeny Prigozhin says the Russian paramilitary group is no longer recruiting prisoners to fight in Ukraine. He doesn't say why, but reports of the convicts being sent to their deaths were putting off new volunteers, per independent Russian media https://t.co/JEHmVMZnyC

— max seddon (@maxseddon) February 9, 2023
Girkin believes that with Wagner terminating recruitment, its days are basically numbered. But given the state of the Russian armed forces, there will be no one to replace the death battalions who were the only ones to achieve any success in recent months. pic.twitter.com/021FFgQzJe

— Dmitri (@wartranslated) February 9, 2023
Speaking of Girkin, one of the worst of the Black Sea Cossacks:
A man that looks like Putin once again declares he didn't start the war in the Donbas, it was all the nationalists, and Girkin and other Russian citizens who were present in Ukraine in 2014 have absolutely nothing to do with this. pic.twitter.com/B5rGcgPiwD

— Dmitri (@wartranslated) February 9, 2023
Someone is looking for scapegoats. That's an interesting indicator of weakness and, perhaps, a bit of reality setting in that no matter what he does, what decision he makes, nothing is going to ultimately go the way he wants.
Let's finish tonight with excerpts from an excellent essay from Professor Timothy Snyder on the continued failure by US, NATO, EU, and other allied and partner leaders to recognize exactly what Putin's threats of nuclear war are:
Clickbait! 

That's been a problem in the discussion of the Russian invasion.  Media get your attention by writing of escalation!  Not to mention: nuclear threats! And: nuclear war!  There is a profit motive at work here, one that Russian propagandists exploit by their references to nuclear weapons.  Unfortunately, the atmospherics of what should be a sober conversation are brought more by a counting of dollars than by a reckoning of risks.

That is one reason why we should be ashamed of our discussion of nuclear war, but not the main one.  Our nuclear talk is a way to claim victimhood, and then to blame the actual victims.  Once we turn our attention to a hypothetical exchange of missiles, we get to imagine that we are the victims.  Suddenly the actual war no longer seems to matter, since our lives (we imagine) are at risk.  And the Ukrainians seem to be at fault.  If only they would stop fighting, then we could all be safe.  This, of course, is exactly how Russian propagandists want us to reason.  And it is wrong.

Not just morally wrong, though of course it is that.  Actual Ukrainians are actually fighting and dying in a war that serves our security in countless ways — including by reducing the risk of nuclear war, as I'll discuss below.  And we spend our time imagining our own victimhood?

Yielding to Russian nuclear talk is also wrong, and embarrassingly so, as strategic thinking.  It is an example of a narcissistic fantasy that looms over discussions of American foreign policy: the fantasy of omnipotent submission.  This is the notion, birthed in American exceptionalism and impatience, that since America is the power behind everything, all will be well if America does nothing.  If we do what the Russian propagandists want, and do nothing for Ukraine, then (in this fantasy) there will be no nuclear war.

In the fantasy of omnipotent submission, America has the magical power, by way of complete inaction, to restore a peaceful status quo where we could all sleep soundly.  But America has no such power.  And there is no way to do nothing.  American policymakers have to act within a certain setting, formed by many actors in complex interactions, in which doing nothing will always have consequences, just as doing something will always have consequences.  Doing nothing, in fact, always amounts to doing something, and usually (as in the case of Russian invasion) it is the wrong something!  In this case, doing nothing (to support Ukraine) would increase the risk of nuclear war.  By doing something specific, by supplying arms to Ukraine, the United States has assisted the Ukrainians in decreasing the chances of nuclear war.

I can only make this argument if you will follow me into the realm of strategic thinking.  We have to do this step by step.  The fantasy of omnipotent submission builds and releases anxiety.  Someone in Russia issues a threat; feckless commentators and propagandists amplify it; and then we seek a quick way to release the fear.  Or: the United States send weapons; feckless commentators and propagandists speak of escalation!; and, again, we seek a quick way to release the fear.  When this becomes a habit, it takes the place of thinking about the risks and benefits policy.

In psychological terms, the fantasy of omnipotent submission is understandable.  So let us understand it as psychology — and also understand that the Russians deploy it as psychology.  The fantasy is used against us.  We need to be thoughtful about it in order to resist it.  And as we try to work our way out from under it, we must realize that it is there to prevent strategic thinking.

So, deep breath.  Russia has an interest in anxiety; media has an interest in anxiety; your body can get locked in anxiety.  Getting over that is the hard part.  Once we do, the strategic thinking is the easy part.  It starts in the real world.  Russia invaded Ukraine.  That happened.  We cannot transport ourselves back to the world of 2021.  (Even if we somehow could, we would just be in a world where Russia was about to invade Ukraine…).  Operating within a world where the invasion happened, the soundest nuclear policy is to help Ukraine win a conventional war.  This is for four reasons.

First, it would be a disaster for everyone if Russian nuclear blackmail succeeded.  If any nuclear state can coerce others by references to its nuclear stockpile, then foreign policy of any kind becomes impossible, non-nuclear states will always have to yield, and nuclear states will run the world.  If Russian nuclear blackmail succeeds, we can expect not only more Russian nuclear blackmail, but also nuclear blackmail from other nuclear powers.  We can also expect that other countries will build nuclear weapons to resist future blackmail.  And so support of Ukraine decreases the chances of nuclear war by showing that nuclear blackmail does not work.

Second, global nuclear proliferation should be prevented.  The risk of nuclear war has a mathematical character.  The more countries have nuclear weapons, the more likely it becomes that they will be used.  Russian policy pushes in the direction of nuclear proliferation.  Ukraine actually gave up its nuclear weapons.  Then Russia invaded, in 2014 and again in 2022.  The lesson for non-nuclear states is that they will need nuclear weapons to deter Russian invasion, or invasion by any nuclear power.  The way to prevent that conclusion is for Ukraine to win a conventional war.  And so support of Ukraine reduces the chances of nuclear war by reducing the likelihood of nuclear proliferation.

Third, the European scenario for nuclear confrontation should be made as unlikely as possible.  That scenario is a large war between Russia and NATO, in which there would be nuclear powers on both sides.  In its Soviet and then its later Russian variant, this vision has haunted the minds of Americans and Europeans for decades.  Thanks to Ukrainian resistance, such a war is far less likely than it has been.  The forces Russia might have used in an attack on a NATO member are being destroyed in Ukraine.  Even in the scenario where Russia somehow does mount an offensive against a NATO state, any temptation to use nuclear weapons in response has been reduced by the knowledge that Russia can be defeated in a conventional war.  And so support of Ukraine reduces the chance of nuclear war making the European scenario less likely.

Fourth, the Asian scenario for nuclear confrontation should be made as unlikely as possible.  In the last couple of decades, the possibility of a Sino-American confrontation over Taiwan has dominated discussions in Washington.  Americans have been frustrated and frightened by what they take to be the inevitability of the confrontation.  The idea that some other country might deflect it was never part of the debate.  But that is happening.  By resisting Russia, Ukrainians have forced Beijing to recognize that offensive operations are risky and can end badly.  Beijing has by no means lost interest in Taiwan, but it is safe to say that any drastic move has been delayed, at least for a few years.

And these are an important few years.  A year ago, when Russia invaded, the conventional wisdom was still that China was a rising power.  In the broader American thinking about all this, this was the essence pf the problem: a rising power (China) must confront a declining power (the U.S.).  Now it is much less clear that China is a rising power.  The Ukrainians have delayed the most dangerous scenario; and in doing so, they might have gotten us through the most dangerous moment.  Notably, they have done all this without confronting China.  And so support of Ukraine reduces the chance of nuclear war by making the Asian scenario much less likely.

If we want to reduce the risk of global nuclear war, then we should arm Ukrainians.  Doing so reduces the appeal of nuclear blackmail, the risk of nuclear proliferation, and the likelihood of the scenarios.

If what we have in mind is a local use by Russia of nuclear weapons in Ukraine, this is a different question.  It is impossible to rule out.  But here the risk is one that the Ukrainians have a right to discuss, since it is their land and their people.  Over and over again, they have made plain that the delivery of western conventional weapons is their priority.  One could say that Ukrainians are wrongly evaluating the risks: this, though, would smack of the kind of colonial arrogance that persuaded so many of us that Ukraine would not resist, or would be quickly defeated if they did.  The Ukrainian leadership knows what it is doing.  And they are doing what their voters want them to do.

Rather than just listening to Ukrainians about their evaluation of risk of local nuclear use, we sometimes seek Putin's inner thoughts.  When people imagine the use of Russian nuclear weapons in Ukraine, a certain weird empathy comes into play: Putin will feel that his back is against the wall, that he has no choice.

If we treat that as a hypothesis, we see that it has been disproven.  Russia lost the battles of Kyiv, Kharkiv, and Kherson without using nuclear weapons.  Russia has suffered almost a year of surprising defeats of various kinds, not least the collapse of its entire war plan, which involved overthrowing the Ukrainian government and controlling the entire country.  And yet: no nuclear weapon use.  Instead, each defeat generates stories about how Russia was not actually defeated.  That is worth noting.  The escalation one actually sees is narrative.  It takes more and more work for Russians to explain defeat as victory.  But so far they have been up to the task.

Wars end when the political power of rulers is threatened, and we have not yet reached that point.  When we do, Putin will feel the threat in Moscow, not in Ukraine.  In such a situation, using nuclear weapons in Ukraine will not help him.  Withdrawing conventional forces from Ukraine for a power struggle in Russia might.  During that power struggle, no Russian struggling for control of the Kremlin will admit that the war in Ukraine was lost.  Instead, contenders for power will compete with their stories of how grand the victory actually was.  My expectation is that the next Russian leader (or Putin if he remains) will claim that Russia won an extraordinary victory over NATO by eliminating NATO forces in Ukraine before they had a chance to cross into Russian territory.

In both the global and the Ukrainian settings, the Russian calculation is that nuclear talk will induce Europeans and North Americans to deter themselves from sending weapons.  But deploying talk is very different from deploying weapons.  Indeed, it is an alternative to doing so.  We too easily assume that the word must be the antecedent to the deed.  But the word is the deed.  When deploying nuclear talk is the policy, then actually deploying a nuclear weapon undoes the policy.  The implied threat is no longer available, once used.  And the Russian leadership knows that the Americans and everyone else would send more far, far weapons to Ukraine were Russia to use a battlefield nuclear weapon.
Much, much more at the link!
That's enough for tonight.
Your daily Patron!
Our kings just need their crowns to rule the sky over Ukraine 🛫 https://t.co/eyp4uJl2Y8

— Patron (@PatronDsns) February 8, 2023
Open thread!