Teach a man a fact, and he's smart for a day. Teach a man to reason, and he's a pain in the ass to his social betters for the rest of his life.
# A B C D E F G H I J K L M N O P Q R S T U V W X Y Z
#
+[number] – Used to indicate how many drinks the commentor has consumed before writing a particular post, or sometimes to suggest that another commentor must have been intoxicated when posting. Taken from reports that newscaster Dan Rather would finish a verbal outburst with "Dan Rather, plus three!"
__
#OWS – Occupy Wall Street.
__
101st Chairborne (also the Keyboard Kommandos, the Basement Brigades, or the Fighting Hellmice) – Hawkish bloggers who call for belligerent military solutions to nearly every foreign policy question without taking any personal risk. Upgraded, 21st-century version of the 'chickenhawk', the 101st Chairborne imagine themselves as actually striking blows on "the front line in the War on Terror." For example, Hugh Hewitt, broadcasting from his bunker in the Empire State Building, interviews a Time correspondent in Baghdad:
HH: I'm sitting in the Empire State Building. Michael [Ware], I'm sitting in the Empire State Building, which has been in the past, and could be again, a target. Because in downtown Manhattan, it's not comfortable, although it's a lot safer than where you are, people always are three miles away from where the jihadis last spoke in America. So that's…civilians have a stake in this. Although you are on the front line, this was the front line four and a half years ago.
Hewitt then suggests that Australian journalist Ware is a "traitor" for reporting from behind insurgent lines, and strongly hints that he should be "recalled" by his employer.
According to DKos, the Chairborne were originally the 101st Fighting Keyboarders, as referenced by TBogg in May 2004, although the newer title was in use by the time Paul H. Henry produced his War of the Words 'documentary'. See also, "Curse you, Scott Beauchamp!"
__
27 Percenters – Those Americans who will predictably vote against their own best interests. In his seminal post on the Crazification Factor, John Rogers used the 2004 Obama/Keyes senate race as a measure: "Keyes was from out of state, so you can eliminate any established political base; both candidates were black, so you can factor out racism; and Keyes was plainly, obviously, completely crazy. Batshit crazy. Head-trauma crazy. But 27% of the population of Illinois voted for him. They put party identification, personal prejudice, whatever ahead of rational judgement. Hell, even like 5% of Democrats voted for him. That's crazy behaviour. I think you have to assume a 27% Crazification Factor in any population."
__
Or, as commenter Davis X. Machina phrased it:
"The salient fact of American politics is that there are fifty to seventy million voters each of who will volunteer to live, with his family, in a cardboard box under an overpass, and cook sparrows on an old curtain rod, if someone would only guarantee that the black, gay, Hispanic, liberal, whatever, in the next box over doesn't even have a curtain rod, or a sparrow to put on it."
__
47 Percent / 47-Percenters – At a May 17, 2012 fundraising speech & dinner with his fellow multi-millionaires, then-presidential candidate Mitt Romney was secretly taped saying:
"…There are 47 percent of the people who will vote for the President no matter what. All right, there are 47 percent who are with him, who are dependent upon government, who believe that they are victims, who believe that government has a responsibility to care for them, who believe that they are entitled to health care, to food, to housing, to you name it. That that's an entitlement. And the government should give it to them. And they will vote for this president no matter what. And I mean, the president starts off with 48, 49, 48—he starts off with a huge number. These are people who pay no income tax. Forty-seven percent of Americans pay no income tax. So our message of low taxes doesn't connect. And he'll be out there talking about tax cuts for the rich. I mean that's what they sell every four years. And so my job is not to worry about those people—I'll never convince them that they should take personal responsibility and care for their lives…"
When Mother Jones published video clips from Romney's speech in mid-September 2012, the ensuing uproar helped (further) quash Romney's chances. That "47% of Americans… pay no [federal] income taxes" is a long-standing complaint among rightwingers, but the implication that retirees, children, those serving in the military, the disabled, and workers trying to support their families on below-minium-wage incomes were less valuable to America than private equity managers and real estate developers was not a vote-winner.
***
# A B C D E F G H I J K L M N O P Q R S T U V W X Y Z
A
ACORN – The Association of Community Organizations for Reform Now, a collection of community-based organizations in the United States that advocate for low- and moderate-income families by working on neighborhood safety, voter registration, health care, affordable housing, and other social issues, via a loose alliance of some 1,200 neighborhood chapters in over 100 American cities. Since advocating for working-class and poor people (many of them insufficiently white) and encouraging such individuals to vote are ananthema to conservative Republicans, "ACORN" has become a useful wingnut strawman for every variety of voter fraud, criminal electioneering, cronyism, and the use of ill-educated dupes as catspaws for political gain… in other words, psychological projection concerning standard conservative Republican behavior at the beginning of the 21st century. In September 2009, would-be conservative journalist James O'Keefe III released videos purporting to show ACORN employees providing tax advice to O'Keefe and a female associate playing the roles of a pimp and a prostitute engaged in the illegal immigration of underage sex workers. These videos were later shown to be doctored, but not before Congress voted to cut off all federal funds to ACORN and a number of the ACORN workers were forced out of their jobs. For the further adventures of James O'Keefe, see Teabuggers.
__
Activist Judge– Any judge, regardless of how conservative or when or by whom they were appointed, who rules against the wishes of Rush Limbaugh or the rest of the GOP. Intended as a criticism of judges who overturn laws written by the legislative branch ('legislating from the bench'). Proven to be partisan nonsense when rightwing SCOTUS justices voted to overturn far more laws than leftwing justices without remark from conservative pundits.
__
"A few bad apples"– A convenient explanation for the Abu Gharaib, Gitmo, and Bagram abuse/torture scandals that insulates senior policy makers by blaming privates and low-level officers. Despite the overwhelming evidence that the techniques employed were approved at the highest levels of the administration and can be traced from the memorandums to Gitmo to Abu Gharaib, administration officials insisted on saying the approved methods were just the actions of "a few bad apples." The only people ever punished were low-level enlisted soldiers (and they were guilty, mind you), while those who authorized the methods and behaviors were never charged with anything. The term is now sarcastically employed by left-wing bloggers whenever there is evidence of widespread lawlessness and systemic corruption, but no one but perhaps the lowest level employees will ever be punished (for example, the Wall Street meltdown was the work of just 'a few bad apples').
__
Alito Grimace — The expression on a conservative's face when a particular criticism hits a nerve. Named for an incident during Obama's 2010 State of the Union Address, when Supreme Court Justice Samuel Alito was caught on camera scowling and muttering "That's not true," as Obama criticized the Citizens United ruling (h/t commentor JGabriel).
__
Also, too.- One of Sarah Palin's many verbal tics was adding the words "Also" or "Too" at the end of a sentence to serve as a bizarre form of punctuation or emphasis (video here of her during the debate). This has been adopted as a running joke, with commenters and posters frequently throwing an "Also, too" at the end of their statement.
__
American Taliban, the – See Talibangelical.
__
America's Concern Troll– coined by Atta J. Turk of Rising Hegemon, refers to the Washington Post's putative liberal columnist Richard "Dickie" Cohen. Among Cohen's greatest Concerns: Al Gore should abandon the 2000 recount because Tom Delay is really mean; the invasion of Iraq and torture are justified because Dickie Cohen needed 'therapeutic violence' after having seen 9/11 on his teevee; Dickie's second grade teacher told him he was funny, therefore Dickie judges Stephen Colbert to be not funny, but simply rude.
__
Ancient and Hermetic Order of the Shrill, The– A club organized by J. Bradford DeLong (e.g.) that welcomes any and all pundits whose coherent and ultimately correct prognostications (see Shrill) are dismissed by opinion leaders (see Serious person; Overton Window). The ritual invocation of patron saint Paul Krugman: Ph'nglui mglw'nafh Krugman R'lyeh wagn'nagl fhtagn! Aiiiiiii ! ! !
__
And a pony– A classic childhood wish, tacked onto a request to indicate wishful thinking. Origin of this classic is a Belle Waring post shredding glibertarians titled "If Wishes Were Horses, Beggars Would Ride-A Pony!"
__
Appeasement/Appeaser– Any course of action in the area of foreign policy that does not automatically assume the most belligerent tone or stance is dubbed appeasement and the offending politician is dubbed the next Neville Chamberlain. The accusation rarely involves any actual understanding of Neville Chamberlain and the international scene prior to WWII, as shown in this Chris Matthews Hardball classic:
__
Applebee's Salad Bar– A reference to an idiotic statement by David Brooks of the New York Times during the 2008 campaign in which he stated on MSNBC that "Obama's problem is he doesn't seem like the kind of guy who could go into an Applebee's salad bar." Applebee's does not have, nor has it ever had, a salad bar. See also, Bobo.
__
Aspirin Between the Knees – During the 2008 GOP presidential primaries, Foster Friess, "billionaire investor and mega-funder to the super PAC supporting former Senator Rick Santorum (R-PA) for President, on using aspirin as a contraceptive:
__
Astroturfing – A professional political campaign disguised as a 'grassroots' uprising (astroturf is artificial grass). Also used to claim that a political opponent's supporters are motivated not by honest philosophical disagreement but by coarse opportunism. See also Ratfucking.
***
# A B C D E F G H I J K L M N O P Q R S T U V W X Y Z
B
Baby's Got Blue Eyes – Republican self-styled "budget wonk" and failed 2012 vice-presidential candidate Paul Ryan, whose pale eyes and much-promoted workout routines prompted certain members of the media into the sort of Tiger Beat swoonalism previously reserved for earlier failed VP candidate Sarah 'Starbursts' Palin. After the Elton John song.
__
Balloon Juice – Hot air.
__
Banana Republicans – The modern Robber Barons; individuals who dedicate their political efforts to turning America into an oligarchy where they assume they will be the rulers. Erik D. Prince, founder and sole owner of private military company Blackwater (now Xe), may be the foremost exemplar of the breed.
__
Beautiful Mind, My – Refers to Barbara Bush's dismissal of the trumped-up clusterfuck her favorite son George W. Bush was about to unleash upon Iraq, a credulous and cowed America, and a skeptical and mistrustful world. This shameless display of lack of simple human empathy soon became a hallmark of The Cheney Regency. This meme was further refined after Katrina, when Barbara Bush continued to tell us more about George W. Bush than about the Katrina victims, reinforcing the old adage that the apple doesn't fall far from the tree. A hallmark for the serene and sociopathic dismissal of all suffering that doesn't affect the owner of the 'Beautiful Mind' personally.
__
Bible Spice– Nickname for Sarah Palin, possibly invented at Wonkette, and made popular by TBogg. Other popular Palin nicknames include Caribou Barbie, The Snowbilly Grifter, Governor Sparkles, Governor Mooselini, the Wasilla Wingnut Wonder, and Queen of the Iquitarod.
__
Big Media Matt– Nickname given to Think Progress blogger Matt Yglesias who was a small-time blogger as a Harvard undergrad but then became one of the first to blog professionally.
__
Big Shitpile– Duncan Black's (Atrios, aka Powder Blue Satan) nickname for the toxic assets and the mortgage mess.
__
Birthers, also birfers – Deluded portion of the fringe right, encouraged by right-wing stalwarts such as the NRO's Andy McCarthy and the conservative magazine WorldNet Daily, who believe that Barack Obama is not an American citizen. Frequently demand access to the "vault copy" or "long form" of Obama's birth certificate, among other things. Recent polls show an alarming number of Republicans are Birthers. This movement shares close ties with the PUMA crowd of Hillary dead-enders.
__
Black Jimmy Carter– First used as an insult to Barack Obama in January 2008 (being compared to Jimmy Carter is the worst thing that can be done to a President according to wingnut logic), the phrase has a two-fold purpose: to imply an aura of failure around the Obama Administration, as pop culture has rendered the Carter Presidency a failure, and to excite conservative activists that the second coming of Reagan is at hand. Now used by left-wing bloggers as a joke.
__
Bleg – Begging via Blog. Usually a request for technical information, further citations, or links. Possibly descended from the ancient geek-friendly science-fiction mantra, "All wisdom is contained in fandom".
__
Blogger Ethics Panel– Originally refers an 'ethics panel' that treated weblogs as a unique threat to journalistic integrity despite the ubiquity of similar or worse practices in other types of journalism. Also see this formal complaint that (falsely) accused Markos Moulitsas of failing to disclose links with the Howard Dean campaign. Now used mockingly by bloggers to mark the frequent occasions when a professional journalist or media outlet commits a major conflict of interest. A sarcastic tone is implied due to the frequent journalistic practice of ignoring ethical lapses by other journalists, but emphatically not bloggers, as a professional courtesy.
__
Blogospheric Navel-Gazing – Stuff like this entire lexicon.
__
Bobbleheads – Derogatory nickname for television talkshow hosts and the pundits who use them — empty novelty items nodding in uniform approval of "their team". See also Media Village Idiots.
__
Bobo– Derogatory nickname for David Brooks of the NY Times, who coined the portmaneau Bourgeois Bohemian when he decided "yuppie" was offensive to its targets. For more details on Bobo, see this definitive piece.
__
Break out the Giant Foam Fingers – A term referring to the blind, ignorant, screeching wingnut defense and/or cheerleading of the American status quo, and the subsequent assertion that our policies and/or way of life are the best in the world. Political philosphy as a form of sports commentary.
__
Broderism – See High Broderism.
__
Brooks Brothers Riot – On November 19, 2000, a band of several hundred well-dressed individuals, many of them paid GOP political operatives, disrupted a meeting of election canvassers in Dade County, Miami in an ultimately successful attempt to stop recount of disputed ballots in the Bush/Gore presidential contest. Once the Supreme Court awarded Bush the election by fiat, many of the rioters were rewarded with positions in Bush's administration. This particular astroturfing event was sufficiently public and violent that it has been cited for the past nine years as an examplar of the Cheney Regency's anti-democratic, pro-fascist preferences. See also Banana Republicans.
__
Burkean Bells – David Brooks referred to "Burkean alarm bells" warning him of the impending failure of Obama's domestic policies. As a conservative touchstone, Edmund Burke produced some highly inflammatory rhetoric, such as his defense of Marie Antoinette: "I thought ten thousand swords must have leaped from their scabbards to avenge even a look that threatened her with insult. But the age of chivalry is gone. That of sophisters, economists, and calculators has succeeded; and the glory of Europe is extinguished for ever." Now many of us hear Burkean bells whenever we hear conservatives saying or doing something particularly stupid. Also: The terrifying prospect that government might actually do something to help someone who isn't rich (h/t commentor Mclaren); The post-George W. Bush attempt by establishment conservative pundits to redefine the modern conservative movement as an 18th and early 19th century intellectual exercise with no connection to the actions and record of the late 20th conservative movement, including their own (h/t commentor Baldheadeddork).
***
# A B C D E F G H I J K L M N O P Q R S T U V W X Y Z
C
Calvinball – A game, invented by Bill Watterson for his comic strip Calvin and Hobbes, which is never played the same way twice and where any player may change or add a rule at any time. Used politically to describe a situation where one side attempts to control the debate by continually changing the parameters of the argument (aka 'moving the goalposts'). Thus, when President G.W. Bush's approval rating went from 30% to 32%, Republicans applauded his improving popularity; when President Obama's approval ratings dropped from 57% to 55%, Republicans announced that his presidency had failed. During the Bush Administration, a bill approved by 51 members of the Republican-dominated Senate was considered "a mandate"; during the current Health Care Reform battle, however, "conventional wisdom" has shifted the standards, first demanding a 60-vote filibuster-proof majority, and later "requiring" another 15 or 20 minority-Republican votes so that it will be "truly bi-partisan".
__
Canuckistan – Canada.
__
Caribou Barbie– Nickname for Sarah Palin.
__
Cavuto Mark – A question mark used to speculate on a false claim, thus allowing Fox News to run incendiary chyrons without needing any facts to support the claim. The use of punctuation to cover for what would otherwise be a baseless (and libellous) accusation: "Dick Cheney hunts black men" would be wrong. "Dick Cheney hunts black men?" is okay. Perhaps rhetorical, perhaps slanderous — we examine the controversy; you decide! Coined by Jon Stewart after Fox's Neil Cavuto
:"…Cavuto's not saying these things. He's just asking, like, 'Is your mother a whore?' What? I'm not saying she's a whore. I'm just wondering out loud if she is a whore. All I'm saying is that reasonable people who have banged your mother for money can disagree."
See also, Some people say.
__
Celebrity, or Obama as a celebrity– One of the weirder chapters in the 2008 McCain campaign occurred in the summer of 2008, when McCain HQ tried to re-brand popularity as a negative. The campaign produced and aired commercials depicting Obama as a celebrity, with the clear implication that widespread popularity at home and abroad should be an electoral liability. Although this reflected a classic Rovian tactic of attacking a candidate's strong points (see Swift Boat Veterans for Truth), some took this to mean that strategists in the McCain camp were unaware that the goal of an election is to win more votes. Several weeks later the campaign chose Sarah Palin as McCain's running mate, an act which confirmed those suspicions in the minds of many.
__
Center-right nation– A frequent refrain among right-leaning commenters that successfully penetrated mainstream opinion leaders (see 'serious people') after the 2008 election, this was an attempt to mitigate the repudiation of the GOP by the electorate. Despite getting hammered in the Presidential election, the House, and the Senate, right wing pundits would insist that regardless of the massive Democratic gains and the shift to the left, this is still a "center-right nation." To this day, we have no knowledge of any of the stenographers in the media refuting this ludicrous assertion. A final point of irony: the folks insisting the nation was still center-right to diminish the magnitude of Obama's win were frequently the people who trumpeted Bush's razor-thin wins as "clear mandates." See also Puke funnel and Stenographers.
__
Cheeto dust – A magical substance, the political version of pixy dust, that makes every Conservative ineptitude or malfeseance look like a triumph. Since all wingnut bloggers are said to survive on a diet of Cheetos and Mountain Dew, the vividly-colored orange dust is used as a metaphor for conservative bloggers' relentless cheerleading for their chosen leaders' actions or inactions. "Sprinkle more cheeto dust, maybe we'll be able to make out Saddam's WMDs in the clouds!" See also, Clap Louder and Tinkerbelle Effect.
__
Cheney Regency, the – George W. Bush's presidential administration.
__
Chewbacca defense– attempting to win an argument by confusing the issues with completely irrelevant details. Based on a classic South Park episode. Not to be confused with the Chewbacca Gambit, in which otherwise proper actions are discouraged by threats of violence, generally thinly veiled.
__
Chunky David Brooks – Ross Douthat (also known as 'Ross DoubtThat'). See Chunky Reese Witherspoon and BoBo Brooks for the derivation.
__
Chunky Reese Witherspoon – Ross Douthat, while blogging professionally at The Atlantic, published a memoir using this phrase to describe a fellow collegian whose feminine wiles he claimed to have resisted due to his distaste for her birth-control-pill-popping, hedonistic habits. The story solidified Douthat's reputation as the new young right-wing Culture Scold, and possibly led to his current position at the New York Times, but it also offered endless entertainment speculating about Douthat's personal sexual foibles to bloggers who do not care for professional culture scolds.
__
Clap Louder– Refers to Peter Pan exhorting the audience "If you believe in fairies…clap your hands." If the children do not clap loudy enough, they are warned, Tinkerbelle will die. Politically, a statement that an argument or idea has left this mortal coil and is now in the realm of fantasy, and will succeed only if the target audience doubles down on the Fantasy vs. Reality challenge. (The only measure of the success of a Republican policy is public praise; conversely, the failure of any Republican policy is due only to liberal criticism.) Crudely, trying to make a stupid idea sound better by showing greater enthusiasm; attempting to polish a turd. For example, throughout the early years of the Iraq war, wingnuts frequently blamed the media and anti-war protesters for the failures of the war because "they had failed to support our troops", despite the fact that the Bush administration had been given everything they asked for during the period. See also, Tinkerbell strategy.
__
Clenis, the– Combination of Clinton and Penis, used to jokingly refer to the wingnut obsession with Bill Clinton. Origin unknown.
__
Clown Shoes– Someone or something that is just a total joke, worth a chuckle maybe once, after that it just becomes boring and annoying. (Ref: Jay and Silent Bob Strike Back). Used as a tag for predictably idiotic behavior.
__
Cole's Law – 1. In any given political discussion, if religion is mentioned, the probability of the discussion shifting to a flame war about religion and the Founding Fathers approaches one. 2. Thinly sliced cabbage.
__
Colonel Mustard – See Dijongate.
__
Commander Codpiece or Commander Bunnypants – Derogatory nickname given to President George Bush after his landing on a US aircraft carrier on May 1, 2003 dressed in a naval flight suit to proclaim victory in the Iraq war. Bush's flight gear caused an obvious bulge in Bush's groin area. Several professional pundits (including Chris Matthews) and many members of the right-wing blogosphere celebrated this display of "Bush's manly attribute" in terms usually reserved for softcore gay pornography, leading to a left-wing counterreaction. For a more recent specimen of RW sexually-flavored idolatry, see Starbursts.
__
Concern troll– Someone who pretends to agree with the prevailing views of the blog, and simply wants to urge caution in this one case, but who is really trying to undermine the views he pretends to hold. Can be hard to distinguish from a poster having second thoughts or angsty misgivings, but tendency becomes clear after several posts. Gives rise to the expression, "concern troll is concerned", referencing LOLcats.
__
Conservative – (1) "The modern conservative is engaged in one of man's oldest exercises in moral philosophy; that is, the search for a superior moral justification for selfishness." John Kenneth Galbraith
(2) People who don't want to be informed – just affirmed.
(3a) A philosophy or system of government that is marked by stringent social and economic control, a strong, centralized government usually headed by a dictator, and often a policy of belligerent nationalism. Oh sorry, that's the dictionary definition of Fascism.
(3b) Form of political behavior marked by obsessive preoccupation with community decline, humiliation or victimhood and by compensatory cults of unity, energy and purity, in which a mass-based party of committed nationalist militants, working in uneasy but effective collaboration with traditional elites, abandons democratic liberties and pursues with redemptive violence and without ethical or legal restraints goals of internal cleansing and external expansion. No, wait, that's Robert O. Paxson's definition of fascism.
(4) Anyone who believes the United States of America was placed on this Earth by the baby Jesus to bring free markets, handguns, and bibles to every dog-eating commie backwater on the planet.
(5) "Although it is not true that all conservatives are stupid people, it is true that most stupid people are conservative." – John Stuart Mill.
(6)"Today's so-called 'conservatives' don't even know what the word means. They think I've turned liberal because I believe a woman has a right to an abortion. That's a decision that's up to the pregnant woman, not up to the pope or some do-gooders or the Religious Right. It's not a conservative issue at all."-Barry Goldwater.
See also "Shut up, that's why."
__
Counter tops– as in "But what are their counter tops made of?" or "X has insulted Rush Limbaugh! Check their countertops!" Twelve-year-old Graeme Frost spoke publicly with gratitude that S-CHIP helped with medical expenses after a car accident left him with severe injuries, and wished the same for other children. Wingnuts immediately piled on to this dangerous kid and trashed his family, going so far as to look in the windows and see – gasp! – countertops that appeared to be made of granite. This obviously made his family unfit to receive any public benefits. (The counters were concrete, but no matter, it's still a scandal!) Now used to show the idiocy of the wingnuts trying to discredit anyone who says something they don't like, using completely irrelevant and often false information.
__
Cow on the Tracks – On October 14, 2009, Michael Steele, head of the Republican National Committee, announced that he would derail any Democractic attempts at health care reform because "I'm the cow on the tracks". Since real-life encounters between cows and locomotives seldom end well for the cows, this statement was quickly seized as a particularly mockable example of the RNC's current pathetic ineptitude.
__
C-Plus Augustus – Derogatory nickname for George W. Bush. Coined by Charles Pierce.
__
Crazification Factor– The belief that a certain portion of the population is just plain crazy, first posited by John Rogers, with the number at 27%. For further explication, see 27 Percenters.
__
C.R.E.A.M. – Cash Rules Everything Around Me. From the Wu Tang Clan song. "Cash rules everything around me / CREAM! – Get the money / Dolla dolla bill y'all… "
__
"Curse you, Scott Beauchamp!" or "Damn you, Scott Beauchamp!" – Mr. Beauchamp, while serving in Iraq, wrote an article published in the New Republic (using the pseudonym Scott Thomas) about his experiences, including anecdotes of some less-than-sterling acts by his fellow American soldiers (running over a dog, mocking a disfigured Iraqi). Outraged rightwing milbloggers immediately mounted a "counter-offensive", moving from posts using toy tanks in sandboxes to "demonstrate the impossibility of Beauchamp's allegations", to (ultimately successful) attempts to force the New Republic into publishing a retraction / firing Beauchamp, to "leaking" Beauchamp's personal information via an "official letter" from an individual claiming to be Beauchamp's superior officer. Since Beauchamp's most pessimistic predictions of America's failure to swiftly impose Enduring Freedom in Iraq have since been exceeded, the sarcastic "Curse you, Scott Beauchamp!" has become the anti-war DFH's sarcastic shorthand for all subsequent rightwing warblogger laments, would-be justifications, SNAFUs, and FUBARs. The resemblance to cartoon character Snoopy's oft-repeated 'Curse you, Red Baron!' may have been intentional. Also: Humorous refrain adopted in the aftermath of the Beauchamp affair that liberal bloggers would use to mock the right-wingers who wanted to blame the then-failing war, gripped by a crushing insurgency, on the evil liberal media who simply would not report the good news from Iraq. See also Clap Louder and Tinkerbell Strategy.
***
# A B C D E F G H I J K L M N O P Q R S T U V W X Y Z
D
Dangerstein – Dan Gerstein, rightwing political strategist, whose self-penned website bio brags of his years as "the chief architect of Lieberman's high-profile values agenda". Someone who, while posing as a Democrat, has never met a Republican attack on the Democratic Party that he couldn't embrace (and help publicize). If there were a German word meaning 'a face that cries out for a fist in it', that word would be illustrated with Mr. Gerstein's photo.
__
Daydream Believers – Tag for propositions or theories considered unduly optimistic (Barak Obama will-or ever intended to – propose 'Medicare for all Americans') or pessimistic (Sarah Palin will be elected president in 2012).
__
Dean Scream, the– Also known as the "I Have a Scream" speech. 1). Dr. Howard Dean's enthusiastic bellow during the 2004 Democratic primaries, over-amplified both literally and figuratively by a press apparatus bent on demonizing an outsider to the Village groupthink who was threatening to gain too much popular support. 2). Any minor technical or verbal gaffe run ad infinitum and ad nauseum by a compliant press apparatus in order to make a popular political figure appear a bug-eyed maniac when his or her ideas become more widely accepted than is comfortable to the status quo.
__
Decadent Left in Its Enclaves on the Coasts, The — See under "The Decadent Left… "
__
Decider, the (also: The Deciderer) – Mocking terminology for former President Bush. Originated when, under attack for not firing Donald Rumsfeld, Bush replied, "But I'm the decider, and I decide what is best. And what's best is for Don Rumsfeld to remain as the secretary of defense." Term is now used to mock Bush's legendary refusal to change his mind on a course of action, regardless of how many facts were presented to him — or to accuse other conservatives of emulating Bush's unthinking stubborness.
__
Demonic Conservative Ridicule Machine– TBOGG, a somewhat popular blogger. Background here.
__
DFHs– Dirty Fucking Hippies. By consensus of the "serious" mainstream media (MSM), any progressive blogger; to the more conservative MSM, any blogger and most forms of "independent" reporting media. Used by certain bloggers as an act of reclamation.
__
DIAF– Die In A Fire.
__
Dick Whisperer– Derogatory nickname given to consummate Beltway insider and Washington Post columnist Dana Milbank, who after being demolished on a television show by Nico Pitney, leaned over and whispered into Pitney's ear that he was "such a dick."
__
"Did you know that John McCain was a POW?"– Post tag used throughout the 2008 Presidential campaign to reflect the remarkable frequency with which the McCain campaign or a surrogate pointed this fact out, seemingly regardless of context. Media members spent the entire 2008 presidential campaign pretending to be astonished, and charmed, that McCain was too principled and modest to ever, ever bring up his POW status, even though he and his campaign brought it up all the time.
__
Dijongate– The national scandal wherein president Obama asked for spicy mustard on a hamburger. Cornell Law instructor William Jacobson, forever after to be known as Colonel Mustard, took the lead in the charge against Obama's effete condiment preferences, and interpreted the howling laughter at his rhetoric as "leftist rage."
__
Dogwhistle Politics – Using coded phrases to appeal to the prejudices and baser instincts of one's listeners. As the late Republican strategist and professional ratfucker Lee Atwater explained:
You start out in 1954 by saying, "Nigger, nigger, nigger." By 1968 you can't say "nigger"—that hurts you. Backfires. So you say stuff like forced busing, states' rights and all that stuff. You're getting so abstract now [that] you're talking about cutting taxes, and all these things you're talking about are totally economic things and a byproduct of them is [that] blacks get hurt worse than whites. And subconsciously maybe that is part of it. I'm not saying that. But I'm saying that if it is getting that abstract, and that coded, that we are doing away with the racial problem one way or the other. You follow me—because obviously sitting around saying, "We want to cut this," is much more abstract than even the busing thing, and a hell of a lot more abstract than "Nigger, nigger."
After multiple political generations of reiteration, and in the mouths of less skilled users, dogwhistle politics may have reached a point of diminishing returns where multiple crude insertions of coded talking points begins to sound like word salad to the uninitiated. Thus, Glenn Beck is considered less serious than Rush Limbaugh, and Sarah Palin is thought to have less gravitas than George H.W. Bush.
__
Don't Mourn, Organize – Labor martyr Joe Hill's last letter to his fellow IWW worker included the phrase "Don't waste any time in mourning. Organize… "
__
Doughy Pantload– A derogatory nickname for LA Times columnist and former National Review Online Editor Jonah Goldberg, who inflicted a book-length violation of Godwin's law upon an unsuspecting (and, among his readers, undiscerning) public (h/t commenter Warren Terra). Frequently mocked for statement he made about his book, entitled "Liberal Fascism", roughly a year prior to its publication, that it was a very serious, thoughtful, argument that has never been made in such detail or with such care. Variations include Doughbob Loadpants, as named by Norbizness.
__
"Dude, where's my recession?"– wingnut catchphrase used frequently during the recession of 2007-09 to deny the existence of said recession; the mocking tone is thought to reflect the GOP's considerable empathy for so-called ordinary Americans, who, by coincidence, incurred the brunt of said recession. Magically, the day the markets crashed, the catchphrase disappeared, and the now year-old recession was then blamed on candidate Barack Obama. Wingnuts now fondly blame Obama for the recession as far back as September of 2008, two months before he was even elected.
__
DWTFTW– "Doing whatever the fuck they want," typically ascribed to Republican lawlessness, particularly during the Bush era. (h/t commentor JenJen)
***
# A B C D E F G H I J K L M N O P Q R S T U V W X Y Z
E
Editing, please – Once upon a time, Balloon-Juice had an editing feature, now available erractically and only for certain platforms, that allowed commenters to correct typos, etc., for a four-minute window after posting. "Editing, please?", or variations such as "My kingdom for the return of the edit button!", have since become a common refrain from BJ commenters — a crew better known for their thoughtfulness, wit, and snarkiness, than for their manual dexterity — upon realizing that beautiful gems of prose are marred by an ugly typo (h/t commentor JGabriel). See also, FYWP.
"Etch-A-Sketch" – Per the Washington Post:
In March 2012, the morning after Romney's big win in the Illinois primary, [senior campaign advisor EricFehrnstrom blunted the Republican presidential front-runner's momentum by saying on CNN that Romney would "hit a reset button" in the general election.

"It's almost like an Etch a Sketch," Fehrnstrom said Wednesday. "You can kind of shake it up, and we start all over again."
__
"Even the liberal New Republic"– Phrase used by wingnuts, the conservative media, and others to pretend that there is broader support for whatever the nutty idea du jour might be. The New Republic, a center to center-left publication (albeit center-right anywhere else in the world) is hardly a liberal publication, and as hawkish as it gets regarding every use of military force and all things Israel. A frequent corollary is "Even the liberal Camille Paglia." See also Center right nation.
__
Excellent News for John McCain– See '"This is excellent news, etc.".'
***
# A B C D E F G H I J K L M N O P Q R S T U V W X Y Z
F
Firebagger – Unfortunate portmanteau of FDL 'Firepup' and 'Teabagger', possibly coined by Firedoglake commenter Knoxville in December 2009 to celebrate the new anti-Obama partnership between Jane Hamsher and Grover Norquist: "How can anyone seriously support any president as he pulls tom-fuckery on the American people? I'd be more than happy if Obama were to fight for the common good and the best interests of the American people. But he's not. Till he changes course – and till others in his base see that he's screwing around for all the wrong reasons and screwing us all over in the process – I'll speak out against him. Call me PUMA. Call me Firebagger. Call me the last true Progressive standing." First nutpicked for Balloon Juice here, courtesy of commentor Midnight Marauder.
__
Fonzi of Freedom– Dismissive nickname for Reason editor Nick Gillespie, known for his permanent smirk, smug writing style, and leather jacket.
__
Freepers – People or other entities that roam the blog known as "FreeRepublic". Far-right and libertarian, this is where wingnuts are born and bred. Freepers honestly believe that John McCain is a socialist, and the overall group concensus is so opposite to the Reality-Based Community as to approach insanity. Many right-wing amateur assholes and idiots on TV, either on the campaign trail or at astroturf events, can be traced to an account at Free Republic. Also known as Stormfront Lite, an association vehemently denied by the Freepers themselves.
__
Freeping – Encouraging blog readers to seek out obscure online polls, and after influencing the results of that poll, claiming some universal mandate based on said outcome. Eventually morphed into various, more overt forms of poll-hacking and online intimidation. Invented, or at least claimed, by the blog FreeRepublic.
__
fReichtards – Derogatory nickname for rightwing authoritarians, especially those who excused the Bush Administration's usurpation of powers under the "Patriot Act" but who now decry the Obama Adminstration's most harmless acts (such as Obama's video address to schoolchildren) as socialism or worse. One corner of the modern Republican Golden Triangle, the other two being Talibangelicals and Robber Barons (more politely, authoritarians, fundamentalists, and fiscal conservatives).
__
Friedman Unit, or F.U.– Six months, to be followed by another six months, to be followed by yet another six months, indefinitely. Tom Friedman, pundit/journalist satirized as "The Moustache of Understanding", used this phrase so relentlessly in his defense of the Second Iraq War that it has its own Wikipedia entry. Postulated by Atrios and demonstrated authoritatively by FAIR.
__
FSM– The flying spaghetti monster.
__
FTFY – Fuck The Fucking Yankees. In memory of the late, great blogger Steve Gilliard. Also, the consensus opinion of all decent human beings is that the Yankees suck.
__
FTW – For The Win. A statement of approbation, potentially confusing as it is the only common BJ acronym where the F does not stand for "fuck".
__
Furminator – A patented pet-grooming device which, when properly employed, will generate a quantity of loose hair sufficient to weave a blanket, crochet an infant's layette, or knit an entirely new cat (h/t commentor SiubhanDuinne). John Cole's enthusiastic endorsement of his new Furminator inspired so many BJ commentors to buy their own that it may have moved the company's stock price has become a byword for his persuasive abilities.
__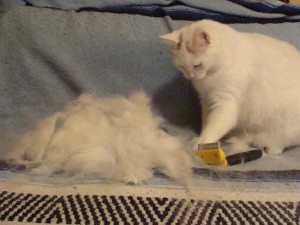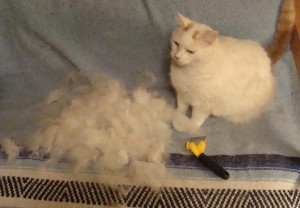 __
FWIW– For What It's Worth.
__
FYWP– Fuck You, WordPress. Usually indicates that the writer has just lost a long, well-thought-out, incredibly witty post to the vagueries of WordPress Error. A particularly severe period of such posting failures will lead to remarks about "my favorite blog, WPE" or "WordPress > Error = Balloon Juice's default front page".
***
# A B C D E F G H I J K L M N O P Q R S T U V W X Y Z
G
__
GBCW – Good Bye, Cruel World. When a commentor / post announces that the stupidity, vitriol, insensitivity, indifference, and/or general worthlessness of the site has reached a level where decency requires a dramatic withdrawal. Always used sarcasticly, or as an accusation.
Glennuendo – The act of drawing a darkly ominous inference from an opponent's failure to discuss a political issue. Word play inspired by the habit of Glenn Reynolds, aka the Instapundit, insinuating that someone was doing something wrong or had something to hide if they had not addressed even the most obscure issue. Coined by commenter Vaara, example here.
__
Glenzilla– Nickname for civil libertarian, Constitutional scholar and Salon columnist Glenn Greenwald.
__
Glibertarian – a portmanteau of glib and libertarian, a person who affects libertarianism when it's convenient (h/t commenter Demimondian). Used by those not ready to admit that all libertarian philosophy can be boiled down to "I got mine, fuck you", or by those attempting to be polite to libertarians.
__
Goats – Accusations of ruminant sexual abuse are used to mock especially shrill wingnut trolls, possibly originating in the trope that "affection for goats is a metric of perceived allegiance to George W. Bush, who was reading 'My Pet Goat' to a class of small children when he was notified of the first plane flying into the World Trade Center on 9/11." (h/t commentor Original Lee)
__
Going Galt – Withdrawing one's unique brilliance from the economy in protest of tax rates which are actually abnormally low for the post-war era. Discussed and encouraged by bloggers such as Dr. Helen and Meghan McArdle, but never actually preformed, because even they can tell it would be a fucking moronic thing to do (h/t commenter Steve S). Wholly ineffective and counterproductive, outside of poorly-written midcentury fantasy novels. Also: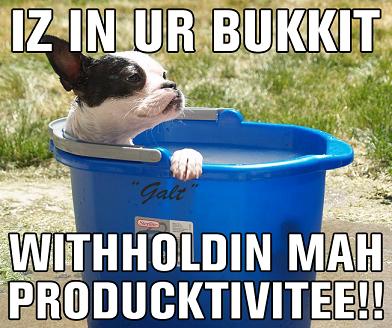 __
Goldberg Theorem – As originally posited by Steve Benen and refined by Balloon Juice's own Tim F.: "When the market goes up, it's good for Republicans. When the market goes down, it's bad for Democrats."
__
GOS – Great Orange Satan, AKA the Daily Kos.
__
Granite Countertops – See Countertops.
__
Green Balloon Juice – Republican State Senator Rod Jetton reacted to charges that he beat and choked his partner into unconsciousness by complaining that she didn't use their 'safe word', green balloons. It didn't take long for Balloon Juice commentor Kryptik to plead "Green Balloon Juice" when the concurrent HCR (health care reform) discussion threads descended to levels, and lengths, that could be construed as unnecessarily abusive to the innocent by-reader.
__
Green Lantern Theory – States that the main impediment preventing a goal from being achieved is a lack of willpower. Coined by Matt Yglesias to describe the thinking of Iraq hawks and neoconservative geopolitics, it has also been used to describe a similar mindset in other areas such as financial regulation. Conveniently, the theory cannot be disproved — since any setback, military or otherwise, can simply be blamed on a lack of will, necessitating a redoubled effort with greater resolve. The name comes from the DC Comics character Green Lantern, whose power ring can produce almost any effect imaginable so long as the wielder has sufficient power of will to call it into being.
__
Green Shoots – Non-ironically, the term used by pundits and financial specialists to describe indicators that the economy might be recovering, no matter how tiny and tenuous said indicators may be. Ironically, the term used to describe indicators of massive, continuing economic problems, such as unemployment.
__
GSAVE – Global Struggle Against Violent Extremism. Lame attempt to rebrand the War on Terror by the Bush administration that was rolled out in July of 2005 and quickly dropped several days later.
__
GWOT – Global War on Terror. See also GSAVE.
***
# A B C D E F G H I J K L M N O P Q R S T U V W X Y Z
H
HCR – Health Care Reform, circa 2009. Not to be confused with HRC (Hillary Rodham Clinton).
__
"He has a book to sell"– Derived from the right-wing tendency to dismiss any legitimate criticism from a former party member, where they claim cynically that the individual is simply trying to drum up book sales (See "Clarke, Richard A."). An Attack used to defame any whistle blower, insider account or opponent of one's own worldview, if said opponent has authored a book. (Of course, the general method for spreading an idea or allegation in modern society is by authoring a book or magazine article, and then being interviewed in the press.) Charge used to dismiss an argument, not matter how factual or valid, simply by implying a profit motive; considered valid even if the author already has substantial personal wealth. A form of the ad hominem logical fallacy which attacks the writer's motives without addressing his or her argument.
__
Heh, Indeed – Mockery of Glenn Reynold's habit of creating Instapundit blog posts that consist solely of a quote from some other right-wing website followed by the phrase "Heh, indeed." Used to indicate the average wingnut's laziness and/or inability to waver, however minimally, from the conservative consensus.
__
He-Man Woman-Hater's Club – Chris Matthews, Beltway Chapter President. Used to mock certain Media Village Idiots' and bloggers' uninhibited misogyny and hypersuspicion of women in positions of power, especially female politicians, by comparing them to the angry little boys in the Our Gang kiddy serials of the 1920s. May have been inspired by Matthews' resemblance to "Spanky" and his ridiculously sexist treatment of Hillary Clinton (going back to Bill Clinton's original presidential campaign), but is now used as a general reference for paleo-conservative defenders of all things masculine.
__
High Broderism– Also frequently seen as merely "Broderism." A fetishistic attachment to bipartisanship for bipartisanship's sake; reflexive adherence to false equivalencies, regardless of whether what one side says is patently insane. The result of forty years of believing that Dirty Fucking Hippies may be hiding under your bed. Whereby a center-right pundit, often Broder himself, decrees that bipartisanship is a good thing and can be achieved if only everyone would agree with the center-right pundit. For the last ten years or so, High Broderism has been the shorter version of virtually every op-ed from David Broder.
__
Hiking The Appalachian Trail– A comically flimsy excuse created by a public figure to cover up illicit sex. Widely recognized as an instant classic when South Carolina Governor Mark Sanford attempted to cover up an Argentina sex trip by claiming that he was hiking the Appalachian Trail, on Naked Hiking Day. The South Carolina State deserves particular credit in this story, both for greeting Governor Sanford as he stepped off the flight from Argentina and for uncovering ancillary misbehavior by "media" figures such as RedState's Erick Erickson.
__
Hindrocket – the self-chosen online pseudonym of Powerline blogger John Hindraker, since abandoned for… rather obvious reasons. Referred to by his detractors as Assrocket, especially for his beyond-the-call-of-duty paeans to the unique genius of President G.W. Bush. Perhaps best known for these definitive examples of Bush knob-polishing:
It must be very strange to be President Bush. A man of extraordinary vision and brilliance approaching to genius, he can't get anyone to notice. He is like a great painter or musician who is ahead of his time, and who unveils one masterpiece after another to a reception that, when not bored, is hostile.
and
Obama thinks he is a good talker, but he is often undisciplined when he speaks. He needs to understand that as President, his words will be scrutinized and will have impact whether he intends it or not. In this regard, President Bush is an excellent model; Obama should take a lesson from his example. Bush never gets sloppy when he is speaking publicly. He chooses his words with care and precision, which is why his style sometimes seems halting. In the eight years he has been President, it is remarkable how few gaffes or verbal blunders he has committed. If Obama doesn't raise his standards, he will exceed Bush's total before he is inaugurated.
Hoekstroika– A ridiculous statement that greatly minimizes the suffering of one group of people while wildly escalating the suffering of another group of people, when no such comparison exists. Usually for partisan political point scoring. Origin: a "twitter" from Rep. Peter Hoekstra comparing the violent repression of peaceful demonstrators in Iran with Republicans in congress:
Iranian twitter activity similar to what we did in House last year when Republicans were shut down in the House. 8:56 AM Jun 17th from TwitterBerry
Hola Fruta!- John's favorite frozen treat, mentioned frequently, which led to any number of questions and vulgar insinuations about John's sexual preferences.
__
Hoocoodanode – Snarky reference ("who could've known?") to the "No One Could Have Predicted… " self-justification; see that entry for further explication.
__
Hookers and Blow – What executives at regulated entities choose to consume in the form of social surplus gained through anti-competitive behaviors.
__
Hoot-Smalley– A rare one-word distillation of Wingnut cluelessness and loopiness, in an especially crystalline form: from Michelle Bachmann's meanderings about what she called the "Hoot-Smalley" (= Smoot-Hawley) tariff.
__
HuffPo– The Huffington Post.
***
# A B C D E F G H I J K L M N O P Q R S T U V W X Y Z
I
"I Am Aware of All Internet Traditions"–Originating from a stupid comment at Lawyers, Guns and Money ("I am aware of all internet traditions, but… "), it has been subsequently popularized as a satirical term that makes fun of right-wing stupidity.
__
"I am not a Republican, I am a conservative"– Used by neoconservatives, libertarians, and other right-wingers attempting to disassociate themselves from the Republican electoral failures of 2008, or from the general wreckage and political failures of the previous eight years. Also used as a right-wing rallying cry in the hopes that a slate of "real" or "true" conservatives (Palin, Giuliani, Ron Paul) will re-capture the seats lost to "Democrat appeasers" in 2010, or 2012, or 2016 at the latest. Used almost as often by Democrats, progressives, and DFHs to mock Republican apologists and right-wingers in general: "… I am a conservative: Lame attempt to scrape the bushcheney off the speakers shoe when no one is looking."
__
IANAL– I am not a lawyer. Almost always followed by a mistaken interpretation of law.
__
Iatropic Excitement – What happens when the radioactive excitement of the massed teabaggers bouncing off each other in the closed container of an otherwise meaningless local election reaches critical mass, and makes a deeply underqualified carpetbagger into the metaphor trigger on the neutron bomb of post-Republican Conservatism. Since "iatropic" actually means "needing to see a physician", presumably Marc Ambinder used this phrase for the Teabaggers' intense investment in the 2009 District 23-NY special election with tongue firmly in cheek.
__
I Cain't Fight This Feelin' Anymore – For a brief period during the early months of the 2012 Republican presidential primaries, Tea Party darling Herman Cain was considered, if not actually the potential candidate, at least a possible spoiler with a chance at the VP slot, ala Sarah Palin in 2008. While he dropped out of the race in December 2011, in post-election 2012 he was already hinting that he might run again in 2016.
__
"I can see Russia from my house"– Tina Fey's satirical take on Sarah Palin's foreign policy credentials. Palin's actual summation of what qualified her to deal with Russia wasn't much better: "They're our next-door neighbors and you can actually see Russia from land here in Alaska, from an island in Alaska." Variations are used to mock those (usually but not always Palin herself) who don't let their ignorance of a given subject stand in the way of offering opinions that they expect others to take seriously. Local commenter Krista, now RedKitten, famously responded, "And when I look out my window I can see the moon. Doesn't make me a fucking astronaut now, does it?" Krista's reply became such a popular internet meme that a writer for Leno honored her by ripping it off.
__
"I for one welcome our new _____ overlords" – Sarcastic response to an overly despairing ("If Goldman Saks has taken over the Federal Reserve, I for one welcome our new Chinese overlords") or optimistic ("If the Obama Adminstration can eliminate childhood obesity, I for one welcome our new nanny-state overlords") post. Coined in the Simpsons episode "Deep Space Homer" when news anchor Kent Brockman, reacting to an ant passing in front of live feed from the space shuttle that appears gigantic due to foreshortening, announces, "I for one welcome our new insect overlords."
__
IGMFU – I Got Mine, Fuck You. The distilled political philosophy of economic conservatives and/or libertarians.
__
"I have a recording of Mick Jagger's voice where he admits killing the Kennedys." — In early October 2009, extremely minor conservative blogger Anne Leary posted the breathless saga of her accidental encounter with ex-terrorist and RW boogeyman William Ayers, who (she believed) admitted, freely and without prompting, to committing the unspeakable crime which conservatives had been accusing him of since early 2008:
[Y]ou shouldn't believe everything you hear about me, [Ayers said,] you know nothing about me. I said, I know plenty–I'm from Chicago, a conservative blogger, and I'll post this… Then, unprompted he said–I wrote Dreams From My Father..
Unfortunately for political satirists, even Leary's normally credulous fellow conserva-bloggers found Ayers' leg-pulling a little too blatant, but it was fun while it lasted. Commentor Calling All Toaster's brilliant rebuttal of the wingnut propensity to accept transparently obvious satire and openingly mocking rhetoric at face value has not yet garnered the attention it deserves, but since a pollable percentage of Stephen Colbert's viewers believe he's really a conservative, we live in hope. (See also: Birthers, Kerning, Zombie lies.)
__
IMHO– In My Humble Opinion.
__
Intertubes, The – Mocking reference to a statement by Senator Ted Stevens (R-AK) "The Internet is not something that you just dump something on – it's not a big truck. It's a, it's a series of tubes."This followed a rambling discourse from Stevens arguing that telecomms should have the right to shape internet traffic on the basis that commercial enterprises and their customers are piggybacking on free internet bandwidth, notably ignoring that internet access is already sold to consumers in tiered levels of bandwidth (h/t commentor JGabriel). Bloggers, of course, are proudly notorious for "just dumping" on the internet with more enthusiasm than discretion. Synonyms: Intertoobz, Intertr0nz, interwebs.
__
IOKIYAR– It's OK If You're A Republican.
__
"Is it irresponsible to speculate? It is irresponsible not to." – In 2000, WSJ pundit and sometimes paid Republican operative Peggy Noonan introduced a potentially explosive, unverifiable rumor that Bill Clinton was being blackmailed by Fidel Castro into the mainstream media, using the phrase "Is it irresponsible to speculate?… It would be irresponsible not to." The blatant dishonesty of this ratfucking attempt immediately turned it into an Internet meme signifying a personal attack, usually wildly untrue, launched under a cloak of sanctimony: "Does Candidate Trollypants bite the heads off live, underaged, rabid bats? It would be irresponsible not to speculate!" See also, Keep on walking and Nooners.
__
"I smell a Pulitzer!"– A phrase that is used to refer to a particularly egregious example of journalistic incompetence or overall stupidity by a member of the mainstream media. A classic example would be this Jake Tapper expose on whether or not Obama was sneaking smokes during the 2008 primaries.
__
"It wasn't a statistic, it was a hypothetical"– Another classic from Megan McCardle in which she authoritatively asserts on her blog that "The United States currently provides something like 80-90% of the profits on new drugs and medical devices." A few days later in a WaPo chat when challenged on her statement, she states "It wasn't a statistic, it was a hypothetical." See also: McMegan and "Technically true but collectively false."
***
# A B C D E F G H I J K L M N O P Q R S T U V W X Y Z
J
Jackalope– A trolling tactic, also used in national politics, in which one knowingly makes an inane and unrelated complaint to distract from an uncomfortable topic. Coined here.
__
Jane Hamshers of the left– An epic thread from 2006 involving your bloghost and Firedoglake's Jane Hamsher.
__
Jesus money– Also called Jesus dollars. A bizarre argument put forth by (who else) Republicans during the 2009 stimulus debate that if you counted a million dollars a day since Jesus was born until now, it would not be as much as the stimulus. It makes no sense, as Jesse Taylor pointed out (Walmart's current net worth is 33 1/3 jesuses), but we are dealing with people who think the world is only a couple thousand years old.
__
Jokeline– Derogatory term for Time columnist and Primary Colors author Joe Klein. Klein is an annoying enigma for many Balloon Juice readers. He can write very penetrating and insightful columns; at other times, he writes pieces laced with false equivalencies. (For some reason, he believes the fringe left is just the same as the fringe right, but fails to recognize the fringe left has no power base in DC; he seems to live in constant fear that the Democratic party is actually being run by the Black Panthers). Klein can be used as a reliable barometer for current Beltway thinking. He has all the right enemies, in that the neocons hate him and he is constantly sticking a thumb in their eye, but he also has a running feud with Glenn Greenwald.
__
Jonanism – A portmanteau of Jonah + onanism, invented to describe the mental masturbation of conservative columnist & author Jonah Goldberg. "Jonanism" is defined as the ultimate or highest form of wankery. Coined by internet commenter Calling All Toasters in early 2008. "Man, did you see Goldberg's newest book where he claims that liberals are the real fascists? It's several hundred pages of sheer unadulterated Jonanism."
__
JPod– John Podhoretz, blogger at the National Review Online's blog The Corner. The ungifted but much-published son of neoconservative journalists Norman Podhoretz and Midge Decter, usually cited as an example of unearned career advancement due to family (see Neocon nepotism) and political connections (see Wingnut welfare).
__
JUST THE SAME (Both parties are) – The sagacious "centrist" position that any wingnut ideation – no matter how extreme, partisan, idiotic or prevalent even on congressional levels – is karmic retribution for the DNC's refusal to hunt down and offer up 9/11 truthers on the altar of bipartisanship during the 2000-2008 period.
***
# A B C D E F G H I J K L M N O P Q R S T U V W X Y Z
K
Kabuki – Japanese Kabuki is a form of classical theatre known for highly stylized drama and elaborately made-up actors performing pieces codified over hundreds of years. It's completely opaque to people who don't already understand it. In political terms, actions or statements said to rely upon posturing, exaggeration, and loud noises to disguise their empty theatricality. Modern conservative Republicans prefer the Theatre of Noh (h/t commentor Donald G).
__
Kaplan Daily – The Washington Post, so named because Kaplan Test Services is the money-making arm of the Graham family business empire.
__
Keep Fucking That Chicken

__
Keep on Walking (Sometimes you just need to)– Peggy Noonan, former Reagan speechwriter, WSJ editorialist, and professional Very Serious Person, explained that the Justice Department should not investigate the torture charges against members of the Bush Administration because any such investigation would be "upsetting" and "divisive". Thus, "keep on walking" is used by bloggers to highlight authoritarian hypocrisy and/or apologia for the inexcusable.
__
Kerning– During the 2004 presidential campaign, newscaster Dan Rather was given documents allegedly proving that George W. Bush was technically AWOL during the last part of his Vietnam-War-Era tenure in the Texas Air National Guard. These documents were subsequently labelled as forgeries, in part due to arguments concerning the 'kerning' or letter spacing of IBM typewriters, and the controversy ended with Dan Rather's forced early retirement. This widely-celebrated right-wing "success" encouraged a later generation of right-wing birthers to attempt to discredit Barack Obama as a presidential candidate by "disproving' the kerning on his birth certificate, on the grounds that a forged certificate would indicate Obama's ineligibility to hold office. Unfortunately, advances in printing technology since the mid-1960s have rendered microscopic examination of document kerning even more irrelevant, although its CSI-aura appeal to the scientifically illiterate remains strong in the further reaches of the right wing and therefore endlessly mockable by left-wing bloggers, such as Sadly, No!'s ongoing "Kerners Are Go!" anti-birther posts.
__
Kevin's Law – If you're forced to rely on random blog commenters to make a point about the prevalence of some form or another of disagreeable behavior, you've pretty much made exactly the opposite point. See also Nutpicking.
__
Kinetic Fallacy– An argument that (1) assumes a crisis demands action, defined vaguely, and (2) others must support whatever action is proposed, regardless of how stupid or counterproductive. This fallacy represents two logical flaws: a failure to distinguish between action and productive action, and the assumption that acting, often before necessary information is available, is always preferable to not acting. The argument that the threat from al Qaeda compels us to invade Iraq, an act so random that it could have been pulled out of a hat, can be considered the index case.
__
K-Lo or KLo- Kathryn Jean Lopez, former editor of the National Review Online's blog The Corner. Famed for her frequent typos, grammatical errors, and failures to correct similar errors by her contributors. See also, Jonah Goldberg.
__
KLo's House of Crazy – National Review Online's blog, The Corner.
__
KMBA – Kiss My Black Ass. What President Obama is far too centrist and bipartisan to say out loud.
__
Known Unknowns – Pseudo-philosophical nonsense spewed by Washington officials to make themselves look like capable administrators. Such statements, if true, would actually prove they knew nothing more than the rest of us. Coined from former Secretary of Defense Donald Rumsfeld's maddeningly Carollesque press conference on Feb. 12, 2002.
__
KO- MSNBC's Keith Olbermann.
__
Kochsuckers – Economists, reporters, pundits, etc. who rely (or hope to become reliant) upon the beneficence of brothers Charles & David Koch, sons of John Birch founder Fred C. Koch. (The family name, it should be noted, is pronounced 'coke'.)
__
Kossacks– Inhabitants of the Daily Kos (aka The Great Orange Satan). Legendary (at least in their own minds) as a powerful if unruly horde ever ready to defend the righteous from the right-wingers.
__
Kristol, Bill – A neoconservative pundit, also known as "Bloody Bill" for his long record of encouraging military (over)reaction to every political issue, and as "Kristol Ball" or "The Man Who is Wrong About Everything" for his predictive talents. Bragged about being "Dan Quayle's Brain" during the first Bush administration. Also claims responsibility for introducing Sarah Palin to national politics, after meeting her during an NRO cruise to Alaska. As the son of neoconservative Irving Kristol, a leading exemplar of Neocon Nepotism and second-generation beneficiary of Wingnut Welfare.
__
Krugman, Paul– A Princeton economist and winner of the Nobel Prize in economics. His consistently accurate prognostications frequently run counter to the opinion of uncredentialed Very Serious People (see VSP) in the MSM (see MSM) and therefore qualify Krugman as shrill (see shrill). The patron saint of the Ancient and Hermetic Order of the Shrill (see Ancient, etc.).
__
K-Thug- Friendly nickname given to Nobel Prize winning economist and Times columnist Paul Krugman. See also: Shrill.
***
# A B C D E F G H I J K L M N O P Q R S T U V W X Y Z
L
LGF– Shorthand for the blog Little Green Footballs.
__
LGM– Shorthand for the blog Lawyers, Guns, and Money
__
Liberal— (1) Anyone with political leanings to the left of the John Birch Society, or any self-identified Conservative who has embraced reality, facts, or logic.
(2)"Someone unwilling to take their own side in an argument." – Robert Frost
(3) What Democrats are afraid to be.
(4) Someone who understands that magical pixie dust does not pay for Medicare, the military, and political antics. (Conservative: Someone who wonders how 'those people' get away with stealing all the magical pixie dust.)
(5) Those who believe that power should be exercised to enhance people's lives. (Conservatives: Those who believe that power should be exercised to reinforce people's prejudices.)
__
Lily– John Cole's dog, a shelter rescue of unknown pedigree. Pictures (and videos) of Lily (and John's cat, Tunch) are extremely popular, and not just because they serve as safety valves between contentious and/or depressing political posts.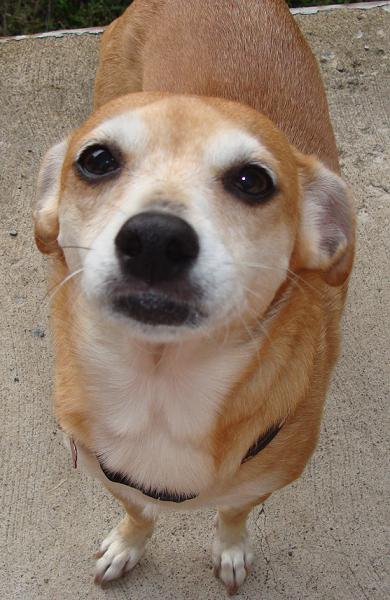 __
LOLcats– See www.icanhascheezburger.com. LOL itself stands for Laugh Out Loud.
__
Low Information Voters – Republicans. (h/t commentor Matoko_chan)
***
# A B C D E F G H I J K L M N O P Q R S T U V W X Y Z
M
Magical Unity Pony (MUP)– affectionate-mocking nickname for presidential candidate Barack Obama.
__
Malkinfreude– The shameful pleasure that one feels upon seeing a wingnut embarrassed by their own intemperate behavior or gullibility. Named for Michelle Malkin, possibly the most reliable source of wrong information and intemperate behavior (see 'Granite Countertops', 'United Pastry Jihad') on the internets.
__
Manic-progressive – The bi-polar disorder suffered by some extreme elements of the Left blogosphere, characterized by bizarre mood swings, self-defeating arguments, alternating feelings of superiority and paranoia, and abusive behavior toward former friends. Coined in response to Jane Hamsher of Firedoglake forming an alliance with conservative activist Grover Norquist of "shrink government to the size where you can drown it in the bathtub" notoriety. See also Firebaggers.
__
"Math You Do As A Republican to Make Yourself Feel Better" – On Election Night 2012, Karl Rove had an on-air near-breakdown insisting that Ohio's electoral votes could not possibly be going to President Obama. Fox News reporter Megyn Kelley asked him whether this was… well, see the attached clip at approximately 1:55:
__
McEstimate– Any figure given by the Business and Economics editor of the Atlantic Daily Beast or an equally reliable source (Bill Kristol, Sarah Palin, Joe the Plumber, an anonymous tea party organizer, your dog, your neighbor's toddler, your own personal peyote-induced vision that you had while vomiting tequila and bile through your nose onto yourself at sunrise at Burning Man) in which it is just generally acknowledged that the actual number most probably is either higher or lower by a factor of ten.
For example, I might state: "The last time I had my IQ checked, it was 1300, but that is just a McEstimate."
See also:
Within an order of megantude—close enough to be published.
__
McMegan– Nickname for fact-free Atlantic blogger Megan McArdle, who predictably makes arguments that have less to do with reality and more to do with wild-ass assertions meant to lend credibility to her libertarian bona fides. A self-proclaimed "economic libertarian" whose first blog was called I Am Jane Galt. See also, "Technically true, but collectively nonsense" and "It wasn't a statistic-it was a hypothetical."
__
Media Village Idiots– Those pundits generally held to be "serious" by the small group of people who control access to American mainstream media. A select cadre paid large sums of money to assure the general public that all is for the best in this best of all possible worlds, which usually entails being wrong about everything.
__
Meme– A replicating idea which is capable of evolution at it spreads. Coined by Richard Dawkins in his book "The Selfish Gene" as a name for a self replicating idea that was similar to the word gene. Internet Meme : idea that gets circulated, distorted, eaten, vomited back up again, reshaped, recirculated, re-distorted, eaten up again, and regurgitated yet again until eventually, it eats itself (cf commentor Asiangrrrl).
__
"Michael Moore is fat…"– Attempting to discredit one's opponent by accusing them of 'hypocrisy', usually meaning character flaws not related to the argument in question. Thus, Michael Moore's protests against the Second Iraq War should be discounted by reason of his obesity, Al Gore's efforts to bring attention to global warming are moot because he "lost" the 2000 presidential campaign, and Al Franken isn't a "real" senator because he used to be a professional comedian. A form of the ad hominem logical fallacy, in that it attacks the writer's motives without addressing his or her argument.
__
Milblog – Shorthand for Military Blog, one that focuses on military and/or security policy. Usually — though, significantly, not always — run by someone with military experience or scholarship.
__
Mission Accomplished– A reference to the banner hung on the USS Abraham Lincoln when it returned home after deployment during the invasion of Iraq. The event was notable for the President George W. Bush's arrival with much fanfare via fighter jet on the ship's carrier deck. The banner which was to celebrate the cessation of "major combat operations" became a subject of dark humor as the war continued on with rising casualties against various Iraqi insurgency forces. Often used as a refernce of the Bush administration's apparent detachment from reality (see also Friedman Unit).
__
Moderate – someone who gets all their news from network television (h/t commentor JGabriel).
__
Moderation (Your Comment Is Awaiting) – WordPress automatically moderates all first-time "handles", which includes accidentally misspelled nyms, one-time nyms used for satirical effect, and old nyms posted from new devices. Also moderated are comments using any of the words on the WP Codex Spam List, which includes oddities such as shoes and hidden not-words such as soCIALISm and speCIALISt. Re-writing one's comment to avoid tripwords can work, but cut-and-pasting the same comment multiple times or adding new comments speculating on the dark motives behind one's "banning" will only piss off your blog-host.
__
MoDo– shorthand for NY Times columnist Maureen Dowd.
__
Money Boo Boo – 2012 Republican presidential candidate Mitt Romney, after the reality tv show 'Here Comes Honey Boo Boo'.
__
Moneybomb– An activist fundraising technique developed within the blogosphere, usually for political purposes. The moneybomb is characterized as an intensive but short period of fundraising across multiple websites over a span of 24 or 48 hours.
__
Moonbat– Comparable to 'wingnut'. A term that rightwingers use to describe irrational leftwing extremists. It should be noted that they think anyone to the left of Rush Limbaugh is an irrational leftwing extremist.
__
Moonie Times – The Washington Times, which is owned by the Rev. Sun Myung Moon's Unification Church, aka 'the Moonies'.
__
Morans– The spelling of "morons" that results when a RW redneck attempts to insult liberals in writing:
__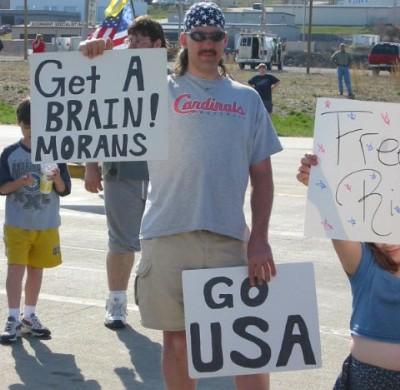 __
Morning Joke – Morning Joe, a program on MSNBC hosted by Joe Scarborough. Exists to prove that MSNBC is not the liberal network by giving conservative idiots a voice at a time before many have had their coffee.
__
Moustache of Understanding– Derogatory nickname for NY op-ed columnist Tom Friedman. Originated from a cartoon from August 2005 by David Rees as part of his Get Your War On series. The cartoon has been captured for history at the blog The Moustache of Understanding.
__
Movement Conservative – the Adult Diaper division of the Republican Party. When they're not soiling themselves over some imagined threat (from the Democrates, the DFHs, the Furriners, the Brown People, the Smart People, or the monsters under the bed), they're taking a dump on the Constitution.
__
MSM– MainStream Media. Also "SCLM" – So-Called Liberal Media.
__
'Murica. (Includes alternate spellings such as Merika, Murrica) So-called "Real America", as pronounced by 'Muricans in the Heartland™.
__
Multiple Choice Mitt– Nickname for Mitt Romney, who has flip-flopped on so many issues so many times no one knows what he thinks, or if.
__
MUPpets– Especially during the 2008 campaign, individuals said to be unduly enamoured by then-candidate Barack Obama (the 'Magical Unity Pony').
***
# A B C D E F G H I J K L M N O P Q R S T U V W X Y Z
N
Naderites – Moonbats or otherwise disaffected lefties who voted for a man who obviously didn't care about anything except his own importance, someone who took Republican money and left the Green Party to run against them. The lefty equivalent of a Paultard. As with most such equavalencies, the Naderites are considered slightly saner but less effective, or at least enthusiastic, than the Paultards.
__
NANCY SMASH! – On Sunday, March 21, 2010, during the final push towards passage of HR-4872, the Health Care & Education Affordability Reconciliation Act of 2010, House Speaker Nancy Pelosi entered the Capital for the final vote carrying a massive gavel, as described by the inimitable Wonkette:
Nancy Pelosi loves pissing off teabaggers. Here she is linking arms with John Lewis, just like in the Selma march, to remind America of how teabaggers chanted "nigger" at John Lewis fifteen times yesterday. And if anyone gets in her way, she will smash their skulls into sandhills of calcium with her Weapon, the "1965 Medicare gavel," forged by ancient socialist hobbits in a distant epoch, as a paean to Thor.
Commentor Loneoak added: "Hit that gavel Nancy! NANCY SMASH!" This was immediately welcomed by numerous fellow commentors as a necessary addition to the Balloon Juice categories, and the Lexicon.
__
Neocon Nepotism– Career advancement primarily due to a smart choice of parents. Notable examples include John Podhoretz (son of Norman), Bill Kristol (son of Irving), Jonah Goldberg (son of Lucianne), Melanie Thernstrom (daughter of Abigail & Stephan) and Frederick, Robert and Kimberly Kagan (sons and daughter-in-law of Donald). Access to neocon nepotism depends on total loyalty to contemporary party dogma, as Christopher Buckley (son of William F.) found to his dismay. (Republican party dogma is subject to change without notice, as William F. Buckley found to his dismay.)
__
No One Could Have Predicted– Used by members of the Bush Administration, especially Condolezza Rice, about situations that anybody with an IQ above room temperature could (and frequently did) predict. Thus, "In May 2002… Condoleezza Rice said, 'I don't think anyone could have predicted that these people would take an airplane and slam it into the World Trade Center.'"-although the World Trade Center had been attacked by terrorists in 1993, and GWBush had been given an official briefing in August 2001 titled "Osama bin Ladin determined to Strike within the United States." Became an object of ridicule after Hurricane Katrina, and is frequently employed by bloggers and commenters about situations that were easily predicted, such as "No one could have predicted that electing a black man would drive some people crazy…"
__
NOKIAs – No, Only Kucinich Is Acceptable; erstwhile 'progressives' who find self-described democratic-socialist Senator Bernie Sanders insufficiently leftist. Coined during the stage of the HCR (Health Care Reform) Blog-War of 2009 when Jane Hamsher of Firedoglake announced an alliance with Grover Norquist of 'making government small enough to drown in a bathtub' notoriety.
__
Nooners– Shorthand for WSJ columnist and former Reagan speechwriter Peggy Noonan. See also, "Is it irresponsible… ?" and Keep on walking.
__
NRO– National Review Online. See Wingnut, Wingnut welfare, Neocon nepotism.
__
NSFW – Not Safe For Work. In general use to warn that links contain violent or sexual images or audio. Also used sarcastically by commentors linking particularly stupid or paranoid political sites: "Here's a link to WND's latest, which may be NSFW or your sanity."
__
Nutpicking– Trolling obscure internet comments to prove that an opinion is widely held, thus proving the reverse. See Kevin's Law.
__
***
# A B C D E F G H I J K L M N O P Q R S T U V W X Y Z
O
Oakeshott– 1. mid-20th Century conservative philosopher, subject of Andrew Sullivan's doctoral dissertation. 2. Three ounces of Maker's Mark in a wooden cup. (h/t commentor Burnspbesq)
__
ObWi– Shorthand for blog Obsidian Wings.
__
O-dub– Nickname for blogger and Media Matters conspirator Oliver Willis.
__
Or the terrorists win– NEEDS DEFINITION.
__
Our Lady of Perpetual Outrage– Balloon Juice nickname for blogger Michelle Malkin, who has an incredible ability to become frothing mad at the silliest things. Her rantings in past years have included outrage over Rachael Ray's scarf in a Dunkin' Donuts commercial (see United Pastry Jihad), the countertops in an eleven year olds house (see Granite Countertops), the shape of the Flight 93 memorial, and thousands of other bizarre non-events that send her into a blind rage.
__
Overton Window– A conceptual 'window' that encompasses the acceptable range of public discourse; all ideas to the left or right of said 'window' are thus considered extremist. A major goal in political discourse is to shift the 'window' until formerly crazy ideas become acceptable (example: should America torture?). Moving the Overton Window thus forces pundits who want to be considered serious (see serious;) to aggressively disown ideas once regarded as reasonable to the point of being indisputable (e.g., torture is always wrong). Writers who step out of the Overton Window to the left are shunned and castigated as shrill (see Shrill). Those who step out of the Window to the right are punished with frequent invitations to Sunday news programs and a syndicated column at the Washington Post.
***
# A B C D E F G H I J K L M N O P Q R S T U V W X Y Z
P
Palling around with terrorists– An accusation made by then-vice-presidential candidate Sarah Palin against Barack Obama, in reference to Obama's friendly working relationship with one-time Weatherman and now education professor William Ayers on an education administration project in Chicago. This accusation was incorporated into campaign speeches made to crowds that tended to holler racist and violent epithets in response to Palin's speeches. It was later discovered that Palin did not even come up with the rhetoric herself, but was asked by the campaign to spread it.
__
Paultards – Cultish followers of Rep. Ron Paul (R-TX), during his 2008 race for the GOP nomination for the Presidency. Branded as the right-wing equivalent of the Naderites.
__
Peak Wingnut– the hypothetical point when right-wing craziness will have reached its zenith, and will thereafter subside to relative grumbling. Originally posited by John Cole to occur immediately after Obama's inauguration. Said hypothesis has been subsequently and repeatedly disproved.
__
Pearl Clutching– Feigning horror or distaste for bluntly-worded statements about unpleasant realities. Popularized by The Poorman, especially via the Golden Winger Awards . Since all blogging is recursive, commentors objecting to especially egregious personal attacks upon the undeserving may be accused of "pearl clutching" by trolls without the skills to advance past egregious personal attacks.
__
Perry-Tinnitus – Texas Governor Rick Perry, considered a strong contender for the 2012 Republican presidential nomination before a series of blunders and a high-dollar assault by the Romney campaign derailed him.
__
Pie– Genius commentor Cleek wrote a Greasemonkey script filter that replaces a designated troll's every comment with a simple phrase, originally "I like pie!" When earnest or inexperienced commentors respond to obvious trolling, or when a new commentor posts a particularly stupid remark that can be construed as trolling or concern-trolling, a barrage of replies like "Some people take their love of baked goods to an extreme" or "I don't know why everyone's being so mean to [new troll], plenty of people are outspoken about their dessert preferences" will ensue. First used here and inspired by the pie ad war at Daily Kos.
__
Pink Himalayan Salt – In 2009, Megan McArdle published a holiday [kitchen] gift guide that included the phrase, "Exotic salts are the new Green Peppercorns and White Truffle Oil, and in my opinion, considerably more interesting… Right now I'm using Maldon sea salt for most things, and pink Himalayan salt for dishes that demand a lighter flavor." The snark experts who are among McArdle's most faithful readers were quick to point out that "it's actually rock salt from Pakistan, for which she pays about $15 a pound" (and that actual cooking experts say that using such high-end salts while cooking is pointless in any case). Thus, the 'Pink Himalayan Salt' tag is used to indicate especially pointless, overpriced, trend-slavish consumerism in action.
__
PITA – Pain In The Ass.
__
Plus [insert number greater than zero here]– Use this standard style signature at the end of your posts to announce how many drinks you had at the time of writing. Stolen from Dan Rather of "Dan Rather, plus three" fame. For example, a commenter will sign his comment "Punchy +5" if Punchy has had five beverages of his choice.
__
Poutrage – A combination of pouting and outrage. According to the Urban Dictionary, "the combination of emotion and behavior that results from a possibly feigned or genuine outrage over some slight and pouting about it like a spoiled child." Synonym: Fauxtrage. Poutrage Fatigue: The inability to react to the egregious falsehoods and flat-out batshitcrazy spewings of the rightwingnutters due to sheer volume of said craziness.
__
Powder Blue Satan– Eschaton
__
President McCain– A derisive term taking to task the habit of the media inviting 2008 loser John McCain on to the teevee to explain why the actual elected president is wrong.
__
Progressive – Antique left-of-center political designation revived in reaction to the conservative hijacking of the term 'Liberal' to mean 'insane, anti-American, sexually suspect pacifist-anarchist'. Also used by left-of-center Democrats and other social moderates to distinguish themselves from the so-called Blue Dog Democrats and similar center-right conservative politicians who consistently vote with their Republican fellows. People who pile into the family car of history and immediately start asking "Are we there yet?" every five minutes. (h/t commentor ThatLeftTurnInABQ)
__
PTDB – Pass The Damn Bill. As of January 2010, a call for Congress to pass the Senate's version of HCR (Health Care Reform) and amend it through the reconciliation process.
__
Puke Funnel– Coined by Atrios, this phrase references the ramarkable ability of discredited rightwing organizations (e.g., the Drudge Report, NRO) to influence reporting by 'mainstream' news outlets. Ridiculous stories frequently benefit when journalists can use repeated links at RedState and Michelle Malkin to report a fabricated issue (see 'United Pastry Jihad') with the explanation that 'people' are 'talking about it'.
__
PUMA– Party Unity My Ass. A movement of embittered Hillary Clinton supporters who opposed Barack Obama during the 2008 general election. The actual Hillary supporters were frequently accused of being tools for (even being outnumbered by) Republican ratfuckers, thereby Propping Up McCain's Ass. To this day, any criticism of President Obama or his actions or policies on a progressive blog is liable to draw accusations about "bitter PUMA holdouts", usually with a strong misogynistic overtone.
***
# A B C D E F G H I J K L M N O P Q R S T U V W X Y Z
Q
QFT – Quoted For Truth. See "This".
***
# A B C D E F G H I J K L M N O P Q R S T U V W X Y Z
R
Randroid — Portmanteau of android and Ayn Rand's surname; used to describe those so enamored of Rand's Objectivist pseudo-philosophy (as popularized in her novels Atlas Shrugged and The Fountainhead ) that they have become reflexive, morally inhuman grotesques (h/t commentor JGabriel).
__
Ratfucking – Political dirty tricks or acts of sabotage. Goes back at least to the mid-1960s, as used by both Hunter S. Thompson and Bob Woodstein. Brought into the general public vocabulary by Karl Rove, who considered himself a Jedi master of the art. Frequently cited in some variant of "Those rats ain't gonna fuck themselves, ya know!"
__
Reality-based Community (RBC) – Not the Bush Administration; politically liberal; non-authoritarian. Per Wikipedia: "an October 17, 2004, New York Times Magazine article by writer Ron Suskind, quot[ed] an unnamed aide to George W. Bush:
The aide said that guys like me were "in what we call the reality-based community," which he defined as people who "believe that solutions emerge from your judicious study of discernible reality." … "That's not the way the world really works anymore," he continued. "We're an empire now, and when we act, we create our own reality. And while you're studying that reality-judiciously, as you will-we'll act again, creating other new realities, which you can study too, and that's how things will sort out. We're history's actors…and you, all of you, will be left to just study what we do."
"Reality has a well-known Liberal bias." – Statement by Stephen Colbert, mock-defending the Republican Party's increasing divergence from law and logic in the run-up to the Bush Administration's War on Iraq (White House Correspondents' Association Dinner, 4/29/2006). See also "Reality-Based Community".
__
Reasonoids– Collective nickname for the glibertarians who write at Reason's Hit and Run blog. Known for long and syrupy odes to the free market despite the fact that the magazine itself is a fully funded wingnut welfare endeavor, Reason's writers as of late have contributed little more to the public discourse than regurgitating right-wing talking points and dressing them up with a libertarianish spin. A one word summation of the Reasonoids would be "SMUG," and their defining characteristic is the inability to differentiate levels of government over-reach. For example, to a Reason writer, the government requiring someone to wear a seatbelt is just as bad as detaining someone indefinitely and torturing them. General consensus is that Radley Balko is the only redeeming characteristic at the website anymore, although the Reason staff has consistently done admirable work regarding the Drug War, police over-reach, and pornography.
__
Rebunk– to bring back a myth, lie, urban legend or totally discredited idea as though the evidence which reliably debunked the nonsense never existed. Almost always committed by Re-publicans.
__
Rightgeist – Underlying feeling within the Washington discourse that a strong right-wing bias is the normal state of American affairs. Conversely, within the Washington Media Village, any progressive or liberal victories are seen as temporary abberations, abnormal fluctuations within the inevitable flow towards authoritarianism. (h/t commentor CC)
__
Rule of Law – What only Democratic politicians should be held to, according to Republicans; the obverse of IOKIYAR. Chanted as a mantra by the Republican caucus to justify impeaching Clinton for lying about his extramarital sexual acts.
***
# A B C D E F G H I J K L M N O P Q R S T U V W X Y Z
S
SATSQ– Simple Answers to Stupid Questions. Or Stupid Answers to Simple Questions. Or…
(Derived from Al Jaffee's 'Snappy Answers to Stupid Questions' in MAD Magazine.)
__
Satan sandwich — Near the end of the Congressional debt-ceiling crisis of July/August 2011, Congressional Black Caucus chair Emanuel Cleaver announced via Twitter:
"This deal is a sugar-coated Satan sandwich. If you lift the bun, you will not like what you see… This debt deal is antithetical to everything the great religions of the world teach, which is take care of the poor, aged, vulnerable."
Presumably related to the proverbial shit sandwich, where 'the more bread you have, the less shit you have to eat.'
Schiavo– Terri Schiavo, who was in a persistent vegetative state (PVS) for several years, had been under a "do not resucitate" order, given by her husband, Michael. Terri's parents argued that Terri was conscious and fought the order. Increasing media attention led to involvement by politicians and advocacy groups, particularly those involved in the pro-life movement and disability rights, including members of the Florida Legislature, the United States Congress, and the President of the United States. The sight of so many prominent Republicans inserting themselves into what John considered a private family matter was one more straw on the camel's back, eventually leading to him leaving the Republican party.
__
SCLM – So-Called Liberal Media. Popularized by Eric Alterman in his book "What Liberal Media?".
__
Serious Person– Also frequently appearing as "Very serious person," this is applied to a person held in great esteem by The Village, who is repeatedly entirely wrong about everything, usually with tragicomic results. Conversely, those who have pretty much been right about everything the last twenty years are referred to as "not serious." Serious persons believe the only solution to any foreign policy issue is bombing brown people (preferably Muslim, when at all possible), and the only solution to domestic affairs is cutting entitlements and demanding that the poor and working poor "sacrifice." Noted examples of serious persons include Tom Friedman, Ken Pollock, the Kagans, Dick Cheney, and Frank Gaffney. Usually has an open lifetime invitation to appear on Hardball or to pen nonsense for the Washington Post editorial page.
__
Shoes – Trips the WordPress Spam Filter. We don't know why, either.
__
Shorter– Discrediting a writer by summarizing his or her argument sarcastically or in a way that emphasizes its flaws. The disclaimer text after each 'shorter' post at Sadly, No! reads, "'Shorter' concept created by Daniel Davies and perfected by Elton Beard." See the footnotes here (or any S,No! shorter post) for the history. Example:
Post: My black friends all tell me that Obama is a racist.
Shorter: I'm not a racist because there is a black guy in my office.
__
Show Me On the Doll Where Rahm Touched You – Tag added during the first part of January 2010, when some of the best-known progressive blogs' and bloggers' suspicions about / accusations of treachery against "Obama's puppetmaster(s)" or "the Dems' shadow Oval Office" reached a level of paranoia that reminded less personally invested bloggers of the Satanic Ritual Abuse panics of the 1980s.
__
Shrill– Telling the unpopular truth. The polar opposite of a pundit whose slavish devotion to mainstream approval leads him or her to frequently wrong conclusions (see Serious person). Someone dubbed 'shrill' can be reliably accurate but nonetheless ignored for stepping outside the "acceptable" range of political opinion (see 'Overton Window'). Particularly hated by Villagers, Beltway insiders, and 'serious people' because their example makes it impossible to claim that everyone believed a point that turned out to be wrong (e.g., WMDs in Iraq). Notable shrill people include Howard Dean, Al Gore, and Paul Krugman. The correct usage takes the form "Paul Krugman is shrill." It should be noted, however, that Michael Moore is not shrill; rather, Michael Moore is fat.
__
"Shut up, that's why!" – Actual conclusion to an "argument" by rightwinger Ace of Ace of Spades. Often cited as an example of wingnuts' debating talent and witty repartee.
__
Skull fuck a kitten– One of the surest Google searches in which to find Balloon Juice as a #1 hit. First coined here.
__
Slap in the face- During the 2008 Democratic primary season, after it became clear that the race was between Obama and Clinton, the PUMA wing of the Hillary supporters suddenly began accusing candidate Obama of overt misogyny and sexism at every opportunity. Every perceived slight of Hillary was then labeled a "slap in the face," to the point that you simply could not make it two sentences into a Hillary supporting blog without seeing the phrase "slap in the face." Some of the accusations included that Obama was displaying sexism and disrespect when he told Hillary that she is "likable enough," other were simply insane, such as the freeze-frame picture of candidate Obama scratching his face which was widely reported by the PUMA crowd and ratfuckers in the GOP as Obama giving the finger to Hillary. The phrase slap in the face took on a life of its own after this. See also, thrown under the bus.
__
Socialism– A word that trips the WP moderation filter, because it contains the much-spammed word 'cialis'. Regular commentors therefore resort to misspellings (soshulism, sokulism) or irregular spacings, which can be mistaken for typos.
__
Some people say– Preferred phrase of CNN's Candy Crowley, usually uttered just before spouting the latest wingnut conspiracy theory as though it were a valid viewpoint.
__
Soros bucks– Also sometimes seen in the form "Waiting on my check from Soros." Reference to the claims by wingnuts that all that is evil in the world can be traced to bloggers and left-leaning instutitions taking money from George Soros.
__
Spectering (verb)- Firmly standing by one's principles until it matters, and then dropping them like a prom dress. Less often seen since the eponymous Senator switched to a party more in line with his (genuine) principles.
__
Spoof– (var. "spoof-troll"): a left-leaning commenter who assumes the persona and/or positions of an unintelligent rightwing commenter (see "fucktard") for purposes of parody. The humor comes when "serious" conservatives agree with and defend the often insane points presented by the spoof (h/t commentor Tripletee). Spiraling conservative incoherence (see Wingularity) has rendered spoofing more difficult, as seemingly insane ideas gain wide credence (see Birthers).
__
Squid-cloud of butthurt – An attempt to obfuscate a dishonest, mistaken or wrongheaded argument via credentialism, logic-chopping, and/or accusations of bad faith and personal cruelty. For professional examples, see Megan McArdle or Ross Douthat.
__
Starbursts– Rich Lowry's wet dream about Sarah Palin, made public. Clearly a case of Too Much Information, but welcome for the mockability. Now used to indicate ridiculous and self-deluded wingnut infatuation with someone. (For an earlier version, see Commander Codpiece.) Original Lowry quote:
Palin too projects through the screen like crazy. I'm sure I'm not the only male in America who, when Palin dropped her first wink, sat up a little straighter on the couch and said, "Hey, I think she just winked at me." And her smile. By the end, when she clearly knew she was doing well, it was so sparkling it was almost mesmerizing. It sent little starbursts through the screen and ricocheting around the living rooms of America.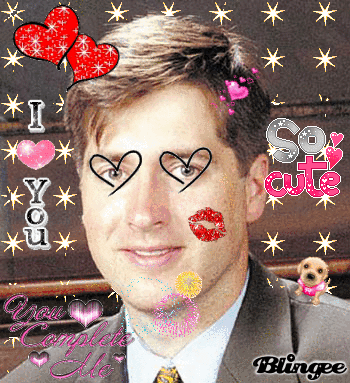 __
Stenographers– Nickname given to the MSM for their tendency to just write down whatever someone tells them, rather than do their job and report the facts. Popularized by Glenn Greenwald.
__
STFU – Shut The Fuck Up. Frequently constructed as "Why don't you sit down and have a nice big cup of STFU?" As a stand-alone, sometimes used to indicate delight: "Malkin called BJ commentors 'the rudest people on the internet?' STFU!"
__
Strict Constructionist– Judge who, no matter the legal contortions he/she must go through, always comes up with the outcome that pleases Rush Limbaugh and the RNC. Someone who probably doesn't understand the Constitution (h/t commentor BDeevDad). Shorter: Someone who has never read the Constitution (h/t commentor Ninerdave). See also Activist judge.
__
Sully– Blogger Andrew Sullivan.
__
Swift Boat Veterans for Truth– definition needed.
***
# A B C D E F G H I J K L M N O P Q R S T U V W X Y Z
T
Talibangelical or Talevangelical– An evangelical Christian whose only quarrel with the Islamic Taliban is that they're wearing the wrong membership badges.
__
Teabagging– 1. The act of taking a scrotum into the mouth for sexual pleasure. 2. A movement to protest President Obama and various policies of the Obama administration. Self-named apparently without knowledge of def. (1). (For further explanation of the early days of Def(2), see this World'o'Crap post.) Tea Party – Stealth Klan rally with teabags and badly spelled placards (h/t commentor Matoko-chan).
__
Teabuggers – On January 25, 2010, "conservative activist" James O'Keefe and three male accomplices were arrested by the FBI for what was seen as an attempted "sting" operation at Louisana Senator Mary Landrieu's New Orleans office. His lawyer has claimed this was a mere boyish prank intended only to embarrass Senator Landrieu for a perceived failure to listen to her most conservative constituents, as has O'Keefe's employer, Andrew Breitbart of BigGovernment.com. Further details as they emerge. (h/t commentor Jayackroyd for the felicitous neologism)
__
"Technically true, collectively nonsense."– An instant keeper offered up by Atlantic blogger in an alleged refutation of Matt Taibbi's classic takedown of Goldman Sachs in Rolling Stone. McCardle did little more than compare Taibbi to Sarah Palin and then concede every fact to him, but continued to insist he was wrong, while stating that what he said was "technically true, but collectively false." Taibbi didn't waste his time on a response.
__
Teh – Originally a common typo, now used as a signifier of snark or as a way of distancing oneself from an explanation. "Ted Haggard says he's pro-marriage, but I think he's just worried that Teh Gays will tattle about his size issues."
__
That One – Barack Obama. When John McCain used this phrase during a 2008 debate, it was immediately seized by pro-Obama campaigners wishing to highlight McCain's "disrespect for" or "dismissal of" his much younger, non-white opponent. Tshirts and bumper stickers combining the Obama campaign logo and the words 'That One' were very popular. Since the election, the phrase has mostly been used sarcastically, as per BJ commentor Wasabi Gasp: "That One: the exclamation of a child pointing at a black and white cookie through the glass in the bakery of lost hopes and broken dreams."
__
The Decadent Left in Its Enclaves on the Coasts – Shortly after 9/11, Andrew Sullivan used this term to dismiss the "fifth columnists" who demonstrated less than absolute enthusiasm for an immediate invasion of Afghanistan, or Iraq, or somewhere. Seriously:
The middle part of the country—the great red zone that voted for Bush—is clearly ready for war. The decadent Left in its enclaves on the coasts is not dead—and may well mount what amounts to a fifth column.
__
This– Used by commenters to express full agreement with someone else's comment. Synonyms: "Ditto", "QFT", "What s/he said", "Word".
__
"This is central to my point"– Any fact which directly contradicts your assertion can, in fact, be made to support your assertion simply by saying it is so. A favorite of NRO's Jonah Goldberg.
__
"This is excellent news for…"– A phrase born during the 2008 Presidential election, used by McCain supporters and media hacks such as Mark Halperin (that may be redundant), where every piece of news was considered to be good news for John McCain. The best example of this sort of counter-intuitive nonsense was Halperin, to the disbelief of the rest of the ABC Sunday morning panel, insisting that the fact that McCain could not count the number of houses he owned was actually good news for John McCain and a horrible gaffe for Obama. And no, this is not a joke- he actually said that.
__
Thrown under the bus– NEEDS DEFINITION. See also, slap in the face.
__
Ticking Time Bomb– A hypothetical scenario where a huge number of lives are at risk due to an imminent danger and the only means of saving these lives is to retrieve information from an unwilling criminal (usually a terrorist). The scenario is often cited as a rationalization for torture of prisoners; though the possibility of such a situation ever occurring in reality is almost non-existent and the reliability of information obtained through such methods would always be questionable at best. Favorite of torture advocates and supporters, including notables such as Charles Krauthammer and Alan Dershowitz.
__
Tim F's Law – In the context of a debate, calling another's motivations 'evil' should be considered synonymous with, 'I don't understand and am too lazy to find out.'
__
Tinkerbell Strategy– From the Broadway adaptation of the children's story "Peter Pan". When the fairy Tinkerbell is nearly killed, Peter Pan implores the audience to chant "I do believe in fairies" and clap their hands to restore Tinkerbell to life; if they do not clap loudly enough, he warns, Tinkerbelle will die. The Tinkerbell Strategy is referred to when mocking political initiatives – typically wars – that are not going well. When a politician demands verbal political support from his constituents or a national audience, on the grounds that not offering verbal affirmation will "hurt the [war] effort", he is said to be employing the Tinkerbell Strategy. First known use in blogs is at Crooked Timber in 2003. See also, Clap Louder.
__
Tire gauges– Handy and simple vehicle maintenance tools handed out to reporters and other interested parties by Republicans during the general election campaign of 2008. The GOP did this to mock then-senator and presidential candidate Barack Obama's supposedly simplistic suggestion, made during a campaign speech, that people keep the tires on their cars inflated to the proper pressure to help them conserve fuel. The gimmick backfired, however, when AAA, NASCAR, and other reality- and automotive-based groups and individuals confirmed that this was in fact good advice.
__
Tire rims and anthrax — John Cole, in 2009:
I really don't understand how bipartisanship is ever going to work when one of the parties is insane. Imagine trying to negotiate an agreement on dinner plans with your date, and you suggest Italian and she states her preference would be a meal of tire rims and anthrax. If you can figure out a way to split the difference there and find a meal you will both enjoy, you can probably figure out how bipartisanship is going to work the next few years.
__
Tire-swinging– Also seen used as swinging on the tire, riding the tire swing, and other formulations. Phrase coined by Josh Marshall to describe the media elites and beltway insiders getting too chummy and cozy. The phrase was response to this event at the McCain ranch in which members of the media literally swang on the tire swing and then wrote about it in national publications. Meghan McCain described the event in this video.
__
TL;DR– Too long, didn't read.
__
TMI – Too Much Information. Like pornography, hard to define, but everyone knows it when they see it.
__
TNC– Atlantic blogger Ta-Nehisi Coates.
__
Toxic Victim Syndrome– A Krauthammeresque pseudopsychology term (see 'Bush Derangement Syndrome') to describe the psychologically corrosive effect of cultivating a sense of victimhood. When a person is victimized by greater and sinister forces, rectifying the outrage justifies (in the victim's head) behavior that society would ordinarily condemn. For example, a terrorist will nearly always claim that his or her victim represents a greater power that victimized them first. Cultivating a sense of victimhood is an essential self-justification step for those who want to indulge violent and hateful impulses. Conversely, an intense feeling of victimhood is a strong predictor of future antisocial behavior and violence. The power of victimhood to justify awful behavior is shown by this extensive list of relevant shows and movies at tvtropes.com.
__
TPM– Talking Points Memo, http://www.talkingpointsmemo.com
__
Truthiness – "… is what you want the facts to be, as opposed to what the facts are. What feels like the right answer as opposed to what reality will support." – Stephen Colbert (October 17, 2005 The Colbert Report). Immediately seized by bloggers, usually as an accusation against their opponents.
__
Tunch– John's Cat, named after retired Steeler Tunch Ilkin. Sometimes thought to be more popular with the BJ regular commentors than John Cole himself. His Rubenesque build is often a point of ridicule and abuse.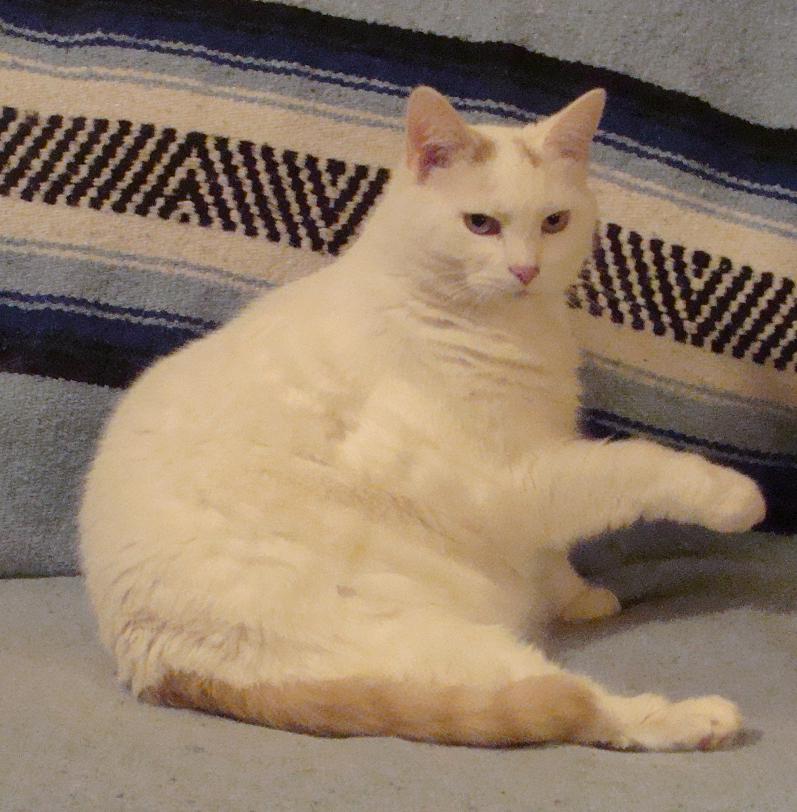 Turkee – Rewards (of continued access) given to the press for asking dubya softball questions. Coined by Atrios in 2003.
__
Tweety– Newsperson Chris Matthews.
__
TWOC – The War on Christmas
__
Two Wetsuits and a Dildo– A quip often used to make fun of the hypocrisy of the Republican family values crowd and various other religious scolds, which finds its genesis in the police report following the death of a Alabama Baptist Minister Gary Aldridge in which his corpse was found wearing, among other things, two wetsuits, rubberized underwear, with a dildo inserted in the anus. Also notable, it is illegal to purchase a dildo in Alabama.
***
# A B C D E F G H I J K L M N O P Q R S T U V W X Y Z
U
United Pastry Jihad– Refers to two examples of Wingnut Fail. The first event was when Michelle Malkin and others led a general freak-out because Rachael Ray wore a scarf in a Dunkin' Donuts commercial that looked like a keffiyeh; the second was a freakout over the use of the word "choice" by Krispy Kreme in a promotional event that the wingnuts stated was code for promoting abortion. And no, we are not making this up — it spawned a popular logo contest.
***
# A B C D E F G H I J K L M N O P Q R S T U V W X Y Z
V
The Village– Term used to describe the inside-the-beltway crowd and their perverse mentality.  Inspired by Sally Quinn in the WaPo in the aftermath of the Clinton blowjob scandal, and made popular by Digby. In the Village, launching a war based on lies is no big deal, but Clinton getting a blowjob is the crime of the century.  Digby further explained the term, and the similarities between Sally Quinn's DC and Marie Antoinette's Versailles, in an October 2009 post.
__
VSP– Very Serious Person. See Serious person.
***
# A B C D E F G H I J K L M N O P Q R S T U V W X Y Z
W
Wasilla Wingnut– Nickname for Sarah Palin.
__
WATB– Whiny-Ass Titty Baby, or Babies. Originally appended to the ombudspersons of the Washington Post, possibly by Sadly, No! , for complaining that unpaid bloggers were making the ombudspersons' highly-compensated jobs too hard.
__
We Are All Mayans Now– According to the ancient Mayan calendar, the world will end in 2012. Need we say more? First mentioned here.
__
Why do you hate America / the troops? – A classic example of the logical fallacy loaded question (e.g., When did you stop beating your wife?), which presupposes the contested point as a given and leaves the other party with no answer that does not validate its pejorative assumption. Originally used as a frequent rhetorical crutch against critics of the 2003 invasion of Iraq, the Bush Adminstration's implementation of the 'War on Terror', or authoritarianism in general. Eventually degenerated into an all-purpose random snark ("I had a really rough commute today." "Why do you hate America?") Now that the White House is no longer in safely authoritarian (Republican) hands, this phrase is rapidly being replaced by random accusations of socialism, fascism, Hitlerism, or a combination of all three. Some bloggers prefer the formulation "Why do you hate the Baby Jesus (… want to make Baby Jesus cry)?", especially when snarking upon faith-based Talibangelicals as opposed to rightwing authoritarians.
__
Wide Stance– A reference to the bathroom stall arrest of former Republican Senator Larry Craig. Craig explained to the arresting officer that he was not soliciting for sex through foot contact under the stall door (a common practice for which the officer was running a sting). Instead, Craig insisted that he sits on a commode with a "wide stance." This led to much hilarity and the birth of a legendary quip.
__
Wingnut– Categorical term for an untethered rightwinger.
__
Wingnut Event Horizon – An event that is always happening, yet never ever happens. Occasionally, a wingnut will say/write/blog/publish/fart something so ridiculous, so closed-minded, so full of hate and scorn, yet free from thought and consideration, that anyone hearing it will be forced to conclude that said wingnut will never again be taken seriously/linked to/have a Time article written about him. However, in a sick twisted perversion of the actual event horizon, no matter how far you walk from the Wingnut Event Horizon, they're never any further away.
__
Wingnut Hypnotoad – Sarah Palin. Originally a Futurama character, "the Hypnotoad is a large toad with pulsating, multicolored eyes which emit a loud, ominous buzzing noise. It has the power to hypnotize almost any living thing at will, even mass numbers of creatures." (h/t commenter Fergus Wooster)
__
Wingnut Voltron– The act when the right wing blogosphere comes together to form a powerful and passionate opposition to important things, such as scarves in a donut commercial. Derived from the childrens' cartoon Voltron. First employed here although the graphic geniuses at Sadly, No! did provide this: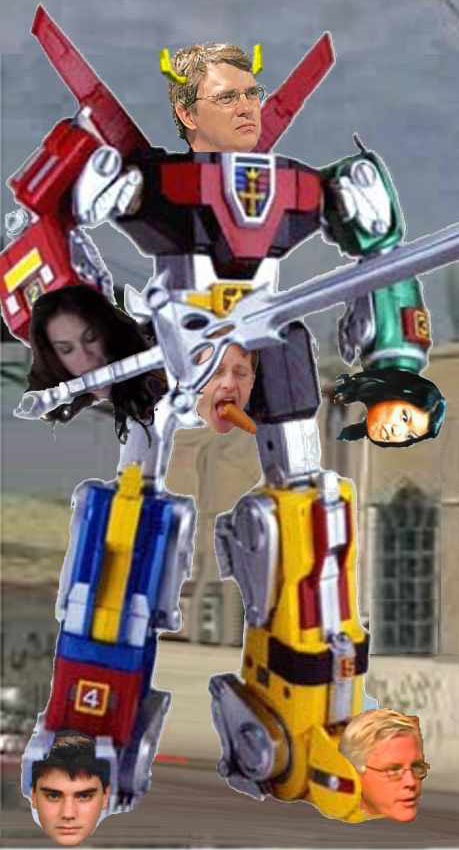 __
Wingnut Welfare– the practice of guaranteeing employment for party loyalists no matter how many times they fuck up or how fucking stupid they are. See G Gordon Liddy, Oliver North, and anyone with an R after their name. Usually in the form of sinecures, speaking tours, board memberships, foundation spots, or writing for one of the numerous conservative "think tanks" or online magazines.
__
Wingularity, the– the point at which the insanity from the far right and those controlling the Republican Party [continues] to grow exponentially until it reaches an unsustainable weight and collapses upon itself. This is also known as the Purity Spiral, wherein the density of wingnut increases compared to mainstream conservatives to the point of pure wingnut. As the ratio rises, this creates a phenomenon wherein no logic or sanity can penetrate or escape. When rightwing argument has become completely inaccessible to the uninitiated, it has reached the Wingularity. Coined by commenters JM and Joe K.
__
With notably rare exceptions — On March 29, 2011, Alan Greenspan wrote a Financial Times opinion piece complaining about the incipient Dodd-Frank financial reregulation:
Today's competitive markets, whether we seek to recognise it or not, are driven by an international version of Adam Smith's "invisible hand" that is unredeemably opaque. With notably rare exceptions (2008, for example), the global "invisible hand" has created relatively stable exchange rates, interest rates, prices, and wage rates.
As Henry Farrell at the blog Crooked Timber would note,
It's best not to interpret this as an empirical claim, but a carefully-thought-out bid for Internet immortality. It has the sublime combination of supreme self-confidence and utter cluelessness of previously successful memes such as "I am aware of all Internet traditions" and the "argument that has never been made in such detail or with such care," but with added Greenspanny goodness. I tried to think of useful variations on the way in to work this morning – "With notably rare exceptions, Russian Roulette is a fun, safe game for all the family to play,"… but none do proper justice to the magnificence of the original.
__
World Nut Daily or WND – World Net Daily. A very-far-right internet news site best known as the "poor man's Drudge Report", since its contributors can be mined for ratfucking, astroturfing, rebunking and other forms of political dishonesty by RW sites further up the respectability scale. The birthers, for instance, first achieved Internet visibility via WND.
__
Wolverines!– The rallying cry of the teenage freedom fighters who free Colorado from Soviet domination in the wingnut warpr0n flick "Red Dawn". Used to deride the 101st Chairborne.
__
WordPress > Error— The ultimate distillation of Balloon Juice. Purportedly a page returned from within the less-than-stable code which supported the site, but actually a message from God that the reader should stop refreshing the page, and get back to work. As with all messages from God, the correct response is to refresh the page again (h/t commentor demimondian).
__
Wurlitzer, the Mighty, or Wingnut Welfare Wurlitzer – Professional media outlets dedicated specifically to promulgating right-wing propaganda, such as Regnery Press or Fox News. In the modern era of media consolidation, it may be difficult to separate the deliberate organs of misinformation from the incessant general tinkle of infotainment. The term 'Mighty Wurlitzer' itself is pre-Internet, said to have been coined by an early CIA operative in reference to Cold War propaganda efforts.
***
# A B C D E F G H I J K L M N O P Q R S T U V W X Y Z
X
X definitions here.
***
# A B C D E F G H I J K L M N O P Q R S T U V W X Y Z
Y
YMMV– Your Mileage May Vary. Used to indicate that the commentor expects disagreement, sometimes quite heated.
***
# A B C D E F G H I J K L M N O P Q R S T U V W X Y Z
Z
Zombie Eyed Granny Starver – Republican 2012 vice-presidential candidate Paul Ryan, pale-eyed promoter of eliminating Social Security and 'voucherizing' Medicare. Occasionally abbreviated ZEGS. Invented by Charles P. Pierce.
Zombie Lies – Journalism by urban legend. "No matter how hard we try to kill them, they keep coming back to eat our brains." May have originated with the proposition that Jack Abramoff gave money indiscriminately to both Democrats and Republicans. Others include: Al Gore claimed to have invented the Internet; Gov. Bob Casey was barred from the 1992 Democratic National Convention because he opposed abortion rights; Bill Clinton held up the tarmac at LAX for four hours while getting a haircut.