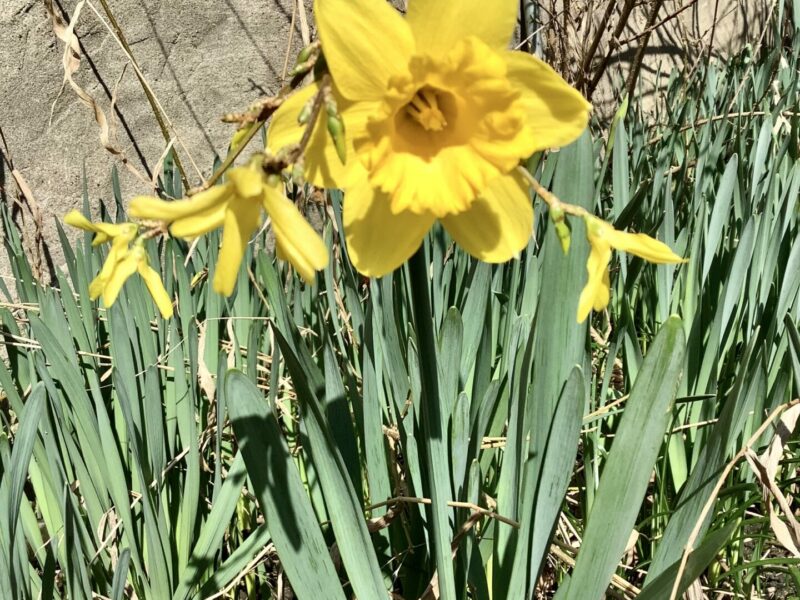 Thank you, commentor JeffG166:
2.10.2023
It's Spring in Philadelphia.

This year's pot of tulips. They are early due to the mild winter.


3.8.2023
Todays garden shot.
***********
We've got a really good burst of daffodils coming up in the sunny south-facing bed in front of the house — I suspect descendants of the yellow ones that were here when we bought the place thirty years ago, which got divided & replanted (not always by me, because squirrels) two years ago. The doughty remnants of that original drift had gotten as far as setting fat yellow buds before last week's (no) surprise nor'easter, but the ice didn't last long, so they're not even very frost-nipped.
Next come the white / pink & white daffs I've haphazardly planted over the years in the other front bed (behind the huge ancient lilac which shades them a bit at this time of year), then the crowd along the north-facing back chainlink fence, and finally — but not for two or three weeks yet — the ones along the western side of the property, which is heavily shaded by our neighbors' oak trees. Our few forsythia are curb-side on that edge, and Murphy the Trickster God willing they'll bloom just as the daffodils wind up… and the small curb-side lilac bushes start to set buds.
What's going on in your garden (planning / memories / discoveries), this week?