Hey All,
Just wanted to share a review of a book I recently finished. If you like my writing, please come visit my blog.  Its become a lot of (road and trail) running (you can see what I have been doing in the state of Kentucky) and migration.  I thought this was BJ worthy given what is going on. I really tried to write to you guys sooner but I was battling post election blues and threw myself into running, mom stuff and my new job. I don't take it lightly that I have access to this audience so I am selective about what I share on here.
I am ok and my kitty is doing okay.
XO,
LRR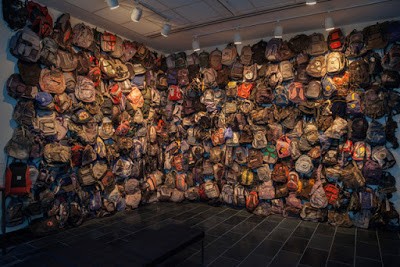 Photo from Undocumented Migration Project website
I finished The Land of Open Graves: Living and Dying on the Migrant Trail.  It was a gift from my friend Carolina, creator of My (un)Documented Life blog.  It was written by Jason De Leόn, an anthropologist of Mexican descent, who spent 5 years in the field, in his journey to complete this project.  At its heart, his work depicts the violence faced by border crossers "as they attempt to enter the US without authorization by walking across the vast Sonoran desert of Arizona". Its focus is on the Prevention through Deterrence (PTD) policy enacted in 1993.
The author explained that when the North America Free Trade Agreement (NAFTA) was passed in 1994, the U.S. promised economic prosperity for Mexico if it would open up its ports of entry for inexpensive goods. Shortly thereafter, Mexico was abundant with U.S. subsidized corn that put millions of Mexican farmers out of work
Google gave me some background on NAFTA. Its purpose was to expand the flow of goods between Canada, US and Mexico. It eliminated import tariffs and eliminated or reduced non-tariff trade barriers like import quotas, licensing schemes and technical barriers to change. Lastly, it created protections for intellectual property.
Book Review – Land Of Open Graves by Jason De LeόnPost + Comments (8)