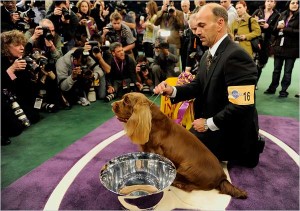 Because this old dog has some new tricks:
At 10 years old, Stump the Sussex spaniel should be well into his dotage. Instead, the dog who technically retired four years ago took home Best in Show on Tuesday at the 133rd Annual Westminster Kennel Club show at Madison Square Garden, becoming the oldest to win the award.

Stump, officially named Ch. Clussexx Three D Grinchy Glee, might have surprised aficionados, who had their eye on a giant schnauzer, but the crowd clearly preferred the jaunty spaniel. Stump was greeted with deafening applause each time he plodded around the ring.

It was the first time that a Sussex spaniel won the top prize, although the breed, which originated as a hunting companion in England, was among the first to be recognized by the American Kennel Club.

Judge Sari Brewster Tietjen said she made her decision at the last minute.

"I didn't know who he was or how old he was," Tietjen said. "He's just everything that you'd want in the breed, and I couldn't say no to him."

Stump won the sporting group at Westminster in 2004, but in early 2005 fell seriously ill with an undetermined sickness, said Scott Sommer, Stump's handler and an owner along with Cecilia Ruggles and Beth Dowd.

Stump eventually returned to health, and by last year he was looking quite good. Still, Sommer said he was not sure until last Wednesday that he would definitely show Stump at Westminster.
What a great story.