Re-posting for the weekend crew, with added info that Gandolf is also ready for his new home (they do not have to go together).
"Gandalf is a couple years old, neutered, chill guy. He will be scared of new people at first since we were the only ones he's been around, but he'll come around. He's not a cuddler but will lay be you for pets. He's had his shots and may be chipped. He's just a chill cat."
From the original post:
Jackal and neighbor (waves north!) Deb has a friend with a cat in need of a home: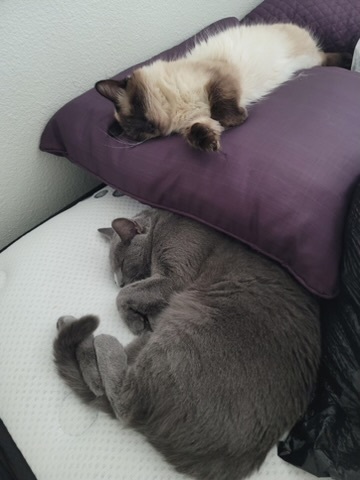 Arwen the ragdoll (the black and cream on the top bed) needs a new home! She was a stray taken I took in, fattened up, and made ready for her forever home. She was a skinny, sad little thing. This kitty is sassy, yet classy! But emphasis on sassy. She's sweet, but will let you know when you're upsetting her. She dislikes dogs, but if a dog leaves her alone, she won't go looking for trouble . . . she will let them know she dislikes them if they get too close.

Arwen and my female cat do not get along, but she likes to pester Gandalf, my male cat, occasionally (he's the gray kitty in the photo). They behave like brother and sister . . . sometimes they like each other, sometimes they don't. I do feel like she would be better off as an only cat, unless there is a special other kitty who will win her over and befriend her, like Gandyman did.

Arwen is spayed, but I have no other vet info on her. She will need to be taken to the vet as I haven't been able to afford to do so to get more info on her health. Also her age–I have no clue how old she is.
If you don't know about Ragdolls, they are quite cuddly:  Ragdoll Facts
My parents had a Ragdoll and he was HUGE. And I have Maine Coons, so I know huge.  And he was cuddly.
My experience has been, that most females like to be the only female, but do okay with a male cat buddy. YMMV.
I checked, because our local shelters have such a great track record of getting their cats adopted. The last couple of times either I wanted to adopt (hello, Willow!) or a friend wanted to adopt, there were very few choices. That is not true right now, the shelters are brimming with cats, big and small. So Deb and her friend are hoping we can find someone here who would love a fluffy cuddle buddy.
Email me at:  whats4dinnersolutions (at) live (dot) com  or my balloon juice email:  tamara (at) balloon-juice (dot) com and I will pass your information along to Deb.  I have no other information besides what is in the post. If you're interested, I'm sure Deb can find answers for you and probably more photos.
I'm available for Colorado transport (oh, please don't make me drive through Denver, but I'll do it for this furry love).
Colorado Cat Adoption: Arwen and Gandolf Need HomesPost + Comments (7)