Contra Marshall, I would not put much weight on tea leaves and second derivatives. For example.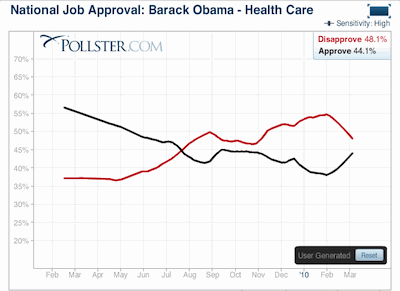 That uptick in support for Obama over health care happened at about the same time that Obama personally stepped into the process (i.e., announed his summit). Note that Obama didn't push any specific policy until two days before the summit on February 25. People apparently respect leaders who care about things and show some leadership in making them happen. If nothing else the Bush administration showed that Americans reward boldness and success more or less independently of what the new laws actually do. Bush freed the FBI to tap everyone's phones and more than half the country went nuts with joy.
Whatever minor upswing Democrats might be riding right now, they're riding it because they have grown a little fighting spirit. If they let health care die the country will turn on them for being losers. Most Democrats will take exactly the wrong lesson from that and compromise the rest of their agenda away, and Republicans will run roughshod over them until they win a majority back in November.
thereisnospoon at Kos.
The situation now is as follows:

* Whatever happens, must happen quickly or not at all.
* Stances on healthcare reform have hardened significantly for nearly all legislators.
* Whatever deals were going to be made, have basically already been made.

In short, the time for bluffing and negotiation is at an end. The final deal (Senate bill + reconciliation) is basically written in stone. Now the only question is whether that deal will pass, or not–and who will be allied with whom in that coming battle.
Exactly. Policy discussions are done. The House will put out its reconciliation bill as soon as Monday. The only question left is whether Democrats will grow the balls to save millions of uninsured Americans and their own jobs.
Today would be a good day to get to know your Reps' staffers on a first-name basis.
Switchboard: (202) 224-3121
Guide for first-timers here.