Sarah Palin released a video earlier this morning. It's a mix of sympathy for the victims, boilerplate platitudes (American exceptionalism gets multiple mentions) and attack.
There's no apology for her imagery, since "both sides do it":
Journalists and pundits should not manufacture a blood libel that only serves only to incite the very hatred and violence that they purport to condemn. That is reprehensible.
She claims that debate now is more civil than back when there were duels, and says we can't be stopped by those who seek to "muzzle dissent by shrill cries of imagined insults". And, haters, take note: we're better than "mindless fingerpointing". When Sarah points her finger, as she does many times in this video, she wants you to know that her mind is fully engaged.
Palin's toned-down appearance and scripted delivery show that she wants to adopt the appearance of reasonableness, but the message is more-or-less unchanged. The setting is presidential, but the message is classic Palin, lashing back at her critics. She was clearly hoping to show "gravitas", but that's more than set dressing.
Update: Here's how the Times, Post and Politico headlined their reports. So much for reasonableness and gravitas.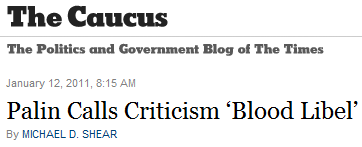 Update: As the commenters point out, blood libel is the accusation "that religious minorities, almost always Jews, murder children to use their blood in certain aspects of their religious rituals and holidays".