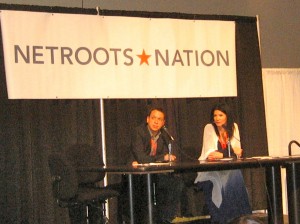 I got into Minneapolis at one o'clock and went right to the convention hall. This discussion on the Dream Act, led by Markos and Lily Eskelsen, was already underway.
Here's a brief summary of the Dream Act:
The DREAM Act is bipartisan legislation that addresses the tragedy of young people who grew up in the United States and have graduated from our high schools, but whose future is circumscribed by our current immigration laws. Under current law, these young people generally derive their immigration status solely from their parents, and if their parents are undocumented or in immigration limbo, most have no mechanism to obtain legal residency, even if they have lived most of their lives in the U.S. The DREAM Act would provide such a mechanism for those who are able to meet certain conditions.
The DREAM Act would enact two major changes in current law:
• The DREAM Act would permit certain immigrant students who have grown up in the U.S.
to apply for temporary legal status and to eventually obtain permanent legal status and
become eligible for U.S. citizenship if they go to college or serve in the U.S. military; and
• The DREAM Act would eliminate a federal provision that penalizes states that provide instate tuition without regard to immigration status.
Here's the short version of the discussion:
Markos: President Obama has not kept his promise on immigration. Politicians always promise Latino voters the world around election time, and then they don't deliver. If we take back the House, keep the Senate and Obama, are we then going to be able to get this passed?
Lily: We need a broader coalition of grass roots to push for this, including people of faith and young people.
I've been to state conventions and one national convention, and based solely on my mad sprint through the convention hall this afternoon, this appears to be well-organized. The weather is absolutely beautiful.
Russ Feingold is up next, so I'm off to that.
We're having a Ballon Juice Meet up Friday at 6:30 at Brit's Pub, at the suggestion of a commenter who emailed me. That's at 1110 Nicollet Mall. Any of you are more than welcome to join us. I'll be the one wearing the huge orange convention badge that says "Balloon Juice".