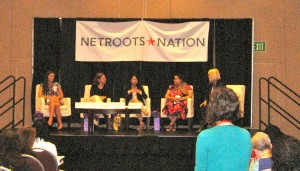 Last night at the BJ meet-up we had a good talk on commenter privacy concerns. The major worry was work, whether comments posted would come back to the author and end up getting the writer fired.
This NN panel I attended was about (female) bloggers and candidates and how they have been attacked both online and in major media, but I think there are similarities between this sort of thing and commenter concerns.
Krystal Ball was on the forum. I remember the day that the Halloween costume photos of her came out, because I was walking by the television and I saw them. I was just immediately sympathetic to her, and knee-jerk hostile to the news reader promoting the "scandal".
She said she was at a candidate event and got a text from her husband. He told her "everything is okay, but call me first when you leave that event", so of course she knew something horrible had happened. She said it was completely bizarre to become the second-most searched term on Google, if only briefly.
Her campaign staff were divided on whether to address the fake-scandal directly, but she got good advice and went on what she called a media blitz, where she made the very good comparison to media favorite Senator Scott Brown, (R, truck) and his completely accepted photo spread in Cosmo:
Ball said women in politics are held to an unfair standard, noting that Sen. Scott Brown posed nude in Cosmopolitan magazine.
One of the blogger stories is here.
Back in May, my friend and then-editor at Minnesota Monitor, Robin Marty, announced she was expecting a child. It was great news for Robin and her husband Steve, and obviously those of us who know them were happy for them. Now, Robin was and is a longtime supporter of abortion rights. Something about women having the right to determine what happens in their own bodies. Anyhow, like many pro-choice women, Robin was still able to enjoy her pregnancy, knowing that even though it was early in her term, the fetus that she carried was going, eventually, to grow into her child….
…So like any good blogger, she posted an image of the first ultrasound.At this point, enter Tom Swift, crazy Minnesota blogger and erstwhile GOP candidate for school board in St. Paul. (I won't link to him, and if he finds his way back here, Melissa, terminate him with extreme prejudice.) He blogs under the name Swiftee, and he created an image to welcome Robin and Steve's child into the world:
You get it? Because Robin was pro-choice, she might decide to abort the child she wrote about, so let's get it some protection. Disgusting doesn't even begin to touch it. The insinuation Swiftee makes is that Robin would want to harm her child, not just as a fetus, but once born, too. It's attacking Robin, using the image of her eventual child to do so.
Robin decided to post an announcement that each time the right wing activist used the ultrasound of her daughter to smear her, she would donate 25 dollars to Planned Parenthood. The altered sonogram pictures came down quickly.