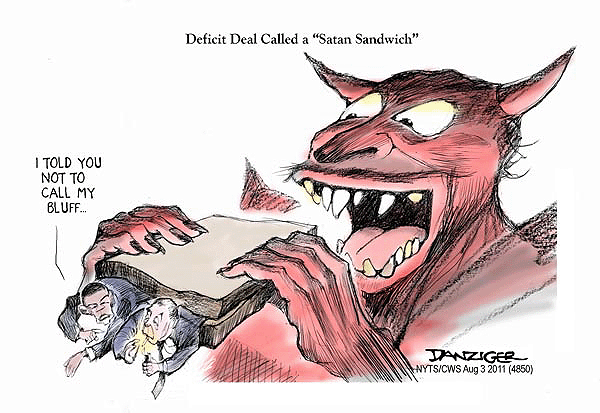 (Jeff Danziger's website)
I've added Satan sandwich to the Balloon Juice Lexicon:
Satan sandwich—Near the end of the Congressional debt-ceiling crisis of July/August 2011, Congressional Black Caucus chair Emanuel Cleaver announced via Twitter:

"This deal is a sugar-coated Satan sandwich. If you lift the bun, you will not like what you see… This debt deal is antithetical to everything the great religions of the world teach, which is take care of the poor, aged, vulnerable."

Presumably related to the proverbial shit sandwich, where 'the more bread you have, the less shit you have to eat.'
Any other Notable Quotes, debt-related or otherwise, which need to be added to the Lexicon while the grudges links are still fresh?
***********
ETA: I took this post into 'edit' mode to fix a link, and now I owe Freddie an apology for hopscotching his post, but I'm afraid that futzing around any further will end with me breaking the whole blog… Sorry about that!