In addition to his garden-variety bullshit, like his claim that Freddie Mac paid him $300K (actually $1.6 million) for historical consulting, Newt has another trick that Kevin Drum nails:
Gingrich's favorite debate ploy is to avoid answering tough questions by immediately zooming out to a million-foot level and explaining imperiously how enormously complex everything is. It's all so impressive sounding that he seldom has to bother telling us just what he'd do about any of this enormously complex stuff.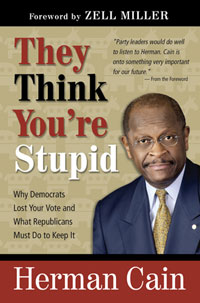 Drum has a few good examples from last weekend's debate, and they're worth a look.
Here's what I don't get. Herman Cain became the frontrunner in part because he wrote books like this one (foreword by Zell Miller), that capitalizes on Tea Party resentment of politicians who talk down to the good people of America. Sarah Palin built a whole celebrity empire on the same kind of resentment. Yet here's Newt Gingrich, a guy who's out to prove that he's smarter than everyone, who makes a habit of being patronizing and condescending, and he's the new Tea Party darling? Is this an instance of "he might be a smart guy, but he's our smart guy", just as Herman Cain was "our black guy"? Or is there something else going on?