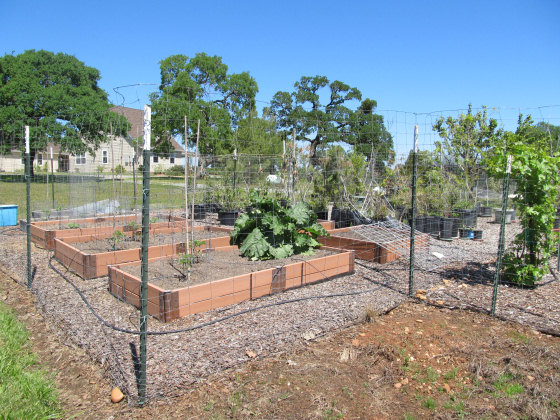 __
__
From commentor Scout211, in Calaveras County, CA:
Here is a pic of the beginnings of my garden for this year. (You did send out the call for pics. I thought a before and after might be good. Here is the before pic).

You can see that my rhubarb is up and thriving already but most of the plants are still seedlings and many boxes aren't planted yet (the nights are still a bit too cold for the plants I will start from seeds).

This is a good pic of the boxes I use–made by Frame-it-all and sold by many outlets, including www.frameitall.com. Raised bed gardening was discussed in another thread a few weeks ago and I mentioned the kits that I used.

I thought I would include a pic of our daily visitors. We have many wild turkeys that visit our bird feeding area. They eat up the cracked corn that is designated for the doves. Hubby loves the turkeys. Me, not so much. They dig all over and mess up our porch and breezeway. Oh well, country living is still the best.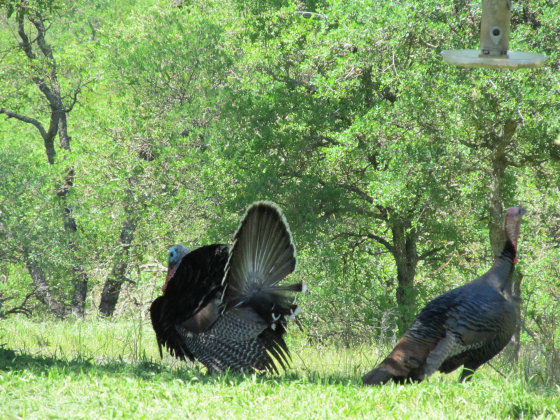 My garden-related accomplishment for this past week was unearthing the electric mower and giving the front yard its first haircut of the season. Unless you count failing to plant out the pansies and allysum from this year's first (of many) trips to our favorite local garden center….
How are things in your gardens, this week?