I challenge every one of you to do what I just did, and order some bumper stickers supporting gay rights for you car. Sure, in a sense, I guess it is slacktivism, but at the same time, the more of us who do it, the more normal it seems. Granted, this isn't that much of a bold statement from me, because I live in WV and my car is already a stereotype on wheels because I just do not give a fuck what people think about me- I've got two Obama stickers, an Apple sticker, and a West Virginia Public Radio sticker, so these will fit right in. But this is the civil rights fight of our lifetime, and I'm going to proudly display what I am believe in. If the hillbillies with Confederate flag license plates don't like it, they can just pound salt. I just ordered the following:

And: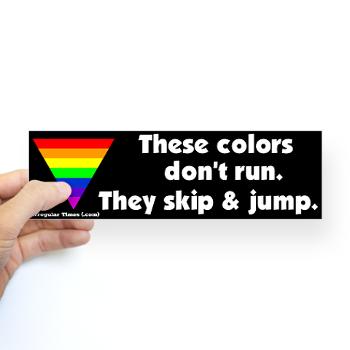 So get on it, straight people. Show 1/10000th the amount of courage that any gay man, lesbian, bisexual, or transgender has shown when they come out, and show your support. All you need to do is search for "gay+rights+bumpersticker" and I am sure you can find one that will be perfect for your car.
To sweeten the pot, the first ten people who show me pictures of their car with newly adorned bumperstickers will receive a Tunch apron or comparable apparel from the Balloon Juice store. These are our friends, our neighbors, our co-workers, and our relatives. Let's flood the zone.
I think we'll start a new feature where we all send in pictures of our cars with our featured bumperstickers, much like the view from the lazyboy.