You know the drill, Romney goes up a few points over the next week, or at least Dick Morris says he did. Joe Scar and Peggy Noonan and Bobo and Evan Thomas and the rest shoot their wad.
But I've said it before and I'll say it again about the American public: they don't know c-razy but they know c-at food.
Also too, I just don't see people warming to these douches: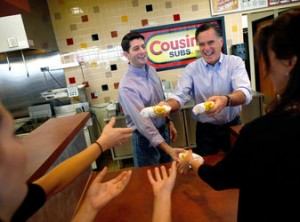 Also also too, a friend writes:
I hate the optics double standard. Can you imagine the unmitigated hell Dems would catch if a candidate that never served picked a VP that never served from a decommed battleship?
So true.