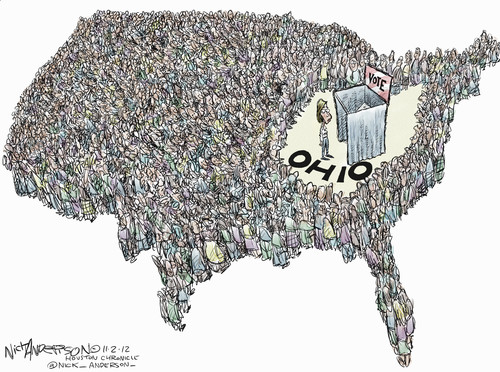 (Nick Anderson via GoComics.com)
__
Kay might never forgive me for this, but in fond memory of my late father-in-law, fellow Ohio escapee Walter Kirn explains to TNR why "Ohio Doesn't Deserve to Pick Our President":
In my new, more realistic understanding of American democracy, gained just this year from a thousand expert sources, the role of all but a portion of the electorate is to show up at their polling places tomorrow and dutifully cancel out one another's votes so that Ohio can choose our president.

And why has this privilege fallen to Ohio? The prevailing view, voiced by columnists and pundits and even some very fancy political scientists, is that Ohio is a national microcosm, blending diverse demographic and cultural groups in a way that reflects America at large. In other words, it's a state with lots of rednecks that also has plenty of poor urban minorities balanced by a certain magic number of college-educated professionals. Add in a lot of struggling factory workers, stay-at-home moms, Roman Catholics, evangelicals, college students, military veterans, Latino immigrants, and nursing home residents, and there you have it: our republic in a can.

The situation disturbs me even so. That any one state should posses such outsize power over the country's political destiny strikes me as outrageous on its face, but that this state should be my own birthplace, the very cradle of American mediocrity and overzealous lawn ornamentation, is positively terrifying…

Human beings of vision and vitality will do almost anything to leave Ohio. This urge has benefited America's space program. John Glenn got as far from Ohio as he could. Neil Armstrong, with better technology, got further…

In fact, the only extraordinary individuals who rush toward Ohio, and not away from it, are presidential candidates. For the last few months—and as you read this, probably—Obama and Romney have lavished on the Buckeye State the sort of hyperbolic praise, feigned fascination, and craven devotion usually reserved for elderly parents with multi-million dollar fortunes.

If Mitt Romney and Barack Obama have succeeded in making the state's residents feel wise and important and special, like agents of fate, it cannot have been easy…
By Upper Midwestern standards, Kirn is a moderate. Bob, during the period before I got around to marrying his son, once told me that Ohio was shaped like a chamber pot so that Michigan & Pennsylvania would always know where to aim…
***********
Apart from insulting our neighbors and other GOTV activities, what's on the agenda for the evening?