In U.S., #Uninsured Rate Lowest Since 2008… http://t.co/pDicPrmNXw pic.twitter.com/YDYrzPVSUJ

— GallupNews (@GallupNews) April 7, 2014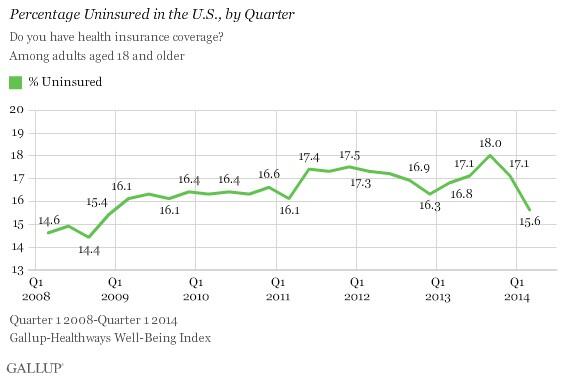 Doing some very basic algebra, a 2.4% drop in the uninsured rate from the pre-Exchange peak means roughly 7 million people in the survey population universe have insurance during the last week of the 1st quarter of 2014 than they did last fall. This is a combination of Medicaid expansion, Medicaid wood-workers, new CHIP enrollments and Exchange policies. The ten million is a net number, so it includes the negative one million or so people who had individual policies that were cancelled but who did not find a new policy on the Exchanges.