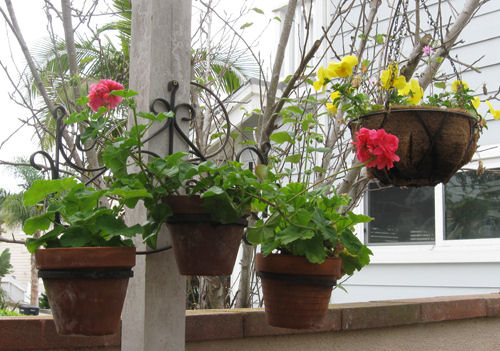 From commentors MaryG and Higgs Bosun's Mate:
HBM found this wrought iron plant hanger lost behind a camellia bush. My mom got it at the thrift shop in the 60s for peanuts and it always lived on her fence right outside her dining room table. She loved to be able to switch in her three best flowering pots into it to impress the ladies who came over to play bridge. HBM cleaned it up and planted geranium slips from around the yard in it last summer. They are getting ready to bust out.

We also planted two hanging baskets with one four-inch pansy in each one, you can see the yellow one in the background; the blue one has completely filled up its basket, but it's between blooming cycles at the moment. They should last until it gets hot in June or July.

This is half of a six-pack of Iceland poppies we got at Roger's Gardens, an expensive but amazing nursery in Newport Beach, CA.

We didn't have enough pots, so rather than buying more we planted some things in baskets that had been kicking around in the garage waiting to go to the thrift shop. We thought it was such an original idea until we got to Rogers and they had tons of them, selling for a lot more money.

Lots of succulents are blooming, some with flowers prettier than others.

This one is the showy exception; I don't know the variety name, as it's one of the big-box-of-cuttings I got on eBay.

I think it might be one of the ones that dies after blooming, so when the show is over I'm going to try to plant some of the offshoots or stem. I am learning to buy the smallest pot of anything I want; I've been able to divide even a $1.98 two-inch pot of succulents into three more plants of some varieties for a really low cost per plant. Some asshole stole a Coke box out of the driveway with a big crop of leaves becoming puppies in it, so disappointing. They probably killed all my little babies. HBM has put up motion lights outside. When he first came to stay with me, he was hyperalert and barely slept. Now he gets so much exercise from walking Leland on the beach trail and doing all my projects that he sleeps very soundly and didn't hear a thing. That is a blessing.

The little lemon tree has lots of little green fruit starting…
To be continued, next week!