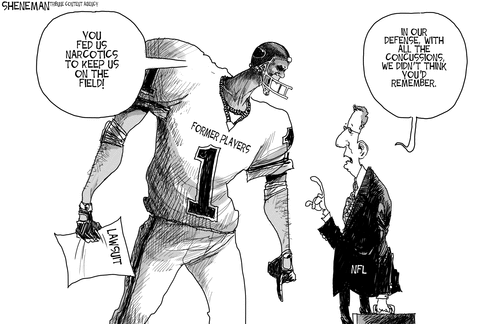 (Drew Sheneman via GoComics.com)
In the Washington Post, "Ex-NFL linemen discover that weighing 300 pounds or more is no asset in life after football":
Roger Brown was made to go to the train station back then, standing where they weighed logs and iron. The Detroit Lions' scale didn't reach such ungodly measures…

In the early 1960s, Brown was the biggest man in football — and, as the NFL's first regular player to weigh 300 pounds, something of an oddity. These days, there's nothing unusual about a player that size. Three weeks ago, when 256 players entered the league via the NFL draft, 57 were listed at weights of at least 300 pounds.

But what happens when the games end and a man no longer needs to be so big to earn his living?… After years of having their sizes carefully managed and strength coaches and nutritionists keeping close tabs on their weights, some ex-players feel abandoned…
Also in the Washington Post, "First-ever summit on sports concussions held at the White House":
… Thursday's conference featured a panel discussion by experts and new financial commitments by the federal government and private sector to fund research into concussions. The pledges included a $10 million grant by Steve Tisch, co-owner of the New York Giants, to UCLA School of Medicine's neurosurgery department, to train pediatric neurologists specializing in sports concussions and research how to prevent, diagnose and treat the injuries among young athletes…

In his remarks Thursday, Obama said that when he "was young and played football briefly" he might have had a mild concussion "a couple of times" that went undiagnosed.

"We have to change a culture that says, 'You've got to suck it up,'" he said…
The concussion-conference article was careful to spell out that every contact sport carries a risk, and "young players" are more vulnerable, and these days plenty of girls get concussions playing soccer. But as many have said, NFL football is the Money Sport here… and if seven-year-olds aren't enrolled in Pop Warner leagues and high schoolers don't try out because their parents won't sign the permission slips, the NFL is going to have to find or invent another feeder system.