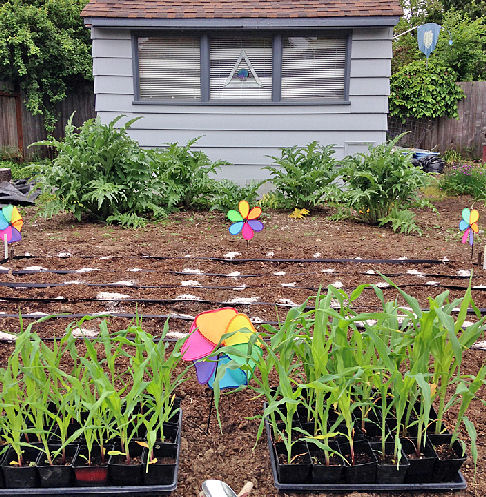 From hardy perennial garden commentor Marvel:
It's been mild here in the Willamette Valley — warm days, cool days, sunshine, sprinkles — a perfect time for working WAY too hard//long in the yard.

Having been cooped up in the greenhouse for weeks and weeks, sixty-seven corn plants were clamoring to go outside and play. I let them. (There are a few dozen more still putting on size — they'll be planted soon.)

Above: Young corn queued up for their trip to their new home in Area 51. The white spots in the planting field are scoops of 'complete organic fertilizer' — builds strong bodies X ways without burning 'em.

The whirligigs were there to keep me & my partner from stomping on/tripping over some dirt-colored pegs that defined the planting bed as I was preparing it — I'm keeping them there because, well, whirligigs.

These are some of the starts that that are awaiting their new homes — they're an experimental sweet corn and I can't wait to see (taste?) how they turn out.

This is as close to a 'still life' as we get, mid-Spring.

Meanwhile, it's a splash of Chardonnay (with an ibuprofen chaser) in the garden shed. Oh my aching back….
***********
Here north of Boston, I'll be spending the afternoon transplanting another half-dozen mail order roses into rootpouches and setting up more bags with the latest batch of tomato-growing 'accessories' (new potting mix, Terrasorb, organic fertilizer). This year, I'll be experimenting with the red plastic mulch that's supposed to "increase yield up to 20%"… and I've got a block of fancy-schmancy "wonder soil" expanding coir to test in one or two bags, see if it makes a difference for productivity or hardiness. Of course, I've yet to receive my tomato plants from California and Oregon. Last year, the cartons showed up at or just before my 'second half of May' deadline, when New England was having a damp chill Spring, and the plants were almost too tall to ship; this year, we're having a lovely sunny warm Spring, but I suspect my West Coast suppliers haven't been so lucky!

What's going on in your gardens this week?