Via Andrew Sprung at Xpostfactoid, there is a potentially easy Wyden waiver application for states that actually want their population to get good health insurance on the Exchanges:
Austin Frakt has a series of posts (1,2,3) reviewing research that highlights what a hard time most people have making good choices among insurance plans — mainly in balancing premium against deductibles and copays. One such study, by a team led by Peter Ubel, highlights (to my mind) a defect in ACA marketplace design:

…two of us recruited a convenience sample of participants from public buses in Durham, North Carolina, and asked them which category of plans they would look at first if they were shopping for health insurance. To half the people, we described the gold plans as having higher monthly premiums and lower out-of-pocket costs — the language used by many exchanges. For the other half, we switched the gold and bronze plans, describing the gold plans as having lower monthly premiums and higher out-of-pocket costs. …among participants who were below the median in mathematical ability, the majority said they preferred gold plans over bronze plans, regardless of which plan was labeled as gold.
People anchored in on the analogy of valued metal for their choice instead of examining the details of the policy. This passes my smell test as health insurance is confusing as hell, and while the ACA with its metal bands does create a useful proxy, the proxy produces a lot of really bad information and cues for people who are eligible for cost sharing assistance.
This is fixable with a Wyden (Sec. 1332) waiver that any state can file for.  The waiver would be a relabeling of the metal bands to reflect the actual actuarial value being sold.
Right now there are five bands on the Exchanges.  Catastrophic and Bronze both cover roughly 60% of expected costs after a very high deductible.  Silver pays roughly 70%, Gold pays 80% and Platinum pays 90% of expected medical costs.  So far that is intuitive and fits the decision heuristic people seem to be using.  This works great for people who make more than 200% of Federal Poverty Line as the Cost Sharing Assistance (CSR) subsidy bumps a 70% Silver to 73% Silver so the benefit is a little richer but it does not change the actuarial value ordering of the metal bands.
Where this breaks down is for people who make under 200% FPL.  Here CSR subsidies are far richer and bump up the actuarial value of Silver over that of Gold and/or Platinum.  Let's look at the following table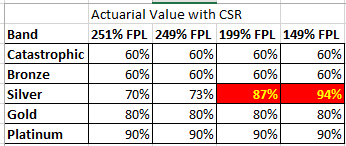 For someone making 199%  of FPL, Silver is better than Gold.  For someone making 149% of FPL, Silver is better than Platinum and Gold.
That is not intuitive.
The fix would be simple. A waiver would allow a state to relabel CSR Silver 87% as Gold Plus and the CSR Silver 94% would be relabeled as Platinum Plus. That would produce a simple cue for people that the CSR benefit is a really good value.   People who qualify for CSR Silver 87% would see the following plans in descending order of AV: Platinum, Gold Plus, Gold, Bronze, Catastrophic.