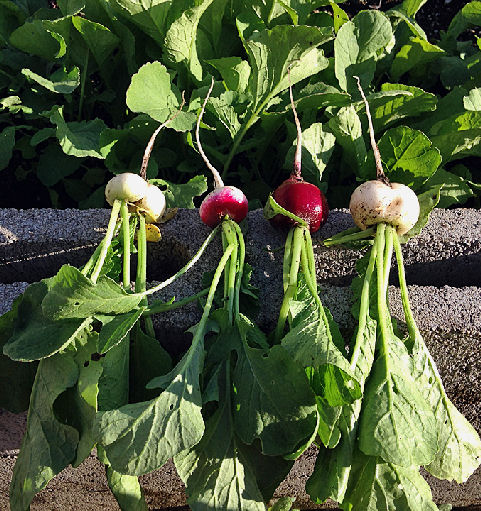 These pics were taken at the end of April, by perennial garden-chat commentor / contributor Marvel:
We saw a fairly mild, drizzly week here in the Willamette Valley, but this weekend begins another warm (cresting in the low 80s) dry-ish week. We've got some pent-up gardening urges to work off, fersure, e.g., preparing Area 51 for its 200+ popcorn starts, setting up cages for the tomatoes I'll get at the Master Gardener's plant sale next Saturday, taking the row covers off the leafy green Spring crop of new lettuce & spinach.

A few of areas of the garden will have to go it alone, and they're looking up to the task. The radishes [top photo] are doing well (we're just plucking a few a day, washing & salting & gobbling them up) in their cozy Spring bed, along with the onions and a few extra lettuce plants.

We pulled the old kale (eating the last still-sweet bits in a riotous colcannon last week) and the youngsters are settling in well.

The string peas have finally figured out which way is up and are having a merry race to the sky.

And the crimson clover (a cover crop) is enjoying a lively competition with the flowering chives for this week's Understated Beauty award.

Have a SWELL day!
***********
Here in New England, we just had our first 80-degree day of the year, even though the Siberian irises are just beginning to bloom. All those tomato plants that I over-ordered back in March are due to start arriving this week… and the yard is so not prepared yet…
What's going on in your gardens this week?