The Society of Actuaries commissioned Milliman to do a great review of the different payment methodologies and their risk profiles for a wide variety of stakeholders in 2015.  It is a great read (for the right definition of a great read).  One of the things that I want to pull out is the chart below.  It is a fairly standard commercial, employer sponsored insurance contract.  The number is the multiplier applied to the Medicare fee for service fee schedule.
Let's follow the money to see what we actually value.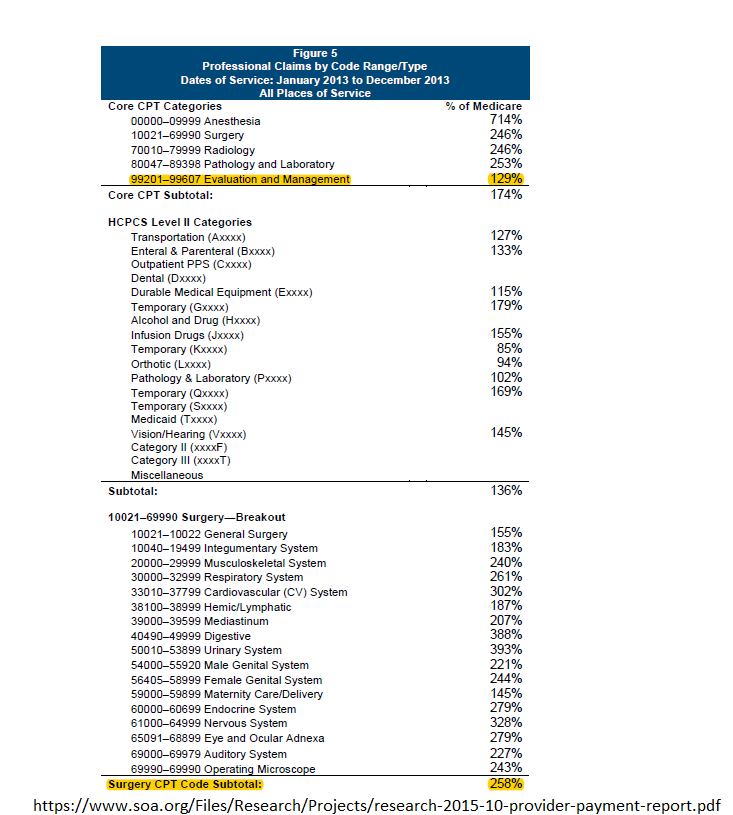 There are a couple of very useful things to pull out of this table. First, the topline number is that the same services for a commercial plan will cost 170% or more than what Medicare pays.  This is why one of the major goals of liberal health policy is to drive more services to pay providers rates closer to Medicare than Commercial.
The second most interesting thing to me is the payment for evaluation and management services.  E&M codes are the primary care physician codes.  These are codes that involve a good deal of time and talking and far less cutting and doing.  We pay people lots of money to either cut something or do something.  We don't pay for talking as much.  So we get a lot of cutting and doing and not as much talking.