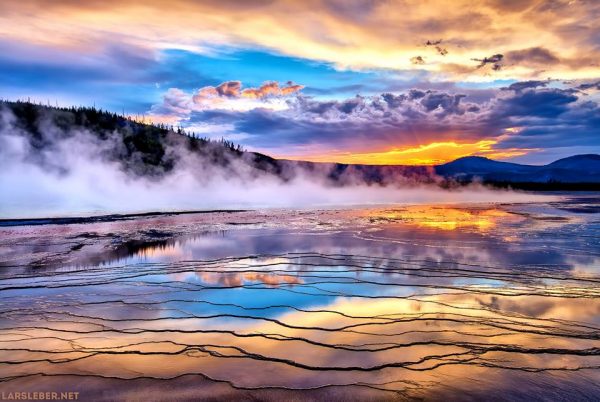 Lars Leber has become one of my favorite local photographers. Above is Grand Prismatic Spring Sunset (Yellowstone National Park, WY)  – a late summer sunset.
There were quite a few requests on publishing last time. I put out a call for advice on all aspects. This week we'll start with Paul Wartenberg's advice on securing an literary agent.
Let's also talk about where everyone is at with their works. What stage are you at? How is it feeling?
Don't forget you can click on the Authors In Our Midst under the quick links to see all the great advice in the writers chatting threads (and all 0ur great authors, too!)
Now from Paul:
Body Armor Blues can be found here and Paul's author page is here.
I've taught a class on self-publishing at my library a couple of times, and I start with describing the three (and a half) methods of writers getting published. The first method is the traditional route: getting signed by a major – or small press – imprint such as Penguin or HarperCollins.

Going that route has the hardest steps but the biggest rewards. The major imprints aren't kind to new or emerging authors, but it's because they're swamped by hundreds of wordsmiths banging at their door. And they're swamped because the major imprints have the greatest reach to every market: the retail stores, the libraries, the schools that can purchase hundreds if not thousands of copies of your work. The large publishers can market your book everywhere it can, set up deals for bookstores to display your covers, get you interviews and signing tours and reviews. Everybody (usually) wants to sign a contract with one of the big guys, because that's money up front, that's a solid chance of making the bestsellers lists, that's playing in the major leagues.

Thing is, those large publishing houses will not meet with you or even glance in your general direction without someone drawing their attention to you.

This is why if you want to take that traditional route – even making a deal with a small press imprint – you need to get an agent first.

Literary Agents help in a lot of ways: they understand the structures of good deals and what kind of contracts you should sign. For those agents – or their agencies – that have been in the business long enough, they get a reputation with the major publishers that can ease any introductions and line up deals with a few calls and handshakes. Agents also see the market trends, what publishers are looking for, and can guide you towards making your pitches stick.

There are rules – and tricks – on getting Literary Agents as much as there are rules on getting published. So you need to be aware of this much:

Watch out for any agencies that ask for fees up front, or for you to pay for things. Literary Agents ought to be working on commission: they won't get paid until you get a contract (they'll then take 10-20 percent off from that).

Agents work in certain fields and literary genres. Don't rely on an Agent who handles Romances to get your Mystery Horror novel to market.

Be patient. It takes time for an Agent to get publishers interested in you.

Have some works already finished by the time you reach out to find an Agent. You need a portfolio of work to show off and give your Agent an idea of how to pitch for you (and what to pitch with).

You need to have not only a portfolio of work, you need to create a Query letter – a pitch – to send prospective Literary Agents / Agencies. There are standard formats for Queries, although each Agency may have their own quirks in the format. This is why you'll need to research to find what Agencies are out there, and how they want you to approach them. There are several references out there, the one we tend to have at our libraries is "Guide to Literary Agents" published by Writer's Digest. It should include a directory of Literary Agencies (with a subject index) and a how-to chapter on writing Query letters.

One other way to find Literary Agents is through a local or regional Writers' Association. Agents like to keep in touch with the writers' groups within particular genres. I know from personal experience that the Florida Writers' Association has Agents at their Annual Conferences in late October, and they can arrange for writers – for a fee – to meet with Agents to 1) work on their pitches and 2) get an Agent's actual attention.

In short, if you want to go the traditional route to get published, it's:

Finish a novel as well as a portfolio of other works,
Find an Agent in your genre market (check your library for guide resources!),
Make a pitch with a Query letter, and make a good impression,
Work with the Agent who signs you to get a Publisher interested,
Sign a contract and wait a year for the book to get published (remember, publishers are swamped: they'll have their stable of established authors getting printed as well as the 1-4 new writers like yourself to get printed in the mix).
That's if for this week. Enjoy and be kind to one another – TaMara