The Incidental Economist has a great guest post on the design of formularies to screen people by costs and how risk adjustment is used to counter-act the strong incentive for insurers to run away from anyone with known expensive needs. The authors are summarizing an NBER working paper. The authors base their post on the following plot.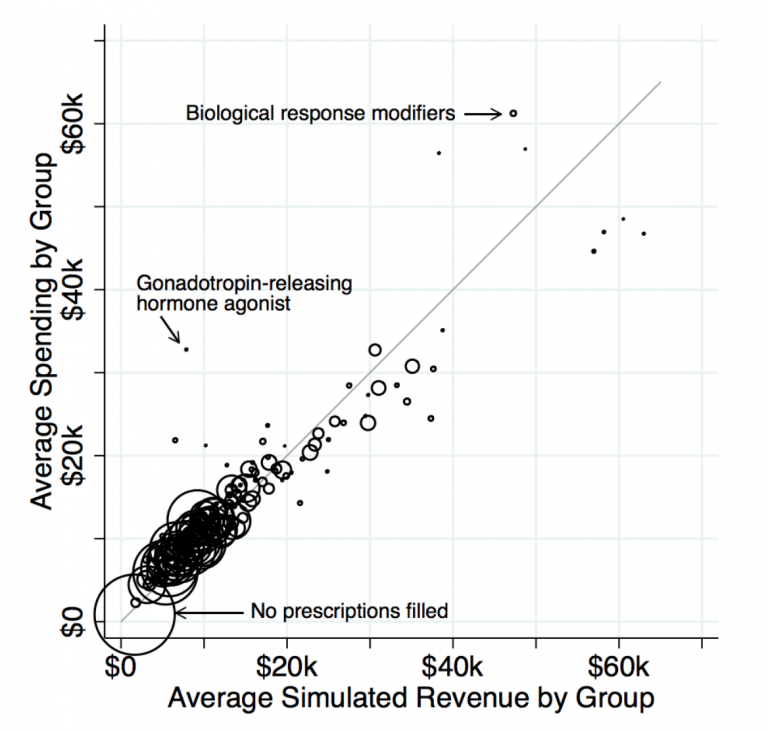 The line is a trend line of perfect risk adjustment. If a dot is on the line, it means the risk adjustment transfer is exactly equal to the incremental cost of using that class of treatment. Insurers would neither seek these patients out nor try to avoid these patients. The authors are very worried about the drugs that are above and to the left of the line.
We find that formularies are much more restrictive for the drugs for which individual-level costs exceed individual-level revenues. This includes drugs treating multiple sclerosis, substance abuse disorders, and infertility in women. The contrast is even sharper for more popular drugs that are likely to be more salient to sick consumers when choosing between plans. The relationship holds even when narrowly comparing classes that differ in net profitability but have similar associated drug and medical costs. (Think of comparing the cost sharing assigned to drug classes within a horizontal slice of the figure.)
As a policy question, this is far more important than my second thought. My first thought was "Cool!" I had my cynical bastard insurance company plumber hat on as I looked at that graph. There are several drugs in that lead to a total cost of treatment between $45,000 and $50,000 but bring in between $55,000 and $65,000 in revenue. They are the massive beneficiaries of risk adjustment.
My big operational question is whether or not insurers were actively designing formularies to attract these patients?
Figure 4 in the NBER paper suggests that Exchange insurers were lightly satisficing in the direction of designing to attract these risk adjustment gold mines but their responses were far weaker.
We know insurers have designed Exchange plans to optimize risk adjustment revenues. There have been plans designed for diabetics. The strategy for those plans was that the combination of value based insurance design and superior care management would let Aetna cover diabetic patients with increased profitability. Aetna was betting that their system would make the incremental cost of treating a diabetic patient less than the incoming risk adjustment revenue. And if that was successful, it would have been a socially desirable exploit of the risk adjustment formula. People with diabetes would be treated well and in better health, and the long run cost curve would be bent as future diabetes risk adjustment would start incorporating the lower costs that Aetna was producing and Aetna would have made a reasonable profit for actually delivering value.
I would have thought that someone would have been an effective cynical bastard and targeted their formulary design to go after the few small classes of people who use the risk adjustment gold mines with few comorbidities.