The theory of change for a health savings account based insurance system is that people are far more sensitive to spending their own money for needless care than spending someone else's money for low value care. And from there, we should expect to see a massive compression of healthcare spending without negative health impacts as low value care is driven out of the system and consumers can harness the power of markets to get better value. That is the theory of change.
The biggest problem is that people are absolutely horrendous at discerning low value and high value care. There is incredible information asymmetry between the doctor or other medical professional and most consumers of medical care who are quaintly known as patients. We don't know. Secondly, we're just not rational beings with infinite time horizons and the ability to rapidly shift consumption from the future to the present or from the past into the future. Not everyone has savings or easy credit that can absorb a one time $5,000 or more shock much less an annual expenditure of $5,000 or more.Let's
More subtly, we need to figure out who would be under the first dollar discipline of increased deductibles and how much money they could save working with the assumption that everyone is perfectly rational. We're not, but it is a simplifying assumption. And here we run into a problem. The population of people who have incremental medical costs between a low deductible regime and a high deductible regime is limited.  That population is even smaller once we knock out the people with these types of medical costs who are already covered by high deductible insurance.
I used the 2014 data assembled by KFF at the Health System Tracker but broke it out a little differently. I also used the CMS National Health Expenditure to estimate average spending per group from the KFF HST with an estimate per capita 2014 Health expenditure of $9,442.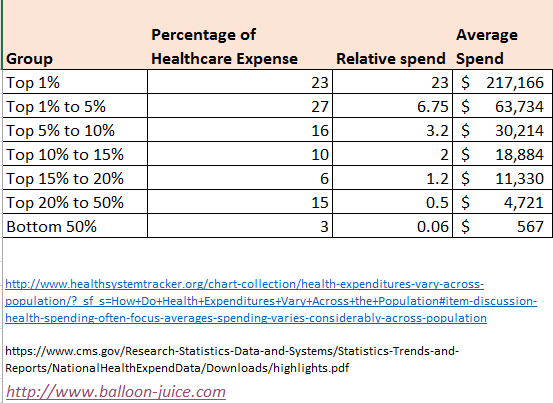 Let's define low deductible as a deductible under $1,000.  Let's also define as high deductible a deductible of at least $1,001 and no more than $7,000.  The maximum deductible is approximately equal to a 58% AV plan that is proposed by the Senate.
Who is hit by moving regimes and therefore who have changes to the incentives that they face?
Let's start with the easiest two cases.  People in the bottom 50% of the spending distribution either don't touch the medical system in a year or are barely connected to it.  I am one of those people (as I knock on wood and throw salt over my shoulder).  In 2016, I had a $600 deductible.  I used a single PCP visit that did not have cost sharing apply to it.  Moving my plan from a low deductible to a maximum deductible plan won't change my behavior, assuming I stay lucky and healthy.
The other extreme is easy too.  An individual with hemophilia or cystic fibrosis or any other long term, chronic condition that puts them into the top 1% of spending is going to blow through their deductible at some point in the first month of care.  Catastrophic events like a cancer diagnosis or a gun shot wound will also lead to $100,000 claims very quickly.  It won't change their incentives either.
Now we get to more complicated cases.  People between the top 1.01% and 5% are also going to blow through their deductibles in the first quarter of the year under the highest deductible regime.  People in the top 5.01% to 10% of spending will hit their deductible mid-way through the course of their treatment.
Now the group between the top 10.01% and the median American is where incentives could in a change from a regime shift from low deductibles to high deductibles.  People with medical expenditures in the 20th to 50th percentile would see almost all of their expenses apply to their deductible.  The amount would vary.  The person who is the incrementally more expensive than the median American will see a few more dollars at risk while the person on the 80th percentile of spending would see several thousand dollars at risk.
People in the 80th to 90th percentiles will have significant elements of their healthcare spending over the high deductible limit but there could be incentives for them to shop in order to get their care costs underneath the deductible.  This is, I think, more likely to occur with people whose costs are near the deductible maximum than people whose costs are currently three times the high deductible limit.
We're looking at a maximum population of 40% of the country with 31% of the healthcare spending whose incentives could meaningfully change in a shift from a low deductible to a high deductible regime.
I think that is an overestimate as we are already part way through that shift.  There are numerous people whose incentives could have plausibly changed that have already been moved to high deductible/low actuarial value plans.  We see this on Exchange with Bronze, no CSR Silver and Gold plans.  We see this in Medicare Advantage with $0 premium plans.  We see this in Employer Sponsored Insurance.  29% of ESI covered lives in 2016 are in a HDHP.  
So the people who have not converted from low deductible to high deductible plans with medical expenses that are amenable to being influenced by the regime shift is a small proportion of the total population.  They are being asked to make heroic efforts for the theory of change for high deductible plans to really play out en masse.