One of the things that is becoming clear to me is that while there are a metric shit-ton of these alt-rights douchebros out there, this is the first time they have ever had to deal with the reality of their bullshit: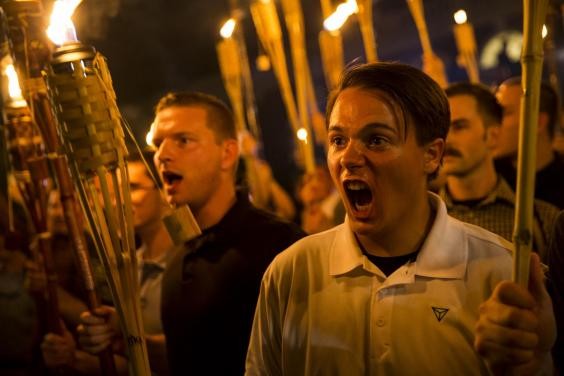 Mr Cvjetanovic said he was shocked at the coverage the photo of him at the protest has received.

"I did not expect the photo to be shared as much as it was. I understand the photo has a very negative connotation. But I hope that the people sharing the photo are willing to listen that I'm not the angry racist they see in that photo."

"As a white nationalist, I care for all people. We all deserve a future for our children and for our culture. White nationalists aren't all hateful; we just want to preserve what we have."
Because when you think of white nationalists, what you immediately think of is caring for all people. I too this screenshot Saturday night before he inevitably deleted his facebook account.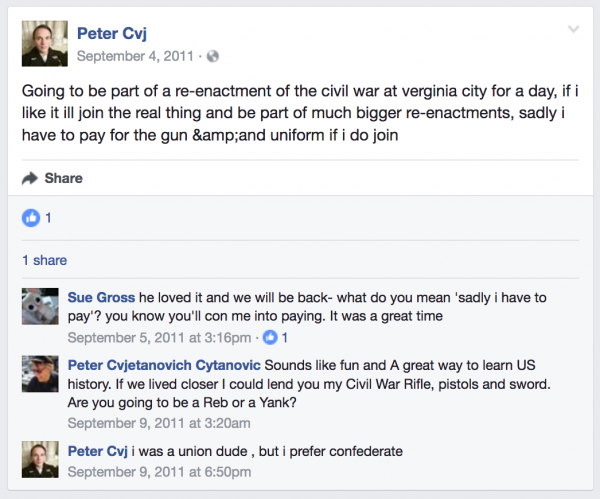 Obviously, he's lying. And obviously there are a lot of hard core klansmen and neo-nazis out there. But I am wondering how many of these fucking assholes are just cosplay nazis who have spent the last few years fapping on 4chan and reddit boards, and live in their own little bubbles and think there are a lot more of them than there really are?
Here's a venn diagram of people at yesterday's rally, people who agree with the Damore memo, and people worried about ethics in gaming. pic.twitter.com/9Za2uzZvK3

— I'm So Over This (@Johngcole) August 13, 2017
You know these jackasses are all in the same forums comingling with gamergaters and MRA shitheads and the like. And they felt emboldened by Trump and his tacit approval of their behaviors and beliefs, so they all attended the rally, without hoods.

But now they are out there and hearing from their peers and people who had no clue they were doing this shit. Like the mother of the scumbag James Alex Fields, who had no idea what her son was involved with:
"I didn't know it was white supremacists… I thought it had something to do with Trump."
SAME THING LADY.
I wonder if these assholes are going to rethink their behavior now that everyone is getting a good look at them and weighing in? I hope.
At any rate, it's not like we weren't warned.
There's a reason the most hateful fringe of the right wing is supporting Donald Trump.https://t.co/AqB3DM2m0N

— Hillary Clinton (@HillaryClinton) August 25, 2016
But her emails.