On the Road is a weekday feature spotlighting reader photo submissions.
From the exotic to the familiar, whether you're traveling or in your own backyard, we would love to see the world through your eyes.
Good Morning All,
There are issues with the form; I'll work on them next week, but I've got more consuming and time-sensitive things owning me.
Have a wonderful day, and enjoy the pictures!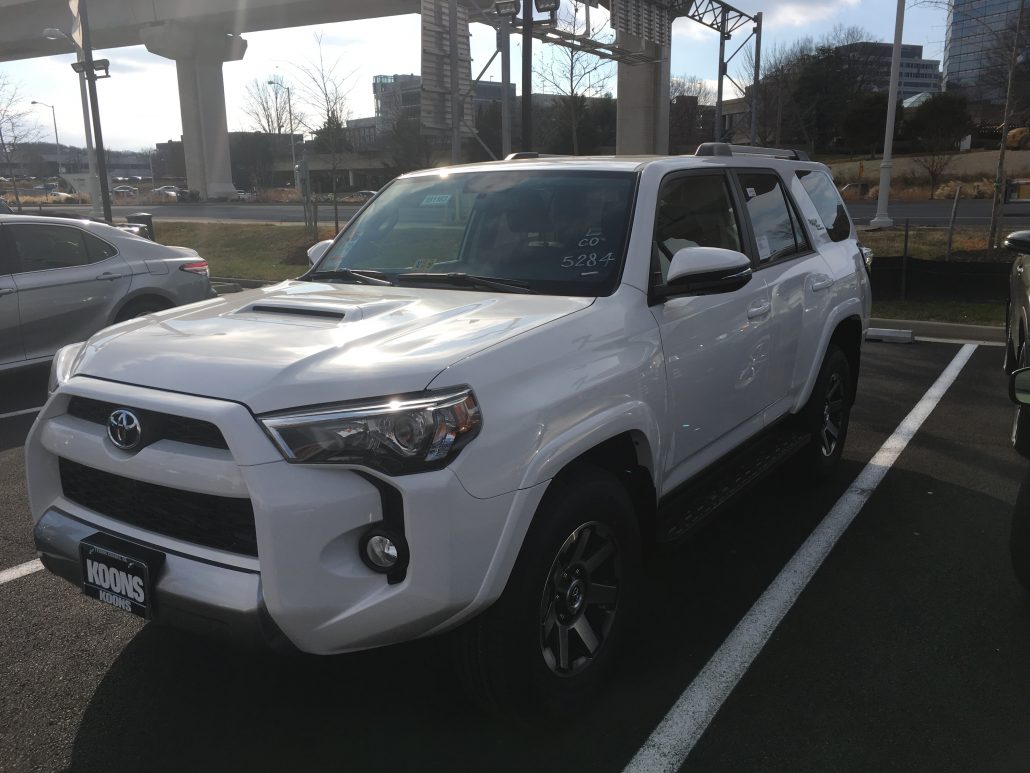 Well, my one present to myself happened today – I bought a new vehicle. Now I've been driving a 2001 Mitsubishi Galant I bought new, and I've put less than 100,000 miles on her! I had planned to drive her into 2021, and then see how the world looked. Unplanned-for tragedy then life insurance/inheritance, and my perspective is changed. While I swore I'd never buy a new vehicle off the lot ever again, I wanted something brand spanking new, with full warranties, modern tech, perfected design, etc.  I planned to wait for 6 months or more, but there are tax and price considerations, plus my desire to have a safer vehicle through the winter was weighing heavily. Also: carpe diem.
When I lived in Colorado, I owned a 30 year-old 4×4 Nissan hardbody pickup with camper shell. I miss it every day, old and dirty and clunky and no-frills though it was. I used to fish, hunt mushrooms, camp, and hike whenever I could – I've got the explorer bug, and as I learned how to use a 4×4 in challenging terrain, I had some wonderful adventures which often included me sleeping in the back so as to be more comfortable (futon), safe from wildlife, save time on the setup/takedown for a campsite, and to allow me to be high up on the mountain so I could be moving at first light and not waste a moment. I was concerned about fire, so I always used a stove and never made a campfire. Without that comfort, a tent feels very flimsy; automotive steel, less so. But once you're used to quick use of camping stoves, you get by.
Flash forward to now, and since I had the opportunity, I bought a 4×4 suv – a Toyota 4runner, off-road model so I can explore some serious mountain and forest roads when I have the opportunity as well as have a safe, new vehicle which has good interior room for moving boxes and furniture, not to mention a hitch and tow ball so I can rent a trailer if needed.
I'm planning on doing some exploring as far and as much as I can, when I can, starting in 2018. So, for example, I'm planning an early February ice fishing trip, and then plan some trout, mushroom, and ginseng adventures from Spring through Fall. I expect to have some camping expeditions and a road trip or two, but no firm ideas yet.  With two homes and a set of cats in each, I can't go away for long, though I hope to have an Autumn getaway to New England (Lake Winnepasaukee, hello!) for the leaves, fried clams, lobster rolls, and fresh local cheeses.
As I confided to my mom's financial adviser, I'm not the most religious person, but when I'm out there wandering around in nature, I feel closer to God; I feel my place in things. Waking up in your snuggly bed in a truck, opening the back window to reveal a view that people would pay millions for, that's a simple pleasure that few get to enjoy, but is available to any of us with the right vehicle. I've learned that part of the magic of these experiences for me is exploration, usually by myself –  just wandering, looking, and seeing. And then reflection, lots of reflection. As I explore this amazing planet and see nature in its infinite variations, I get thrilled like a 5 year old boy all over again.
I especially love observing goofy, silly, intriguing animal behavior, be they eagles diving hundreds of feet in the sky (mating!), a praying mantis hunting at night and decapitating then consuming a roach, or noticing a strange cluster of bees and then realizing that it's a swarm – a queen and hive on the move, looking for a new home. There are just so many amazing living things, interacting and behaving in so many fascinating, thrilling ways. I've seen roadrunners, crocodiles, rare lizards and salamnders, even what I would call intelligent behavior in a simple insect, a sphinx moth. And the amazing diversity of birds and bird behaviors is an endless joy.
All this is one of my major motivations for this feature – looking, seeing, sharing aspects of this world around us. I am thrilled by all the pictures, am partial to the nature stuff, but also love the views of cities, countries, sites around the world that most of us will never be lucky enough to visit. I prefer the natural world, but I do enjoy seeing people everywhere and gaining insight into them; that helps me gain more insight into me.
And now, a picture from valued commenter KarenH:
Thursday night we got snow in San Antonio. This is a rare event for us. The high here on Monday(12/4/17) was 87. I grabbed my camera and hurried to the park, but didn't think to take the tripod (duh). The light from the streetlight was enough to get a hand held shot.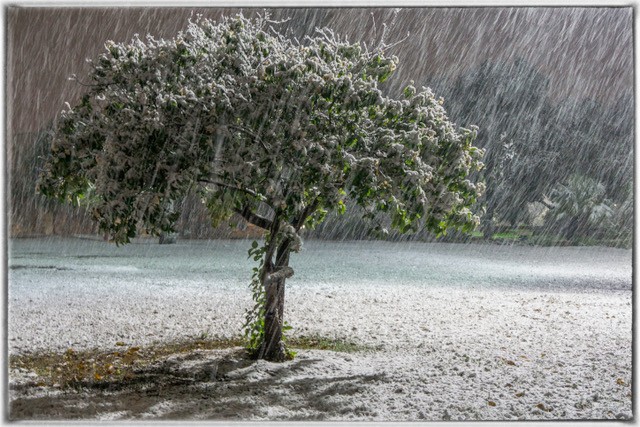 Wow, that's a great picture! My cousin lives in San Antonio and sent me some pictures of that snow, but not as impressive as this one. On the other hand, she did send me two short videos of her cats watching and reacting to the snow from their protected outside porch, the first they'd seen.  Cats are always good.
Have a great day, everyone. For much of the US – stay warm! See you tomorrow, we'll finish off the week on a bang.
One again, to submit pictures: the form is broken so Send an Email