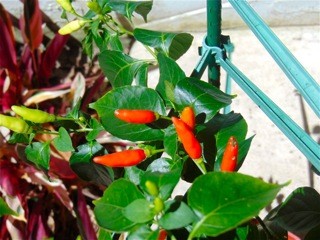 From commentor Cope:
OK, admittedly small potatoes compared to the efforts of the serious plant growers. I don't really have a garden but this being Florida, many things will grow with minimal effort.

We stick pineapple tops into the sand and sometimes they grow. They are entirely on their own, my only intervention is to pick them before the critters get them like they did last year. This year, three were harvested.

#1 was turned into the stir fried rice bowl shown, #2 and #3 were consumed directly with #3 being grilled and glazed with balsamic vinegar/brown sugar mix.

The tops of those three have been stuck into the ground near their progenitors. Be free, be free…

Also, too, I have had some luck with potted pepper plants next to the front door. This year, instead of the always reliable serannos, I went with tabasco peppers [top photo]. So far, I have harvested enough of them (and a couple of habaneros) to make 3 bottles of hot sauce.

Finally, not shown and unheralded is the citrus grove on the side of the house that is totally ignored until we see some ripe fruit. A tangerine, pink grapefruit and navel orange tree each have young, green fruits growing on them but they are decidedly un-photogenic. Maybe towards the end of the year.
What's going on in your garden(s) this week?