Picking insurance is tough.  It involves an ungodly number of trade-offs and incredible amounts of decision making under uncertainty for most people.  Some people have an "easier" task because they know that they are facing a $500,000 claim year no matter what so their problem is a well defined and well constrained optimization problem.  Most people are luckier in that they aren't facing a guaranteed OMG claim year but this makes the optimization problem far fuzzier.
Which plan is better for your family?  Let's assume that the two hypothetical plans below are from the same insurer with the same network, plan type and otherwise identical details except for the pricing and the cost sharing.  The cost sharing is very simple; everything goes to deductible and then if there is a co-insurance, it applies to every claim above the deductible amount and below the out of pocket maximum amount.  This is a simplification but I think it will provide useful insight.
| | | |
| --- | --- | --- |
| |           Plan A |          Plan B |
| Monthly Premium |  $         1,100 |  $         1,500 |
| Annual Premium |  $      13,200 |  $      18,000 |
| Deductible |  $      13,000 |  $         2,400 |
| Coinsurance | 0 | 20% |
| Max OOP |  $      13,000 |  $      15,600 |
Plan A has a lower premium but a higher deductible. Plan B has a higher premium, a lower deductible but co-insurance that builds to a higher maximum out of pocket expense.
Which plan is better?
Well it depends….
What do you anticipate your family's claims cost will be for the next year. Let's start with two extreme examples. If your family submits no claims, then you pay the premium and nothing else. Plan A is cheaper than Plan B. Now if you have a million dollar year, the cost is premium plus out of pocket maximum. Plan A is again less expensive than Plan B. But does Plan A beat Plan B in all scenarios?
No.
Plan B has a zone of superiority over Plan A.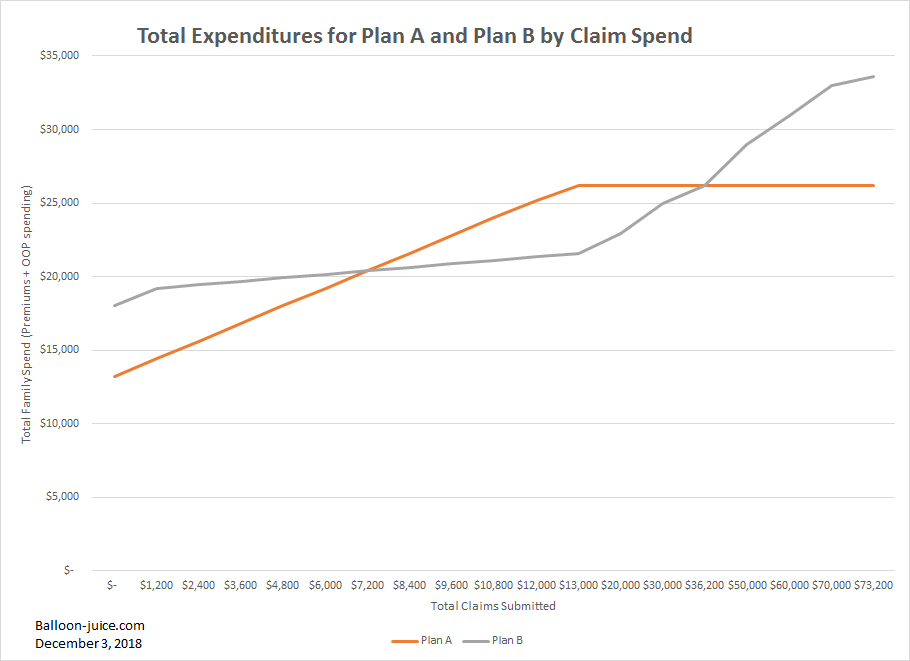 Plan B beats Plan A on total costs if claims costs are between $7,200 and $36,2000. In practical terms, Plan B is better if an uncomplicated pregnancy or a simple knee replacement are going to be the dominant episode for the year. Plan A is better if the family has relatively good luck or gets hit by an expensive diagnosis.
These zones of superiority are tough to calculate as I have massively oversimplified the insurance benefit designs to get these mechanical examples. I am also neglecting any tax advantages of Plan A's health savings account which narrows the net superiority zone of Plan B significantly.
We soon start moving to the same type of calculations that early 20th century warship designers had to make when they were armoring battleships. No ship could be armored against a peer's guns at all ranges. Instead the designers would try to balance thick belt armor for protection against horizontal fire with thinner deck armor to protect against vertically plunging fire. These trade-offs would hopefully create a several mile wide zone where a battleship's critical functions could be protected against all likely hits. The trade-offs were based on likely enemy gun energies, fire control capabilities and the projected area of engagement as North Sea storms and fogs would have ships engage at far closer range than the clearer weather of the central Pacific. No armor scheme was impenetrable to all guns at all likely combat ranges; instead the designers had to accept risks and uncertainty even as they tried to minimize the negative outcomes of their choices.
We have the same trade-off set with insurance choice.