Open Enrollment for the ACA individual market will be ending in 63 hours for most of the country.
After midnight on the 15th, getting covered becomes a whole lot more difficult and haphazard in most of the country.
When you are looking at plans, be aware of the premium and coverage pay-offs.   If you know that you have hyper expensive conditions, you're optimizing on a good for you network at an insurer that does not hassle you and then from there minimizing total cost which is out of pocket maximum plus your net of subsidy premiums.  Everyone else should be calculating on the relative zones of superiority of each metal band while minimizing costs.
We've talked about superiority zones as the differences in out of pocket costs for a given level of claims.  This gap can be filled in by premiums so the actual zone of superiority of one plan over another at any given claim level is the cost sharing of that claim level and the premium.  This will vary by county plan offerings and it will vary by age as premiums, net of subsidy, will vary significantly by age.
We looked at a hypothetical example in September: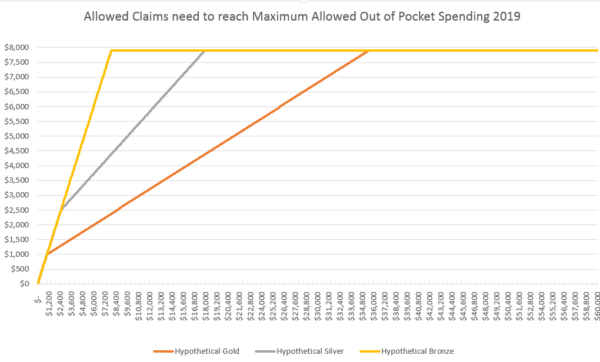 What is happening here?

Bronze, silver and gold plans are identical in their benefits for people who anticipate having between $0 and $1,000 in claims for the future year. The insurer pays nothing, and all of the claims expense is coming out of pocket. Between $1,001 and $2,500 in allowed amount of claims, bronze and and silver are the same.  Bronze hits the common out of pocket maximum after "only" $7,900 in total allowed claims costs.  Gold hits the shared out of pocket maximum after $35,500 in total expenses.  If a person has "only" $30,500 in total allowed claims, their out of pocket expense for gold is $6,900 while it is $7,900.
If we disregard premiums, there are ranges where some gold plans are better than bronze plans,and there are ranges where gold and silver and bronze are equal to each other. The equality conditions tend to be in the first few hundred dollars of claims and then at really big claims.
We need to consider premiums though. On Healthcare.gov, the pricing sequence from cheapest to most expensive for a given insurer/network/plan type combination is either Bronze-Silver-Gold or Bronze-Gold-Silver. Either way, the gap between higher actuarial value plans (Silver and Gold) in out of pocket expenses and premiums for any given claim level shrinks as individuals are less heavily subsidized, if at all.
People who are very well subsidized should buy high actuarial value products. People who are seeing the same net of subsidy premium for two plans that have very different actuarial values should seriously consider buying the higher actuarial value plan as long as all other relevant criteria (network, good enough customer service etc) are met. People who either are unsubsidized or very lightly subsidized need to look at their estimated future claims and see how much the cost sharing differential is plus the differential in premiums between high and low actuarial value products.
These are tough decisions to make. Buying insurance is tough as it involves assumptions against the unknowable future on multiple axis, but laying out reasonable projections of differential cost sharing for common scenarios and considering premiums is a good first step.