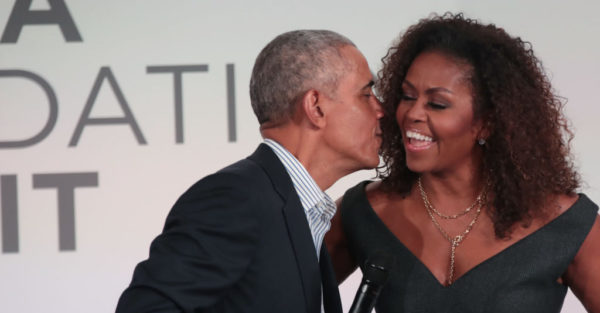 My day just got made! A one hour, primetime special on….wait for it….ABC, NBC, CBS and FOX
In an hourlong televised event airing May 16, Obama will congratulate graduating high school seniors and "reflect" on the COVID-19 pandemic. The special, titled Graduate Together: America Honors the High School Class of 2020, will air on ABC, CBS, FOX, and NBC at 8 p.m. EST. It will be streamed on multiple platforms, too.

Notable celebrities will also join in, including Lakers' forward LeBron James, Malala Yousafzai, The Jonas Brothers, Yara Shahidi, Bad Bunny, Lena Waithe, Pharrell Williams, Megan Rapinoe, H.E.R., and Ben Platt. The event will be hosted by the LeBron James Family Foundation, as well as the XQ Institute and Entertainment Industry Foundation.
Seriously, can you imagine the temper-tantrum in the Oval office when Trump finally finds out? (I'm sure they're doing their best to hide it from him while they hide the good china).
Graduate Together:
America Honors the Class of 2020

As coronavirus has prompted the cancellation of high school graduation ceremonies across the country, The Entertainment Industry Foundation, The LeBron James Family Foundation, XQ Institute, and a broad coalition of partners are coming together to pay tribute to millions of high school seniors, their extraordinary teachers, and their families, as we rally everyone around a message of hope and unity.

Graduate Together: America Honors the Class of 2020 will air simultaneously across ABC, CBS, FOX, and NBC, as well as a broad alliance of social media and streaming platforms. The one-hour primetime special airs on Saturday, May 16, and will honor the more than 3 million high school seniors across the country.

Artists, athletes, musicians, commencement speakers, influencers, and cultural icons will show their support with performances and messages featuring students, teachers, and their families from coast to coast.

This will be a moment to come together—as one nation—to applaud this rite of passage. We hope you'll join us in celebrating the Class of 2020's achievements.

We've been coping with this crisis together. Now it's time to look ahead together. Let's start by celebrating the graduates of the Class of 2020 and the pivotal role they will play in rethinking and reshaping the path forward.
And then an online party:
Obama will also participate in an event for HBCU institutions called Show Me Your Walk at 2 p.m. on the same day. On June 6, he will give a Dear Class of 2020 Commencement Address at 3 p.m. EST via YouTube.
Open thread