Trying to estimate how much COVID is out there is tough if we assume that there is some spread above zero and also non-universal spread.  We have to estimate the situation from incomplete information.  We have case counts which is a function of who is getting tested with what types of tests at various points in time with various levels of background COVID disease spread.  We have the number of tests and then we also have positivity rates which is merely the quotient of new infections divided by the number of tests administered in a period.  We should assume that testing is non-random in most cases.  We should strongly suspect that people who have already been infected are unlikely to be tested and people who are not symptomatic nor knowingly in recent contact with someone who had been infectious are less likely to be tested than people who have reason to suspect that they might be infected.
We should assume that we're not testing enough if we are getting 80% positivity rates as there is massive community spread at that point.  We are probably overtesting if we are getting 0.001% positivity rates.
I have a cheat sheet to help me think through the daily reports.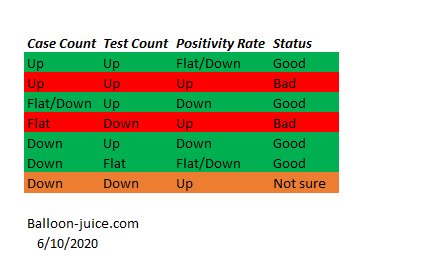 This is not perfect. But as long as positivity rate is going down in the context of flat or increasing testing, community spread is probably going down. If positivity rate is going up, a state or a region might have an upcoming challenge.