This week, New Jersey took a step to wrap around subsidies to more individuals on the ACA individual market for the 2021 plan year.
The Center Square reports the details:
A bill that adds a 2.5 percent tax on health insurance premiums in New Jersey is headed for Gov. Phil Murphy's desk…

The money collected from the tax will create a $300 million "Health Insurance Affordability Fund" which will be allocated to New Jersey's state-based exchange.
Effectively,what New Jersey is doing is claiming some of the revenue that had been allocated to the now repealed 3% Health Insurance Tax (HIT) that went to the federal government before it was repealed in the December 2019 budget deal. The 2020 HIT was built into the premiums even as it is no longer being collected. Some of it might eventually be sent back to beneficiaries through Medical Loss Ratio (MLR) rebates in a few years. What New Jersey and a few other states have looked into, is add a state based tax that will grab most of the revenue that had been built into 2020 premiums and removed from 2021 premiums and redirected it to state coffers. From a current law baseline, this increases premiums by 2.5% while from a current pricing baseline, this is no change while current law would have led to a premium reduction.
New Jersey intends to use this money to improve affordability for both subsidized and non-subsidized individuals. The non-subsidized market will benefit as a portion of these funds will be allocated to pay for the New Jersey share of its 1332 reinsurance waiver that lowers gross premiums by 15%. The subsidized market will see lower net premiums as additional wrap-around subsidies will be offered via the soon to open New Jersey state based marketplace.
However, New Jersey is leaving policy leverage on the table. New Jersey has very tight premium spreads for both their cheapest Bronze and cheapest Silver plans compared to all other Healthcare.gov using states in 2020. This is not surprising. New Jersey has a multi-insurer market which usually will reduce spreads as well as Medicaid expansion. However many other Healthcare.gov states have these attributes and wider spreads.
New Jersey has an intentional set of policy choices that reduces premium spreads.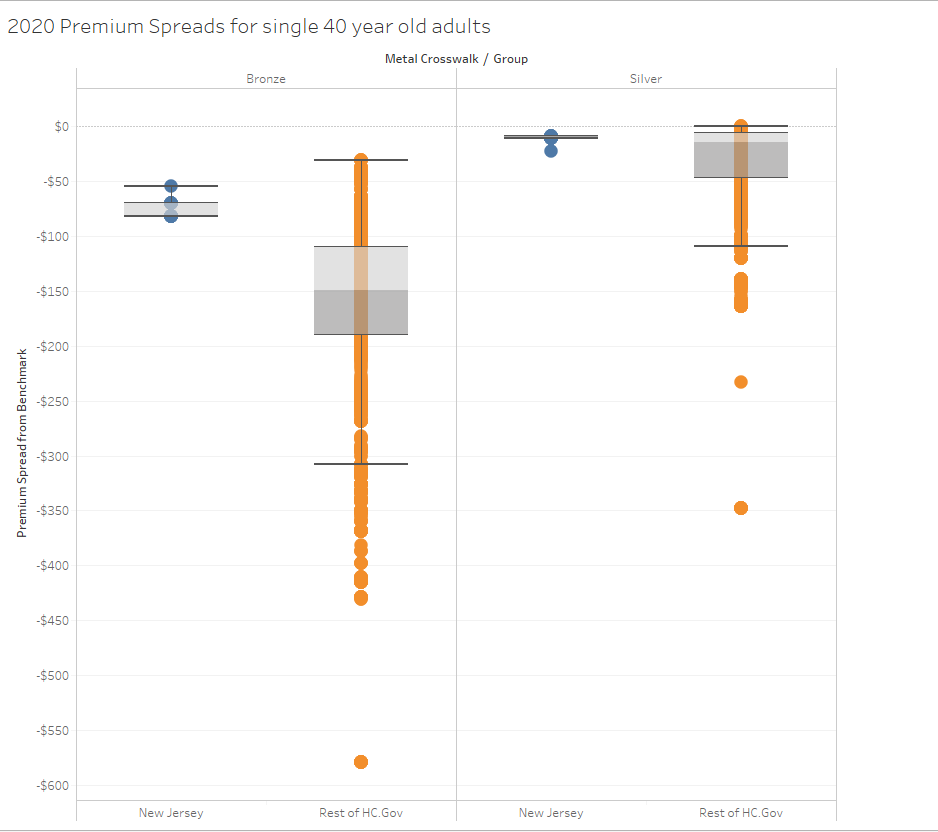 New Jersey requires Bronze plans to have comparatively low deductibles and very high actuarial values for its class. 64% and 65% actuarial value Bronze plans have far less potential to create a wide premium spread from silver plans that have a baseline nominal actuarial value of 66% to 72% than a not allowed in New Jersey 59% AV Bronze plan. New Jersey silver plans have minimal variation in plausible configurations.
These are deliberate policy choices which may ease the information processing challenge of buying individual market health insurance and limit top-side financial exposure. Those are legitimate goals. However, these goals are in tension with minimizing gross and net premiums.
If New Jersey allowed for lower actuarial value and thus higher deductible/out of pocket Bronze plans, both subsidized and non-subsidized buyers would have more affordable options due to drops in both gross and net of subsidy premiums. This step could be done with limited increases in catastrophic exposure as co-insurance dollars would be transformed into deductible dollars. Individuals with large but not catastrophic expenses such as a knee replacement would pay more cost-sharing while individuals with massive expenses (say a bout with malignant cancer) would still be hitting the same or lower out of pocket maximum.
Everything has a trade-off. New Jersey is electing to make a set of trade-offs that result in higher premiums and modestly lower "normally expensive" out of pocket cost sharing. This policy choice has resulted in New Jersey trying to smooth off some of the trade-offs' implications with other funds. It could also be smoothed by allowing for lower actuarial values to be sold as Bronze plans.