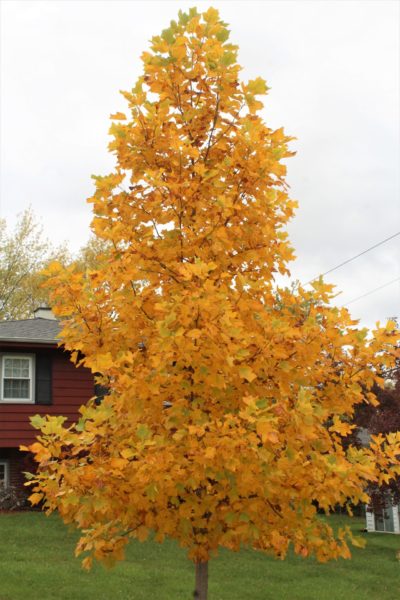 From "devoted commentor" Japa21:
To be honest I had no intention of sending anything in. I was just outside starting to tear out annuals and trim back those perennials that need it when something caught my eye that I did not expect to see. Then other things caught my eye, and here we are. All the pictures in this email and the next were taken today, October 25th.

This is about fall colors.

We tend to think in terms of trees when we talk about colors changing in the fall. For example, the photo at the top is a tulip tree the village planted in our parkway last year to replace a beetle devastated ash tree. Love the yellows and the streaks of brown.

But other plants can surprise us with their beauty. For example this hydrangea is just as beautiful with its changing foliage as it is with its full complement of blooms.

Our Miss Kim dwarf lilac provides us with beautiful flowers and scents in the spring, but the leaves also change into a magnificent hue come fall.

Even the lowly, common hosta has a last shot at beauty before it totally wilts away.

What really triggered my picture taking was the thought that, for some things, I was looking at what would probably be the last bloom, either because I was about to tear our or trim back some plants. And then there was the totally out of the blue surprise.
We always plant some snapdragons in what we affectionately call our piano garden, so named because of its shape. These will be the last bloom as I will be tearing them out and start preparing the ground for next spring's plantings.

With the advance of fall into winter. I also need to prepare the rose garden which includes major trimming, so this beautiful red bush rose will be the last rose until next year.

But the big surprise was this day lily, which decided now would be a good time to bloom, several months after all the others have departed. I'm going to let this linger at late as I can.
***********
Last blooms in our garden were also daylilies — half a dozen vivid peach & magenta stunners spaced over the last couple of weeks, from a 'bonus' plant stuck in a random pot in September while I concentrated on the irises I'd ordered.
Not counting on more, after Thursday's snap snowstorm, but at least it's supposed to warm up enough this week that I can do some yard cleanup & prep for next year…
What's going on in your garden(s), this week?