On the Road is a weekday feature spotlighting reader photo submissions.
From the exotic to the familiar, whether you're traveling or in your own backyard, we would love to see the world through your eyes.
Well it's definitely winter because we are having a run of zero degree weather here, but the bright spot is that at least we get to spend Winter in Flyover Country  with Albatrossity!  Then Christopher Mathews takes us on a one-day trip to Iceland, where we learn how Iceland got its name.  Oh, and you better get out your hiking boots because on Wednesday we're starting a 3-day hiking trip with way2blue.
Albatrossity
The week after Christmas must mean that it is time for more bird pictures here. I've been spending a lot of time documenting the variety of Red-tailed Hawks that hang out in Flyover Country every winter, and today's post will feature some of those, as well as some other migrants who were just passing through. In the weeks to come there will probably be more hawks, and lots of other winter resident birds who brighten up this part of the world during the dark and cold time of year.
I'd also like to remind you, even if you already have enough calendars, that my Flyover Country Birds 2022 calendar, and a new addition, a Bird Butts 2022 calendar, are available for gifting, receiving, and year-long season-marking. So if you enjoy birds, and have room on your walls for a calendar, check them out!
Many birders know that Red-tailed Hawks (Buteo jamaicensis), a species that is distributed across the North American continent, come in an immense variety of plumages, even though the standard-issue summertime redtail in their part of the country might not be that variable. Here in Flyover Country in the winter, on an average day we can easily find representatives of 4 of the 5 most widespread subspecies, and on a good day we can see all 5! This week I will highlight the most variable of those subspecies, Harlan's Red-tailed Hawk (B. j. harlani).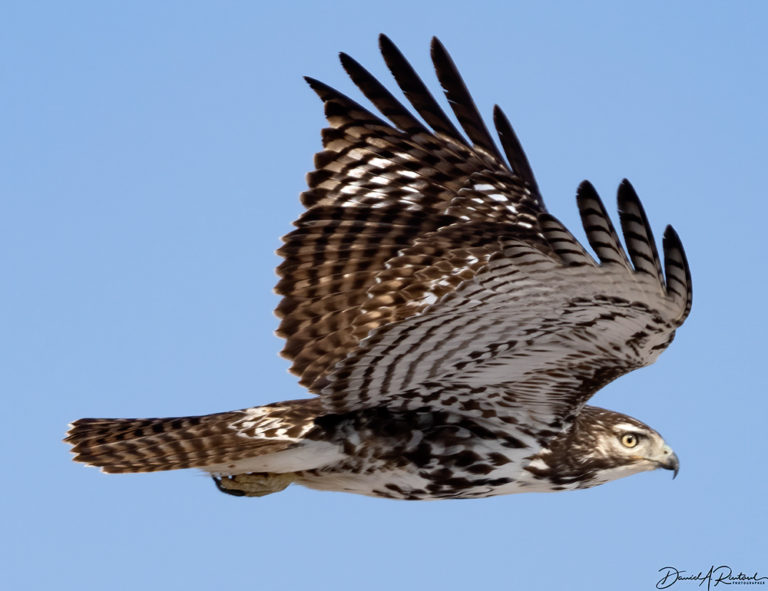 Near Manhattan KS
February 18, 2021
Harlan's is one of two subspecies that comes in three different morphs (not phases): light; dark, and intermediate. Many birders are familiar with the dark-morph birds, and our beloved Harley (back on his territory again for the ninth winter this year) is one of those. But the light-morph birds are just as striking. Here is a young one, from February of 2021. This version is characterized by stark dark tones and blinding white.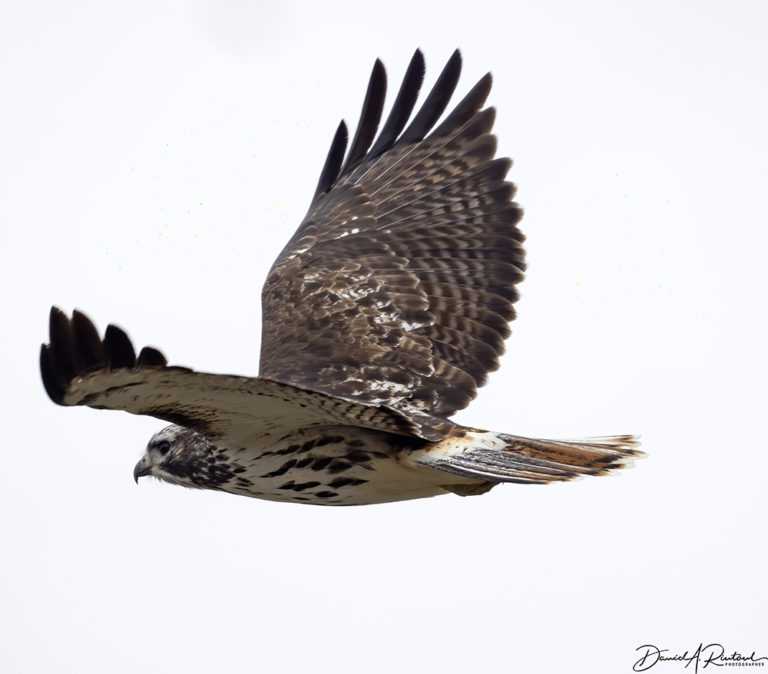 Near Manhattan KS
November 4, 2021
When that one grows up it may resemble this adult light-morph Harlan's Hawk, although it is extremely likely that the patterns and colors on the upperside of the tail will be unique, since no Harlan's Hawk seems to have a tail that looks like any other.
Near Manhattan KS
November 4, 2021
Dark-morph birds are the most common here in the winter, and this year has proven to be no exception. Here's a young one, with the icy eye that makes this version so menacing.
Near Manhattan KS
November 4, 2021
Adult dark-morph Harlan's Hawks can be very dark indeed. But they will usually have some lighter spangling on the body or the head, in keeping with that high-contrast theme of stark blacks and bright whites.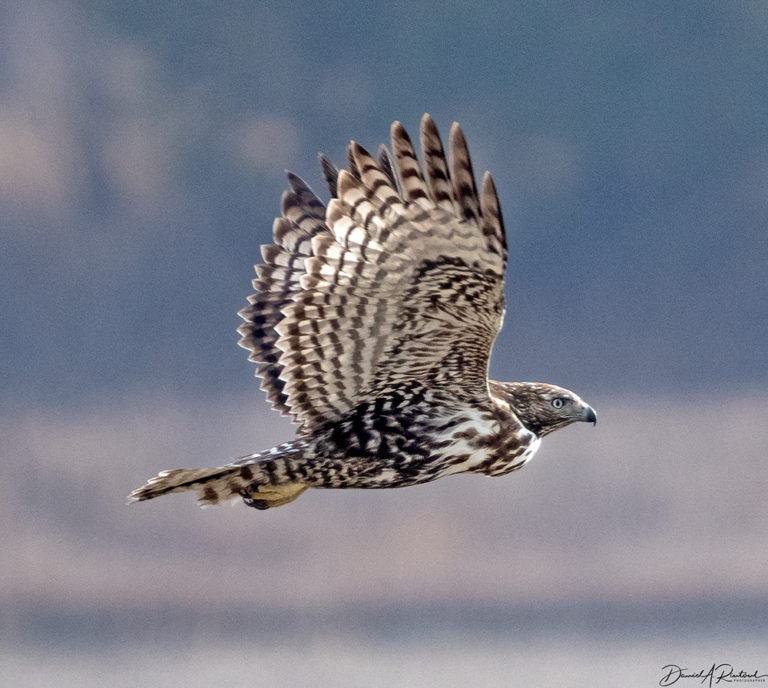 Near Manhattan KS
December 14, 2021
Finally, in between those two extremes is the so-called intermediate-morph. Young birds of this version have just about the most spangled checkerboard plumage imaginable. And this one has a full crop just for show!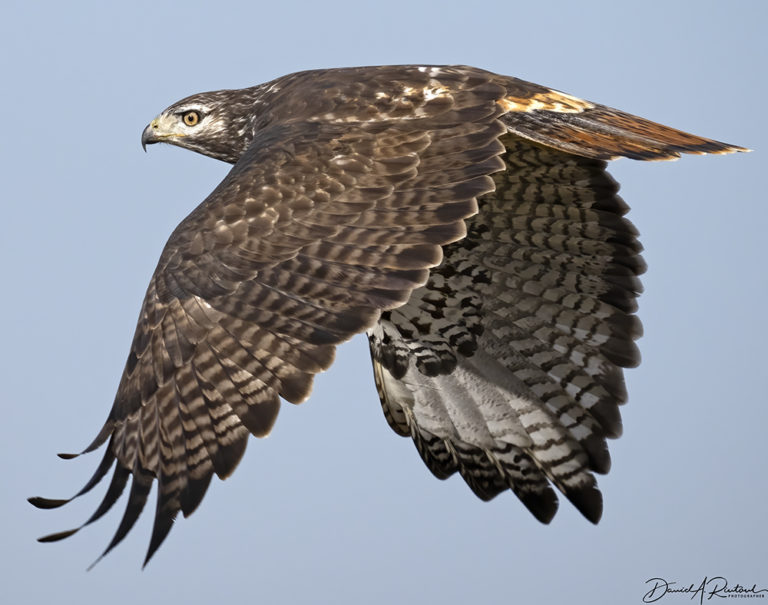 Near Manhattan KS
November 5, 2021
Adult intermediate-morph Harlan's Hawks are especially unique, from the pattern of white on their heads to the colorful variations of their tails.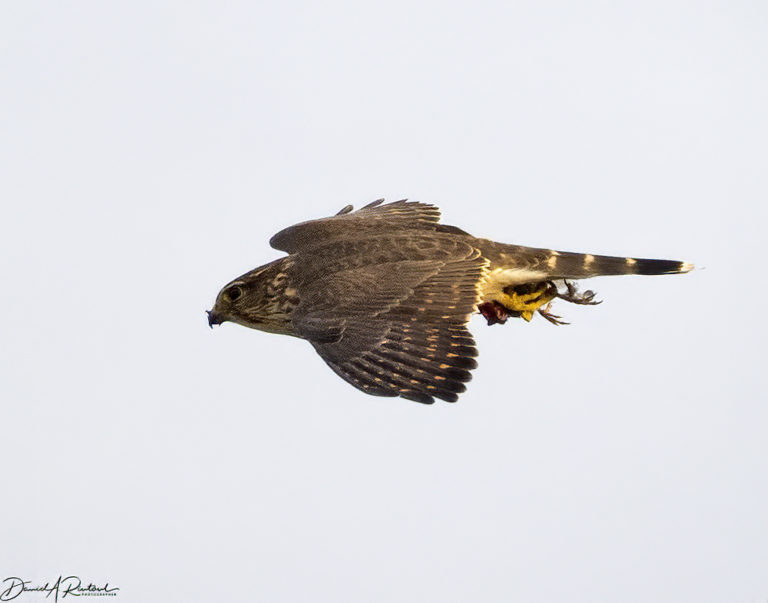 Near Manhattan KS
November 2, 2021
Merlins (Falco columbarius) are having a good showing in my part of Flyover Country this year, and this youngster was helping keep the starling population terrorized at a local dairy farm.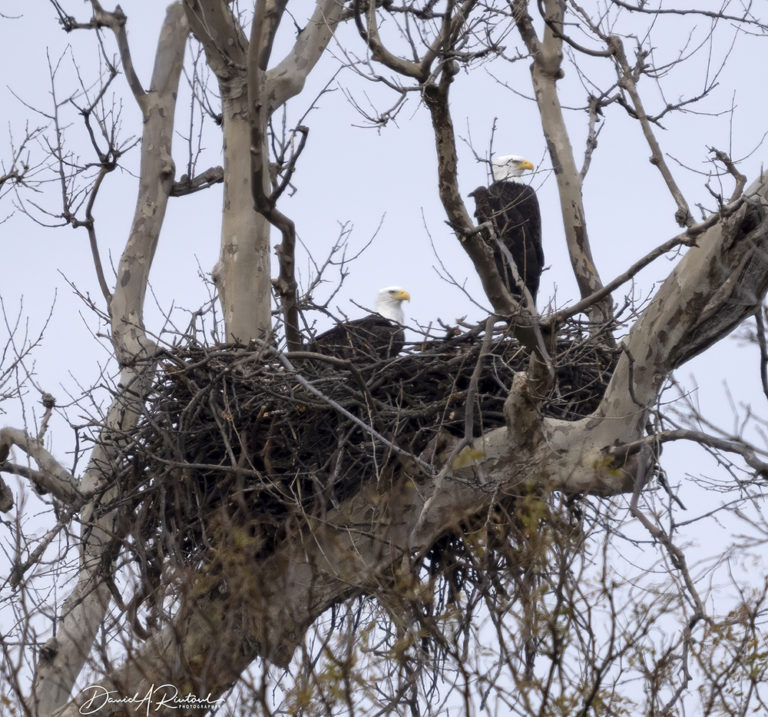 Near Manhattan KS
November 4, 2021
Even though it is not yet time to lay eggs, our local Bald Eagles (Haliaeetus leucocephalus) are hanging out at last year's nests and discussing the redecorating that will be needed for the upcoming season. Interestingly, a couple of weeks after I took this picture, I passed by this spot again to find that this pair had built another huge nest only a few trees away. I guess they decided that the older one was not worth the repair and redecorating costs.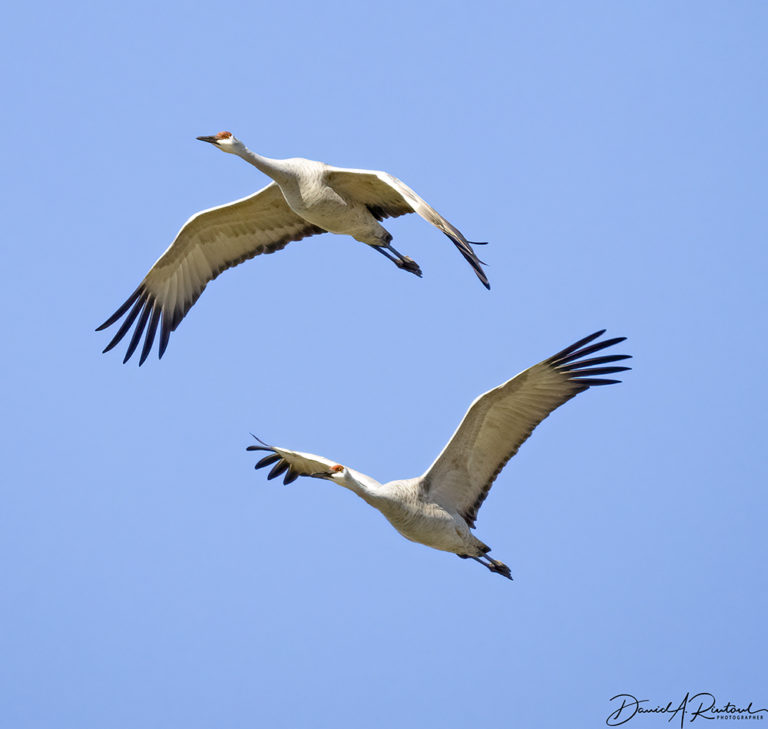 Quivira NWR
November 6, 2021
Our state Audubon group (Audubon of Kansas) has a Celebration of Cranes event at Quivira National Wildlife Refuge every fall, timed to coincide with the peak of Sandhill Crane (Antigone canadensis) migration, but also at a time when Whooping Cranes (Grus americana) should be passing through on their way to the Texas coast. I have helped with this event for a couple of years, and this year they had a spectacular day, both weather-wise and crane migration-wise. These were just two of many thousands of Sandhill Cranes seen that day.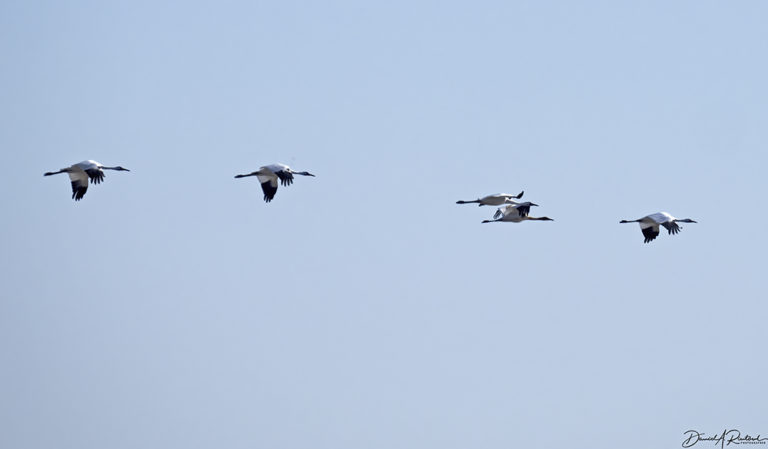 Quivira NWR
November 6, 2021
And these guys were the biggest thrill of the day for folks who came from all around the region to celebrate cranes. Whooping Cranes, one of the rarest birds on the planet and one of the best recovery success stories in North America. These birds loafed and fed on the refuge all morning, and took off for parts south just about mid-day. Truly a sight to behold!