On the Road is a weekday feature spotlighting reader photo submissions.
From the exotic to the familiar, whether you're traveling or in your own backyard, we would love to see the world through your eyes.
TKH
The Paria river is a tributary of the Colorado River. It drains an absolutely huge area of the Grand staircase Escalante National Monument (GDSENM). In its lower reaches it runs through a slot canyon that starts some 40 miles west of Kanab, UT  and ends at Lee's Ferry. Some miles down the slot canyon is the confluence with Buckskin Gulch, the World's longest slot canyon, of which I have shown some picture here in a previous submission.
During my latest crossing of Southern Utah I hiked the Paria slot and then climbed out to the top of the Paria Plateau. I crossed the plateau, then climbed down by the Vermillion Cliffs and hiked over to the Grand Canyon.
I this submission to One the Road I show you some pictures from the Paria Plateau. There are two special  areas on the plateau, the Coyote Buttes, to which access is strictly controlled. One is the famous "Wave" located in Coyote Buttes North and the other is the the Coyote Buttes South area. In order to visit either of these sites you have to have a permit which you obtain (or not, most likely) by participating in a lottery, either online via recreation.gov or locally two days before you hike. There are a maximum of twenty lucky people per day that get to visit these two places. There are of course always a few who try to sneak in and they invariably run afoul of the rangers who patrol these areas every day. I am told that it is expensive when you get caught. I have so far not been lucky enough to score a permit, but this Fall I scored an overnight permit for the Paria Canyon, so I know that one can and even I can be lucky.
This Fall I visited the White Pocket as part of a short two-day hike, passing Coyote Buttes South as I did so, getting a sneak preview of what the might be like. I will include a few pictures of what I saw in this submission. White Pocket is accessible from a trailhead along a long and rather rough dirt road. A hike of about five to six hours will get you there. It is not that far, but the entire hike is along deeply sandy roads and walking these is just exhausting. Those who cannot or do not want to put in that much effort can drive to White Pocket if they have a 4 WD car and if that vehicle has high clearance and if they know what they are doing driving 4 WD. Getting stuck up there and having to be pulled out would be really expensive.
My plan was to reach White Pocket in early afternoon, take some pictures in late afternoon, camp nearby, take some more pictures early in the morning and then return to my car. As a consequence of how White Pocket is situated the light in late afternoon was not good for taking pictures, most of the sandstone was in the shade.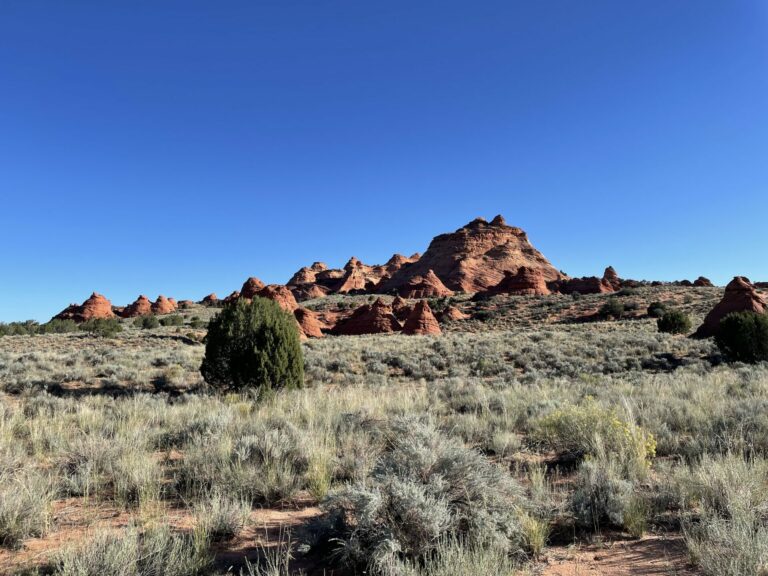 September 20, 2022
Northern end of Coyote Buttes North from along the dirt road leading to White Pocket. Of the two Coyote Butte areas with restricted access, the Northern one is the more subtle and the Southern one the more showy.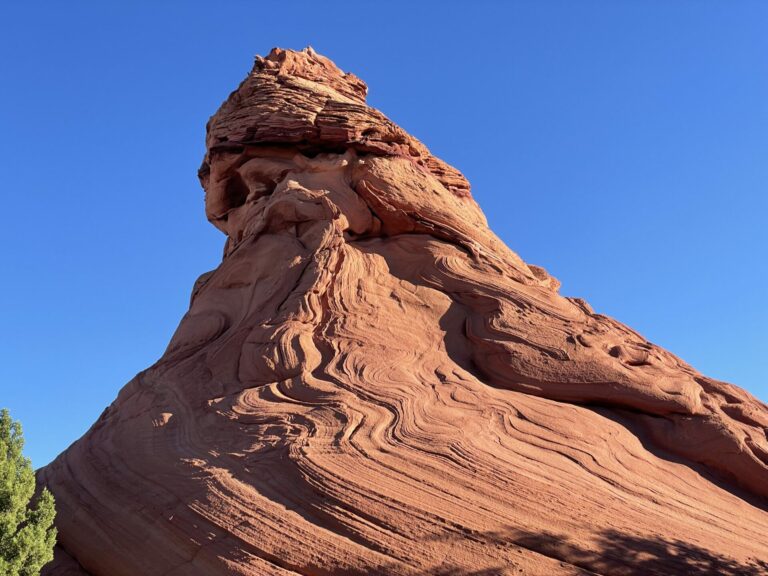 Paria Plateau
September 20, 2022
This is the kind of sculpted sandstone that Coyote Butte North is full of, I am told.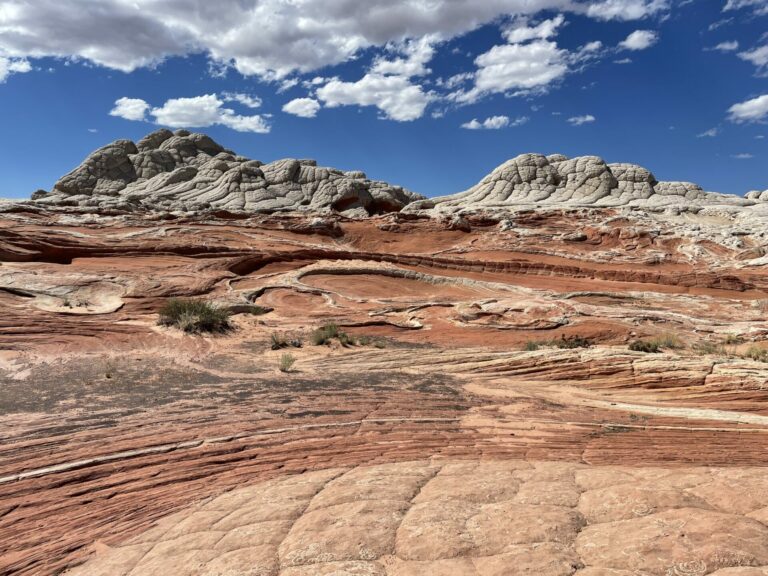 White Pocket-Paria Plateau
This is a view of a section of White Pocket. All in all this area is about 200 x 500 yds, surrounded by grass land and sand, sand, glorious sand. Before it was fenced off ranchers used it most likely to collect water to provide for cattle. The closest (abandoned) ranch to White Pocket is on Poverty Flat, suggesting that maybe it was hardscrabble existence as a rancher up there.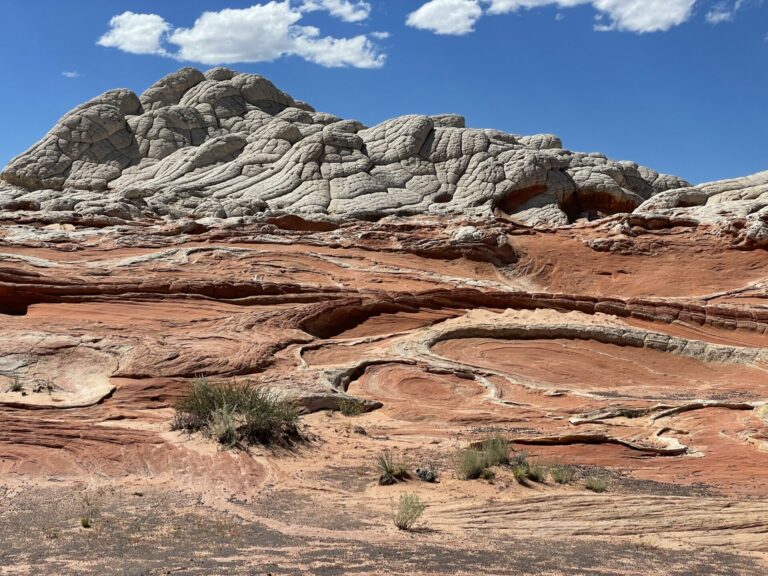 White Pocket-Paria Plateau
September 20, 2022
With this light in mid-afternoon you can get an idea of the physical shape of the area, but the colors are somewhat flat. As it turns out, the red and brown areas in this picture in the late afternoon are in the shade cast by the whitish cliffs. Unfortunately, the colors did not come alive as they typically do at sunset.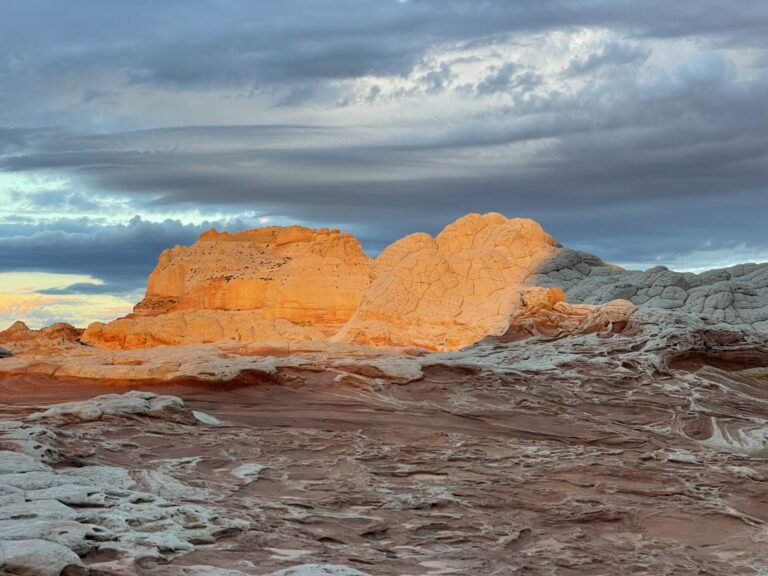 White Pocket-Paria Plateau
September 20, 2022
Now compare this to the picture taken in the morning!  It just so happened that the morning was overcast and I had about a minute of the light I had hoped for and then the sun disappeared behind the clouds and did not show itself again that day.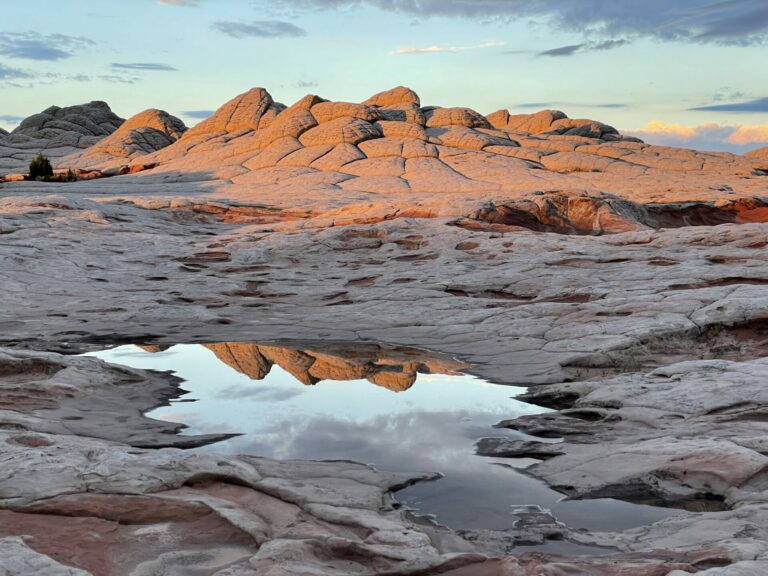 White Pocket-Paria Plateau
September 20, 2022
This is what I had hoped for.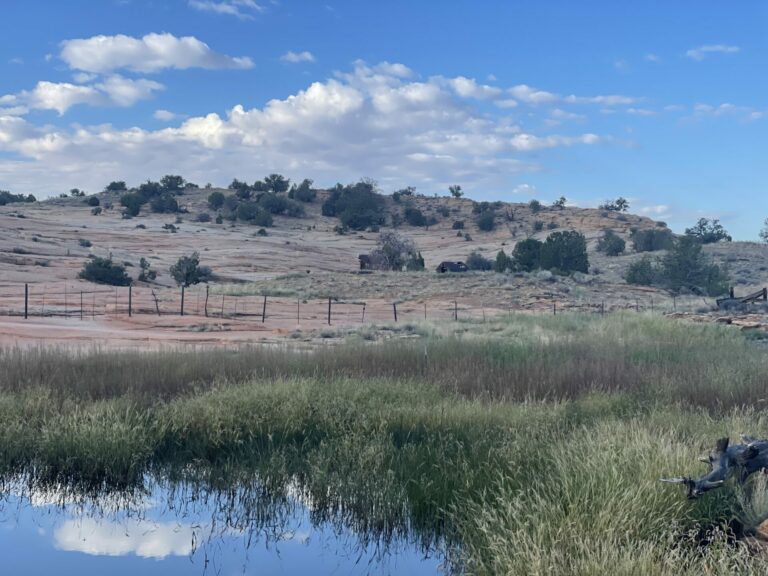 Bush Tank-Paria Plateau
September 28, 2022
This is a picture taken during my hike across the plateau, of place called Bush tank. Bush was an early settler of this area and he latched on to this slickrock bench and built a dam to collect the runoff from the bench when it rains. The local term for this set-up is "pocket".
My plan in the Spring had been to cross the plateau and get water here. But I chickened out after seeing the consequences of the drought in earlier sections of my hike. Good thing to be Spring chicken (me no longer) or a chicken this past Spring, because in March already there had been no water in Bush tank. Luckily, the summer monsoons had been very generous this past summer, so Bush tank filled up and I could get water as I passed by this Fall.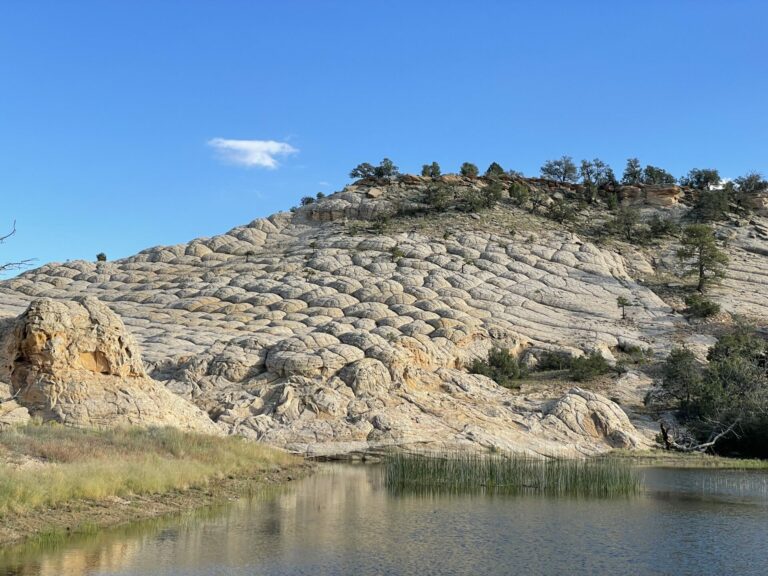 Joe's Tank-Paria Plateau
September 20, 2022
After several miles of walking deeply sandy roads past Bush Tank I reached Joe's Tank. This operates on the same principle as Bush tank: collect runoff from the slickrock and use the water to provide for cattle. The slickrock here is just spectacular, looks almost like a brain. Great, cold water too.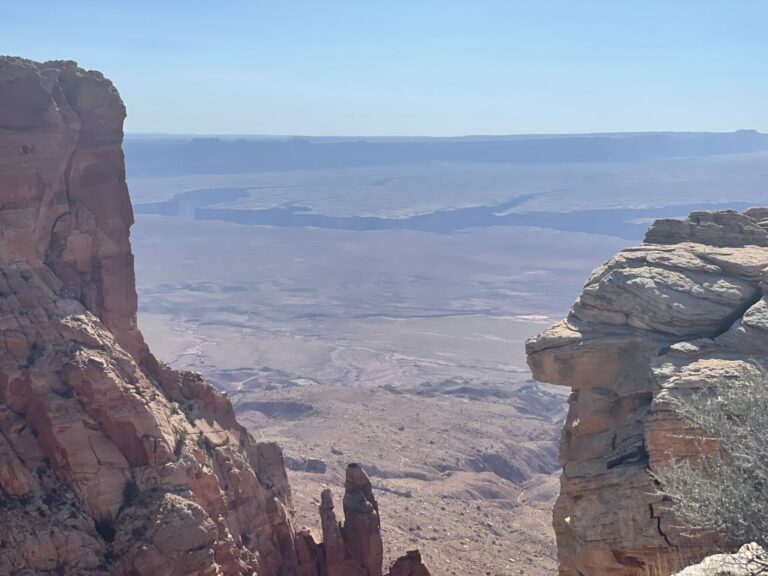 Vermillion Cliffs-Paria Plateau
September 29, 2022
Hiking on from Joe's Tank along more deeply sandy roads (you guessed it!) I reached the edge of the Vermillion Cliffs. You can imagine the physical shape of the Paria Plateau to be like a rectangular table from which two legs have been removed on the same side along the long axis. So you can walk up onto the plateau on the "down" side of the tilted table as I had done during my visit to White Pocket, but to get down on the "up" side you have to climb down a cliff of some 1800 ft. I height. There are two spots that I know of where you can do so.
Before you reach these two weaknesses in the cliff face, you come to this scenic point that gives you a view across House Rock Valley. In the upper third of the picture, below the horizon you see a jagged line. This is the Grand Canyon, pretty close to the Eastern end of the National Park. After climbing down the cliff I hiked across the plain below on a dirt road to reach a trailhead on the North Rim from where I entered the canyon. To give you an idea of the scale, this road walk is 35 miles.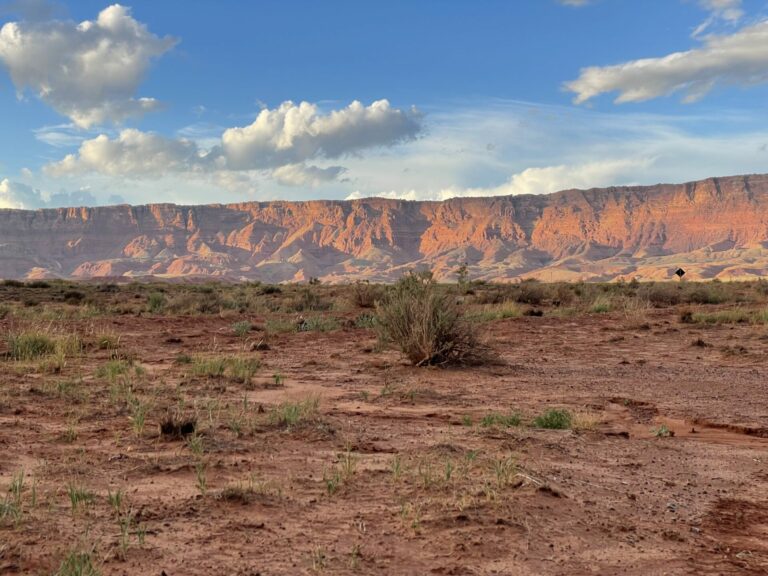 House Rock Valley,AZ
September 29, 2022
This is a look back at the Vermillion Cliffs from the head of the dirt road leading to Saddle Mountain TH. These cliffs start at Lee's Ferry and tower over the highway going through House Rock valley for some 25 miles I would guess.
Looking at the picture or the cliff in person, for that matter, one would not believe that there is a way down, but there is and it is not even that scary, the first 200 feet one follows a dry creek bed where the water has cut a path through the bedrock and then one steps onto steep dirt and talus slopes that one has to navigate. Lower down there is abandoned ranch and one can follow dirt roads to the highway. The most dangerous part of that day's hike was actually walking along the highway for three miles with cars, trucks, RV's and buses screaming past.