According to the editor of award-winning sci-fi/fantasy magazine Clarkesworld, and some personal contacts, the short fiction world has encountered one of the most predictable consequences of this new era of generative AI: being flooded with computer-created dreck. While many have focused (and rightly so) on the possibilities for using this technology to manipulate public opinion, or the consequences for labor, its most immediate impact has been to the world of art.
Venerable publisher Tor has accidentally been using AI-generated book covers by hiring unscrupulous stock-image artists. In this case, it was actually a bad enough image that they had to use an in-house artist to fix it (the human figure was legless). Game studios have begun using generators as part of their workflow for creating textures, though the samples I've seen for this do look pretty good. A heavily-AI-assisted image won a photomanipulation contest last fall, though it did have a (highly questionable) disclosure attached. In ways great and small, at every level, the art world is becoming saturated with generative content, to the point where you can accidentally consume and even reward it.
On the written side of things the effects have been less immediate, at least as far as we can tell.
In non-art news: I'm sure many of us have seen the articles about students using AI to cheat on essays and the like. Microsoft will be adding some generative features to the Office suite. Google has had autocomplete for entire emails for a while now. AI-assisted coding has been around for years and continues to improve. (It's still worse than an intern, and requires just as much oversight, but it has its uses.)
In art news: it looks like fiction markets will have to change how they function. Clarkesworld editor Neal Clarke wrote a recent post about how his submission pile is now unmanageable. For the first time in a long time (or ever?) he has had to close submissions because the number of 'writers' he has to perma-ban looks like this now: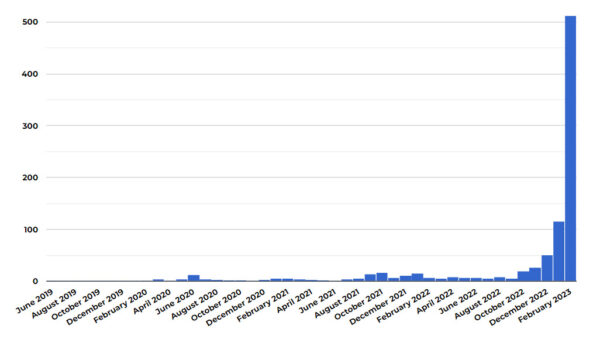 Towards the end of 2022, there was another spike in plagiarism and then "AI" chatbots started gaining some attention, putting a new tool in their arsenal and encouraging more to give this "side hustle" a try. It quickly got out of hand… the number of spam submissions resulting in bans has hit 38% this month. While rejecting and banning these submissions has been simple, it's growing at a rate that will necessitate changes. To make matters worse, the technology is only going to get better, so detection will become more challenging. (I have no doubt that several rejected stories have already evaded detection or were cases where we simply erred on the side of caution.)
This is probably just how things are going to look for a while in the art world. Even if we imagine that these stories aren't scammy, and are just by aspiring 'writers', this is something everybody will have to live with. Eventually, I imagine, auto-rejection tools will improve, just like they did for spam emails, but just this second, things are untenable. There's not an easy answer. It will just take more time to filter out the bullshit, impoverishing everybody in the process.
The backlash has been swift, if incoherent. A splashy class-action suit alleging copyright infringement by some of the companies producing these image models has been filed–but it is riddled with factual errors and cannot, by my understanding, be reconciled with existing interpretations of copyright law. Many writing contracts now make you state that you did not use an AI at any step of the process, which to me misses the forest for the trees. Chatbots can be a helpful brainstorming tool–should that get me automatically rejected, or force me to lie? What if GPT-3 spits out a sentence I really like when I give it a few pages of a story and ask it to write the next paragraph? A friend and I are working on a game right now using AI-generated images for placeholders while we code–does that count? Where exactly do we draw the line between drawing a hill with Adobe's AI brushes, which illustrators have been using for years, and drawing a hill with Stable Diffusion?
These tools are part of the world now, and in my opinion a smart artist would do well to learn them.
On the other side of the discourse, things are… worse. There is a sizable contingent that views the entire art world as illegitimate gatekeepers and would like to dance on its grave. Opinion-haver Jon Stokes (who proudly had a "web3" .eth crypto domain last year, and whose opinions on all things should therefore be disregarded) had this to say:
Seriously, the link up top where the guy is flipping out about AI-generated content in his short fiction journal? …Who cares? If the story is good then I want to read it. If it's bad then I don't want to read it. Maybe just decide if it's good or bad, and if the problem is that submission rates are too high, then charge people for submissions…

Creators are worried about competition from untalented normies who didn't earn the ability to produce quality work and therefore aren't that invested in the work itself or in any sort of guild, discipline, community, or other social institution that's connected to creative work.
No, dingus, it's because you're in league with a bunch of scammers, and aggrieved young men who don't understand the difference between "passable, discardable works" and "top-tier artisan works that deserve to be featured in Clarkesworld". If an AI-generated story were capable of that–which is just laughable to consider at this point–this might be a discussion worth having.
Instead we get to have discussions like this one I had yesterday:
What's illegitimate about being upset that you're drowning in shit submissions all of a sudden?

— ☕️ hoopy frood 🍵 (@TynanPants) February 21, 2023
Luddite nonsense. Develop better systems for screening quality. Responding to labor-saving technological innovation by calling to ban it. He's not concerned with the quality, just the means of producing it. If he wants to hire staff writers and only publish them, he can do that

— Росія іди нахуй 💸🇺🇸🌐🏗 ⚛️ (@rnoyfb) February 21, 2023
Instead he elicits submissions from the public and wants to externalize the cost of screening them to his completely medieval standard.

— Росія іди нахуй 💸🇺🇸🌐🏗 ⚛️ (@rnoyfb) February 21, 2023
He also accused me of wanting to artificially restrict the supply of writing. I replied "Wow lol" and he blocked me, the precious snowflake.
Open thread, I suppose.