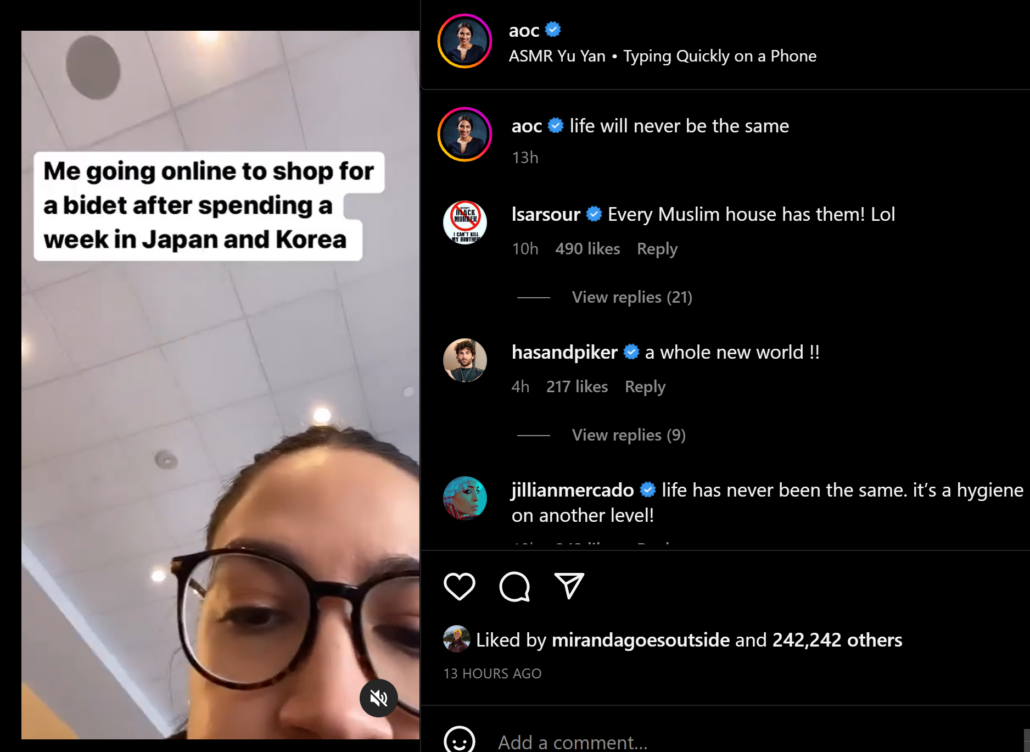 (For new readers, this is what I'm talking about.)
Former front-pager Cheryl Rofer wrote a piece on her search for a Twitter replacement the other day. The short answer is there isn't one, yet. She's tried Post, Spoutible and Mastodon. To me, Post is too restrictive, Mastodon is too complex and Spoutible is too new to tell. But I've never been a big social media person, so I'm not the one to ask. AOC is the only political account I follow on Instagram — I use it to follow travelers, overlanders, hikers and the like.
From what I've seen, one of the barriers to "a new Twitter" is that younger social media users like many of their posts to be semi-private and ephemeral. Instagram has a feature called "stories" where posts are shown to followers and disappear after 24 hours. AOC uses this a lot to give behind-the-scenes glimpses to educate her followers. She's currently on a CODEL in Japan and Korea, and she shares inside glimpses of her day in her stories. Few of those make it to her feed. In addition to giving a degree of privacy, Instagram stories (and reels, which are videos in the feed) allow the follower to control the degree of engagement. I'll watch some stories and reels, and ignore others, depending in how interested I am in the topic and how well I know the poster.
Twitter tried to do roll out some kind of live/video stuff in the past, but Instagram seems to have copied this feature from Snapchat a little better than the others social media platforms. Instagram also has had a younger and more engaged following from the beginning, and even though Zuckerberg has shown that he can really fuck stuff up, he hasn't completely ruined the platform.
Another obvious reason that a "new Twitter" hasn't arisen is that we're trying to replace a service that was working, was intentionally damaged (it still works but we all know in the end Musk is gonna ruin it) and pretty much had become a standard for people who wanted to get their news from social media.
I always tell customers taking on tech projects that the only thing harder than going to the moon the first time is going the second time. In other words, version two of any successful system is in many ways tougher than version one. That's because everyone thinks it's a solved problem, and expectations are high. You're expected to do it cheaper and better than V1. Building a successful social network to replace Twitter is a much more difficult job that V1 of Twitter, and there will be far less patience from users (remember the "fail whale"?)