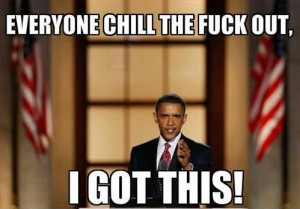 Possible live-blogging unless McCain pisses me off so much I have to turn off the tv and play Civ IV or read.
9:04 pm – First question was not about Ayers. But I thought that was the most pressing issue ever?
9:07 pm – McCain should know something about home values. He has seven of them.
9:08 pm- McCain is going to buy every mortgage in the country. Daniel Larison and the folks at Reason just shat themselves.
9:13 pm- They are both full of shit. This economy is in a deepening recession, and the economy is going to get much worse.
9:25 pm- This is boring as hell. Someone in the McCain campaign must have told him that "energy independence" polls well because he has mentioned it a number of times when he has no plan whatsoever.
9:30 pm- Apparently McCain can do two things at once. This will come as a surprise to everyone who watched as he "suspended" his campaign last week to go in and grandstand at the bailout negotiations.
9:35 pm- ZOMG Obama said "high on the hog!" Clearly he is talking about Sarah Palin. /wingnut
9:55pm- Hair plants, wtf? Was that a dig at Biden? Weird and creepy.
9:57 pm- I think Obama may have scored major points with the mother story.