The Straight Talk Express is dropping the Ayers/Rezko/Wright line of attack:
It's hard to know for sure what the thinking is behind all of this. It's possible that the McCain campaign talked up these attacks just to reintroduce the concept to voters and reporters, and never had any real intention to pursue this tack. Given Sarah Palin's recent rhetoric, though, this seems unlikely. This really was going to be a major offensive.

So why pull back? Probably because it was a spectacularly bad idea to shift the campaign's focus away from the economy in the midst of a financial meltdown and deep voter/consumer anxiety.

Greg Sargent added that the shift "suggests that the McCain campaign's internal polling on how the Ayers stuff is playing is just brutal, likely among independents. It also suggests that Obama's counter-attack — lambasting McCain's campaign for wanting to change the subject from the economy to personal attacks — has been effective."
Not sure what Sarah Palin is going to talk about at her rallies if this is the case. Remove the tawdry attacks, the accusations of palling around with terrorists, and all the rest of the sleazy innuendo, and the entirety of a Palin stump speech is a sneer, a snarl, chirping "Thanks, but no thanks!" and then winking at the menfolk.
*** Update ***
Never mind. Just more lies from the Bullshit Express.
*** Update #2 ***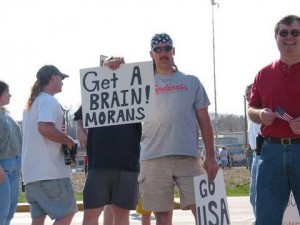 Keep at it, McCainiacs. Obama up 11 at Gallup. This Ayers stuff is really paying dividends.