John Brennan takes himself out of consideration, and everyone's favorite blowhard does a victory lap:
Score one for the "morons." See also Greenwald, a true champion here, who took up the struggle in the face of STFUism.
The real comedy starts in the comments: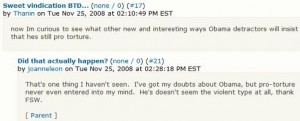 Gee. I wonder if anyone insisted that Obama was pro-torture? Oh, yeah- BIG TENT DEMOCRAT DID, which is what started this whole thing off (and the moron has been baiting me for weeks, but I have ignored him for now):
Obama Transition Team "Clarifies" Position On Torture: He May Be For It

You see the proposal is to have greater oversight over the torture. Change we can believe in!
So, Big Tent Democrat- does Obama support torture or not? Which is it, big guy? I am so confused.
Personally, I am going to stick to my policy of criticizing Obama for things he actually does, rather than asserting nasty bullshit about him (such as, for example, he supports torture but just wants greater oversight) without any evidence. It just seems to make sense.
*** Update ***
Detente. And, as a gesture of good will, I will note that any blogospheric pressure to get Brennan to withdraw is a good thing (and I have to wonder how important the liasion from Open Left to the Obama campaign was in this development), and BTD and others do deserve credit for that. The evidence-free assertions that Obama supports torture are beyond the pale, though. Bush and Cheney deserve that label, not Obama.
Additionally, this may grant us all at least a day's worth of temporary reprieve from breathless assertions from James Kirchik and others that Obama has thrown the netroots under the bus.