My parents, who I am not sure are aware what they are getting themselves into, have passed the grieving phase since the loss of Russell, and have now made the rational decision to get a Jack Russell puppy while they are in their late 60's.
Scratch that. The nutters are getting two of them, they are completely out of their damned minds, and every child has told them so. Here are the potential culprits: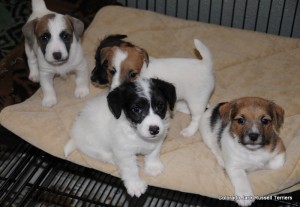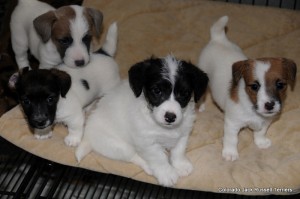 They are getting two of the above litter. Christmas will be… interesting. The only one I know we are getting for sure is hidden in the back in the top photo, but down on the far left with a completely black face in the second photo.
Apparently I was wrong. The puppy we are getting for sure is front and center with the black face and a white stripe running down his nose. He also has the fullest coat, which means he will be a long hair for sure (YAY!).