I'm not so much in the mood to make fun of Congressional Republicans today, but I'd be remiss if I let this pass: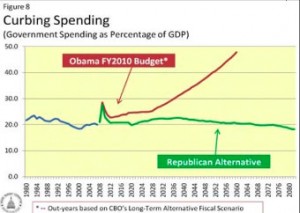 This is the scoring the House Republicans have provided, tracking Democratic budget policy and theirs over the next 70 years. As you can see, predicting ideological stances over as yet unborn Democratic members of Congress, the GOP scoring appears to have us on track for the government owning about 90% of the economy in the early-mid-22nd century, which if I remember is about the time period of the invention of the warp drive. So I don't know if they've figured that in too.
Even the Politico gets in on the act a bit:
"If you expected a GOP alternative to the failed policies of the past that got our country into the worst economic crisis since the Great Depression, then I have two words for you: April Fool's," said Kenneth Baer, communications director for the Office of Management and Budget.

Indeed, many of the tax ideas show no effort to temper those tax breaks — under the Bush Administration—which most benefit upper income families. And Ryan would add on top of this a cut in the corporate tax rate to 25 percent from 35 percent and temporarily suspend all capital gains taxes for 2009 and 2010.
This is just embarrassing. It's like watching a Pauly Shore movie.