Tragic name: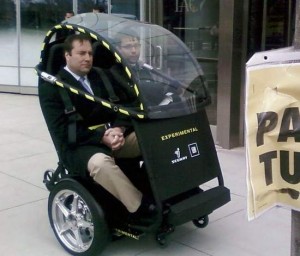 Having conquered the world of passenger vehicles, General Motors Corp. showed off its vision of future transportation today that's either exciting or frightening, depending on whether one cares about driving.

GM and Segway unveiled the Project PUMA, a two-seat rickshaw minus a rick that uses the Segway's electric systems to glide around on two wheels. Capable of carrying 700 pounds in a frame about half the size of a Smart car, the PUMA (Personal Urban Mobility and Accessibility) can spin on a pin and "bows" to let passengers in and out.
I think this clears up any doubts over whether firing Wagoner was a good idea. At any rate, due to the tragic name, this photoshopping was just inevitable (the third picture killed me).
Submit to me your own photoshop entrants via email or in the comments.