Andy Rooney had a Memorial Day piece up that was worth watching:
He made multiple great points, first of which is that many people don't think of Memorial Day as anything other than a day off, and that honoring the memory of our fallen should include some memory of who they were as people. Hence the anecdote about Richie M. and his different colored socks and the fact that he thinks about his lost buddies every single day, not just on Memorial Day.
His second point was just as potent- if you really want to remember and cherish the memories of those who gave their lives, or, as Andy notes, had their lives taken from them, the way to best serve their memories is to work to make sure no more young Americans have to give their lives in combat. Idealistic and unlikely, but still a noble goal.
How do the wingnuts react to this? By freaking out:
Useful Idiot Andy Rooney Shames America on Memorial Day (Video)

Andy Rooney couldn't help himself. The bitter liberal could think of nothing better for his Memorial Day segment than to shame America for participating in war…

Angry old liberals like Rooney will never see the greatness of America, the values we stand for, the people we've liberated and the lives we've saved.

It's just a shame this bitter man had to use the Memorial Day holiday to spread his sick propaganda.
These guys have seriously lost the plot and still think it is 2003. And considering that Andy Rooney was one of the first American journalists on the ground as we liberated the concentration camps in WWII, I think Andy Rooney knows a think or two about the people we've liberated and the lives we've saved: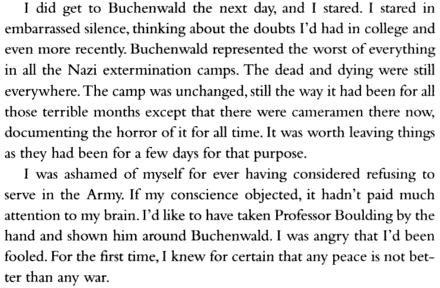 That is from Andy Rooney's best-selling book, My War
. I'll take Andy Rooney's experiences over the rantings of some idiot on the internet.